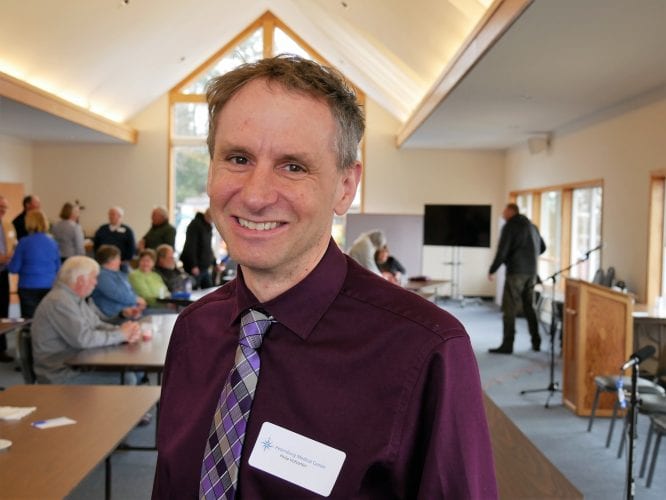 Petersburg Medical Center would see about a $2 million budget reduction from proposed state cuts. The CEO says there are too many details missing to know exactly what staff and programs could be eliminated. KFSK's Angela Denning reports:
The Petersburg borough, school district, and ferry service aren't the only entities affected by the proposed state cuts. The Petersburg Medical Center would also take a hit.
"A 38 percent cut to PMC basically equates to $2 million off the top of our operating budget," said Phil Hofstetter, CEO of Petersburg Medical Center. "That would mean cut to jobs and cut to services and what does that look like?"
Hofstetter was speaking during KFSK's monthly PMC Live radio show. He says the medical center operates at less than a one percent profit margin.
"That's a real tight margin, we don't have a lot of wiggle room," Hofstetter said. "We don't have a lot of ability to cut services. PMC operates very efficiently. We have staff that wear multiple hats, they cross over into different departments. We have an aging facility."
A $2 million cut is kind of the worst case scenario. That's if the Governor's proposed budget stands. The Legislature could change that amount and the Governor could veto their changes and then the Legislature could override his veto. But that's a long ways down the road.
With so much up in the air right now Hofstetter says the planning is very difficult.
"A lot of it is just conjecture right now, a lot of it's going to be in the details of what comes out of that," Hofstetter said.
He says they still have to be prepared. One of his strategies is to stay positive.
"This is a crisis but it's also an opportunity," he said.
Hofstetter says the Commissioner of Health and Social Services doesn't have any answers for hospitals around the state but they are open to ideas. So Hofstetter's strategy is to look into innovative ideas that could help efficiencies in the future.
Also, PMC plans to come up with an emergency plan for a financial crisis. That might include freezing vacancies and reducing hours.
But no matter the planning, any sizable cut to the center would cause a ripple effect.
"The problem in health care is if you cut services and you reduce services the issue doesn't go away," Hofstetter said. "It's just going to be presented in a different way and the cost will be shifted."
PMC's local payers are split equally between Medicaid, Medicare, and commercial. The state is proposing cuts to Medicaid.
Hofstetter says records show that more patients were seen through the emergency room before Medicaid expansion took place in 2015. ERs must see patients whether they can pay or not and PMC ends up absorbing some of those costs. After the Medicaid expansion went into effect PMC saw a 31 percent decrease in what's called uncompensated care.
"And what we found is when people don't have coverage, they just don't come in. It's not like they're seeing the ER over and over again. They just don't come in," Hofstetter said. "And then they become sicker and sicker and then it becomes to a point where they have to come in, they're admitted, the care is not just astronomical, but they're health has deteriorated to where it becomes a lot more dangerous."
The proposed state cuts won't affect the process for looking into getting a new medical facility in Petersburg. The grant funding for a master plan is separate from the state's budget so the plan is still on track to be completed by the end of the year.