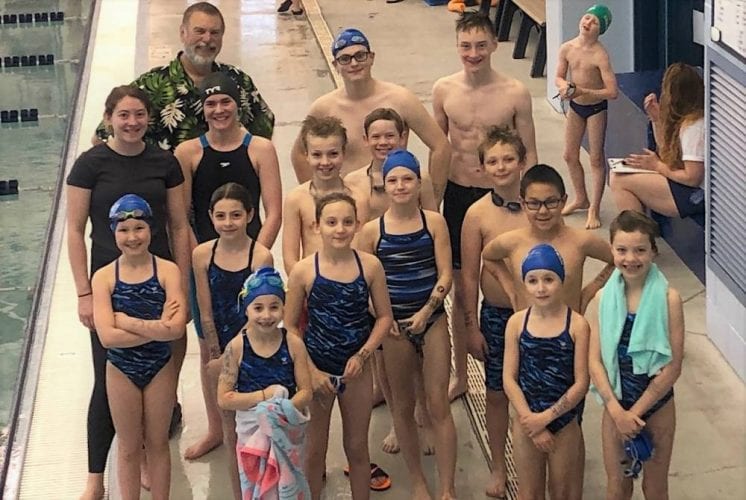 Petersburg's Viking Swim Club competed at the Southeast Championship meet in Juneau and took second place overall. Juneau's Glacier Swim Club won the event. There were swim clubs also competing from Ketchikan, Sitka, Haines, Wrangell, and Craig.
Swimmers on Petersburg's team ranged in age from 7 to 14. They won several individual events and relays.
The 10 and under girls relay team was 1st in the 200 free relay and 2nd in the 200 medley relay. The swimmers were Brooklyn Whitethorn, Olivia Hinde, Lexie Tow, and Abby Worhatch.
In the open relays Petersburg's boys team took 1st in the 200 medley relay and 2nd in the 200 free relay. Swimmers were Jonas Baekkelund, Noah Pawuk, Logan Tow, and Logan Haley.
Petersburg also had four athletes earn high score honors for their age groups. Abby Worhatch took 1st place in the girls 9 to 10 year old age group. Peter Joekay took second in the boys 9 to 10 year old group. Allie Morgan took 2nd in the girls 13 to 14 year old age group. Devyn Flint was 3rd for the girls eight and under group.
Here are the full results of the swim meet.
Andy Carlisle is the Head Coach of the Viking Swim Club. He spoke with KFSK's Angela Denning about the Southeast Championships meet:
Petersburg's top 3 individual finishers:
Abby Worhatch (9-10 age group) – 1st – 50 free, 2nd – 100 fly and 50 breast, 3rd – 100 free
Allie Morgan (age 13-14) 1st – 50 free, 100 free (club record), 200 free, and 200 Individual Medley, 2nd – 400 Individual Medley, 200 Individual Medley, and 500 free.
Peter Joekay (9-10 age group) 1st – 100 butterfly and free, 2nd – 200 IM and 100 fly, 3rd – 500 free
Logan Tow – (11-12 age group) 2nd – 50 breaststrok, 100 Individual Medley, 200 Individual Medley
Isaiah Etcher – (9-10 age group) 2nd – 50 butterfly, 3rd 200 Individual Medley
Noah Pawuk – (11-12 age group) 1st – 50 butterfly, 3rd – 100 Individual Medley and 200 Individual Medley
Bella Miller–(8 and under age group) – 1st – 50 backstroke
Lexie Tow–(9-10 age group) – 2nd – 50 breaststroke
Brooklyn Whitethorn–(9-10 age group) – 3rd – 100 backstroke