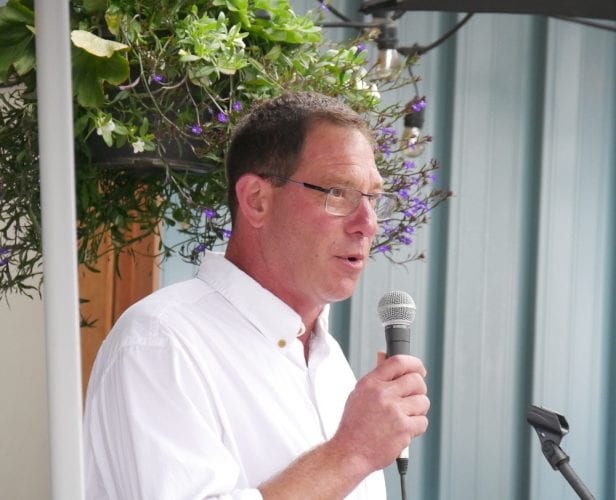 Orthopedic surgeon Al Gross launched a listening tour in Petersburg Tuesday, with an eye toward a possible campaign for the U.S. Senate seat held by Dan Sullivan in 2020.
The 57-year-old Anchorage resident grew up in Juneau and has also lived and fished commercially out of Petersburg. A crowd of around 100 attended the launch event Tuesday evening May 14, outside of a Petersburg restaurant and bar.
"As an orthopedic surgeon, I've been incredibly fortunate to take care of and get to know people from Metlakatla all the way up to Noatak and many of the cities and the villages in between," Gross said. "And as a commercial fisherman I've met so many hard working Alaskans all across the state, but as a doctor I've seen firsthand how our incredibly high health care costs have dramatically impacted people's lives and had a negative impact on the state economy."
Gross is the son of the late Avrum Gross who was Alaska's attorney general in the 1970s under Governor Jay Hammond. He says he would run as an independent and will be using the next two to three months to decide whether to challenge Sullivan next year.
Joe Viechnicki sat down with Gross the day before he launched his listening tour and asked about some of his reasons for possibly running.
Gross has launched an exploratory committee for a possible U.S. Senate run and is touring the state to listen to voters. From Petersburg he traveled to Wrangell and Prince of Wales Island. He plans to be in Juneau May 20, Ketchikan May 24 and 29th and Sitka on June 4th. Later in June he plans stops in the Bristol Bay area and the Kenai Peninsula and other stops around Alaska yet to be announced.