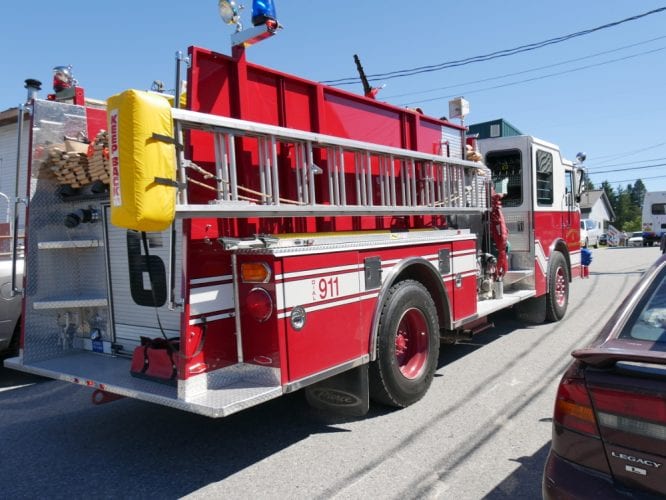 From snow plowing to economic development and staffing issues, Petersburg's borough manager has his marching orders. The borough assembly Friday approved a list of 13 goals and objectives for manager Steve Giesbrecht to work on in the next year.
It's the first year for the list of goals put together by the assembly and they're an offshoot of the manager's annual evaluation completed earlier this month.
The list starts with Giesbrecht compiling a report on the pros and cons of privatizing snow removal in borough. He is also charged with coming up with a succession plan for key borough positions. Another is reducing or eliminating overtime in the police department. But with that goal and others, assembly member Jeff Meucci wanted to add in language suggested by the manager.
"He's got under item number three, prepare a complete staffing plan for the police department that includes coverage, estimated overtime and any proposed changes in service level," Meucci read. "I mean I think that's probably more on point than some of our suggestions, as well as number four, prepare various options for the assembly on operations of assisted living now and into the future. I think that would be a helpful change."
The borough has already started investigating some of those issues. The assembly this year agreed to hire a consultant to look at the assisted living facility at Mountain View Manor and recommend ways to improve the bottom line. And they've also had some brief discussions about staffing levels in the police department while deciding on whether to budget for a second sergeant's position on the local force.
Also on the manager's list: reporting on existing local service contracts and potential contracts for businesses, appearing on the radio monthly and reporting on the Parks and Recreation department, including budget constraints and improving customer service.
Item 8 is reviewing the responsibilities of the paid staff in the fire and emergency medical services department and looking for ways to boost volunteer numbers.
Assembly member Bob Lynn wanted to expand that.
"What I also had in mind there was not just what you have here, but I think we need to review the workload we have on the existing staff and maybe some of the workload that Sandy (Dixson) has needs to be either not done or shifted someplace else," Lynn said. "But I'd like to look at the workload, in other words what the job is and the work load and the whole part of that, is what I had in mind originally."
Lynn was referring to department head Sandy Dixson, one of two paid employees in that department, although the assembly agreed to budget for a third position this year.
Giesbrecht is also tasked with planning to move a fire department storage and training building out of Scow Bay and looking for local purchasing opportunities by the borough. The assembly also wants him to look at all fees the borough charges for possible increases or adjustments.
A couple of the goals came out of a series of public forums on budgeting ideas in 2018. Items 12 and 13 on the list involve the Petersburg Economic Development Council and the Chamber of Commerce. One goal is to encourage those groups to develop a marketing plan for the community and another is developing a plan for encouraging new business, including non-fisheries businesses. Giesbrecht, who also is on the board of the PEDC, said those two could take the longest to accomplish.
"Non-fisheries related businesses, well that falls into the whole tourism thing," Giesbrecht said. "How much does the assembly want me going down that road? And for PEDC and the Chamber that's really important for them, they have limited resources and they really want to know how much time they should spend on this so they're going to want some confirmation from the assembly that this is a big deal and important. I put them on here because you'd previously given them to me. More than happy to work on these. But again, because I have to work with two different other groups to make this happen, I can't tell them what to do I have to work through what their concerns are."
The assembly wanted to hear from Giesbrecht that he could accomplish this list.
"What I'm concerned about is I don't want the goals and objectives to get lost with us throughout the summer," said Meucci. "I mean it'd be interesting for me to see you get started on these as we have, as the group, send out this list as edited and have the assembly kind of weigh on what their priorities are. But I don't want to see this, I mean if we're giving you until next year during your evaluation to kind of do these things, then I don't want it to languish for three or four months and you be under the gun. I mean I think these are what we'd kind of like you to do. And we can certainly get together and at least put our priorities of what we think is important but I think with seven of us you're going to find a little bit of differences on what we think is most important… "
"You asked me earlier if we can get these done and I said I can get 'em done and if I can't I'll be back to you," Giesbrecht responded.
There were only four assembly members at last week's meeting but they approved the amended list of goals unanimously.