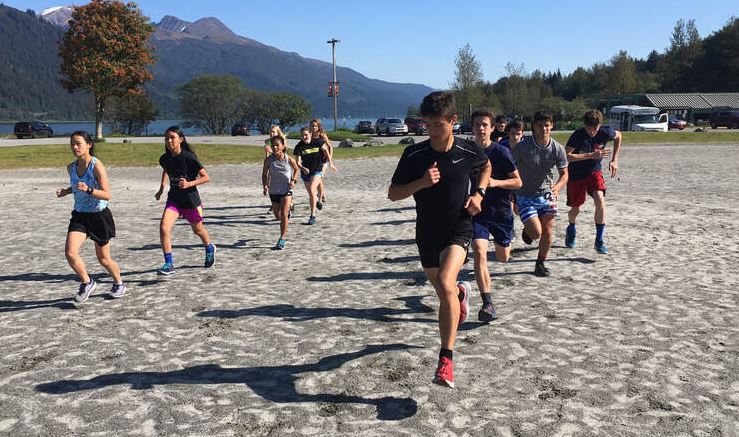 Petersburg High School's Cross Country team competed in its first meet of the season, Aug. 31. The Juneau Invitation brought together eleven teams from around the region, including 222 runners.
Petersburg took 14 of the team's 20 runners to the meet.
The Petersburg girls team took 5th place overall and 2nd place among their small school division. Haines took 1st in that category.
The Petersburg boys took 6th place overall and 2nd among the small schools, also following Haines.
Junior Maia Cowan led the Lady Vikings, finishing in 11th place overall and 3rd among small schools. Her time was 21 minutes and 20 seconds. Senior Melanie Chase finished 15th overall and 4th among small schools with a time of 21:38. Junior Kendra Coonrad finished in 29th place overall at 23:02.
Deirde "DD" Toyomura finished in 59th overall, Lydia Martin in 67th, Alexus Sakamoto Quezon in 82nd, and Annie Christensen in 85th.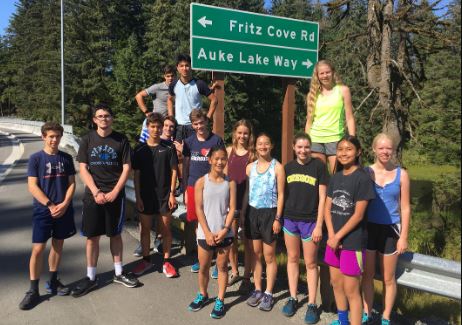 For the Viking boys, Sophomore Uriah Lucas finished 13th place overall and 2nd among small schools. His time was 18:00 minutes flat. Senior Kole Sperl finished 27th overall at 19:01, and Sophomore Chase Lister was 31st. Michael Durkin finished in 34th, Julian Cumps in 60th, Noah Sullivan in 61st, and Jack Byrer in 120th.
Head Coach Tommy Thompson spoke with KFSK's Angela Denning about the meet. He says it went well considering it's always difficult this time of year preparing runners for the short season.
Petersburg High School hosts a cross country meet this weekend. It starts Saturday at 9 a.m. with a community race; the boys race is at 10:15 a.m. and the girls race is at 11 a.m.
This is the race route:
Runners will Start on the pavement and downhill at Frederick Sound Drive, runners than take a left on Haugen to Water Tank Road. Up that hill, take right into tunnel of trees, left of Scow Bay Waterline Access Road, left onto and down Raven's Roost Trail to Sandy Beach Recreation Area south entrance. Into Sandy Beach Rec area, through sand and back out north entrance, onto Haugen drive and repeat the same as first loop. Finish is at North Shelter of Sandy Beach Rec Area.
Motorists please use caution from 9:00am – 12:15pm on Saturday September 7, 2019.