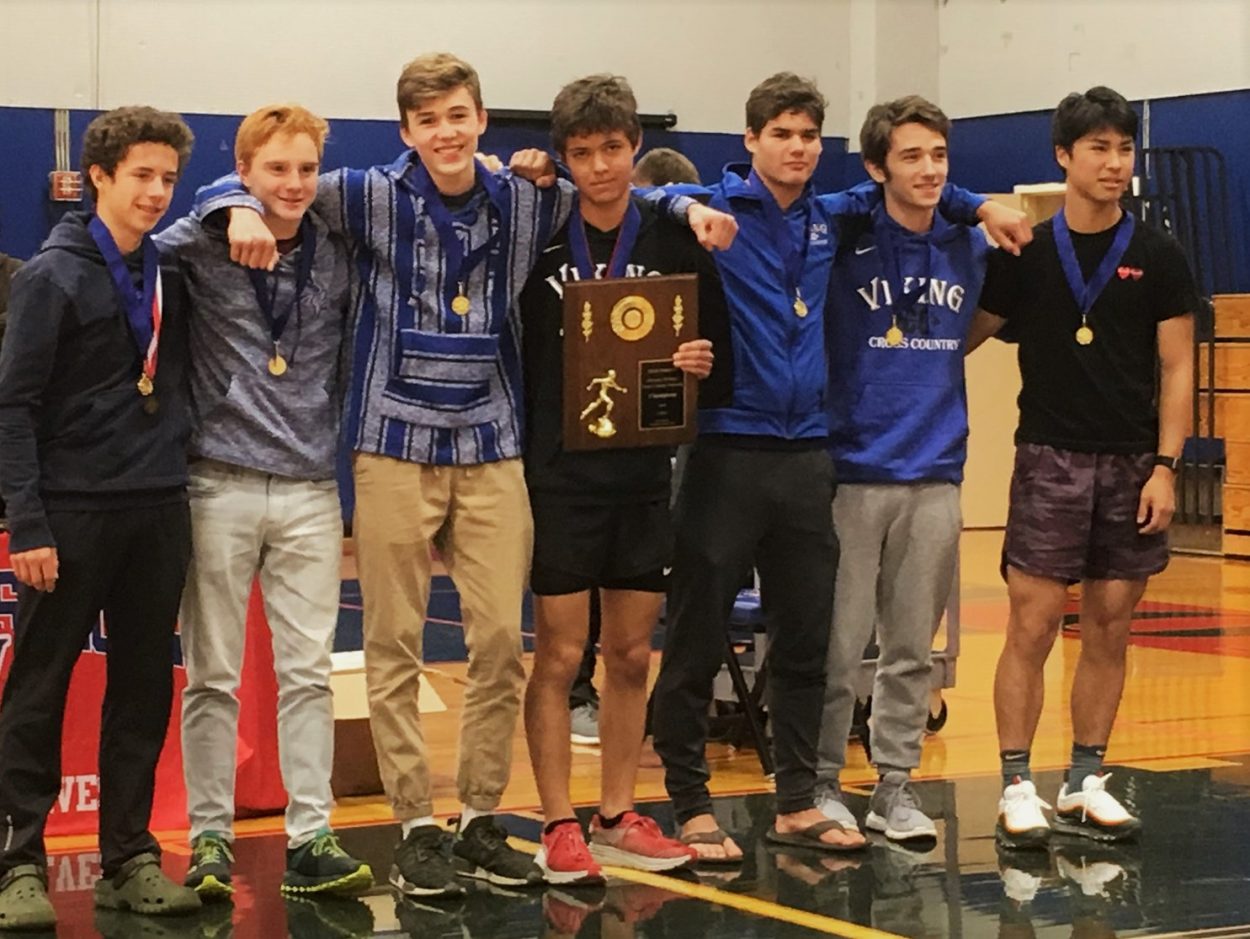 The Petersburg High School boys' cross country team won the Southeast Alaska Regional Meet in Sitka. It's the first time in recorded history. The Petersburg girls' team took second place. KFSK's Angela Denning has more.
The Petersburg boys won the Region title for Division III.  So how did it feel? Well, it was a bit shocking for sophomore Michael Durkin.
"I looked at Kole [Sperl] and I was like, 'Did we actually just get first? And he was like, 'Yeah', and I'm like, 'Wow,'" Durkin said.
He says the finish made Coach Tommy Thompson smile too.
"Coach Thompson was pretty happy at the end of the race. He was on cloud nine," Durkin said.
It was Durkin's first time to the regional meet. He broke his personal record by 28 seconds and earned 6th place.  That helped Petersburg win the title by 36 points over seven other schools.
"It was a really good race for most of our team," he said. "A lot of us PR'd."
A serious personal record went to Lady Viking senior Melanie Chase who is the regional champion. She tore through the finish line ribbon with a time of 20 minutes and 37 seconds.
Chase prepared for the season by running two times a day over the summer. Her season goal was to get under 21 minutes. She beat that goal by 23 seconds. She says she knew she was having a good run at the regional meet.
"I knew at about one and a half miles in and I also knew when I started to pass some of the people that I usually don't pass," Chase said.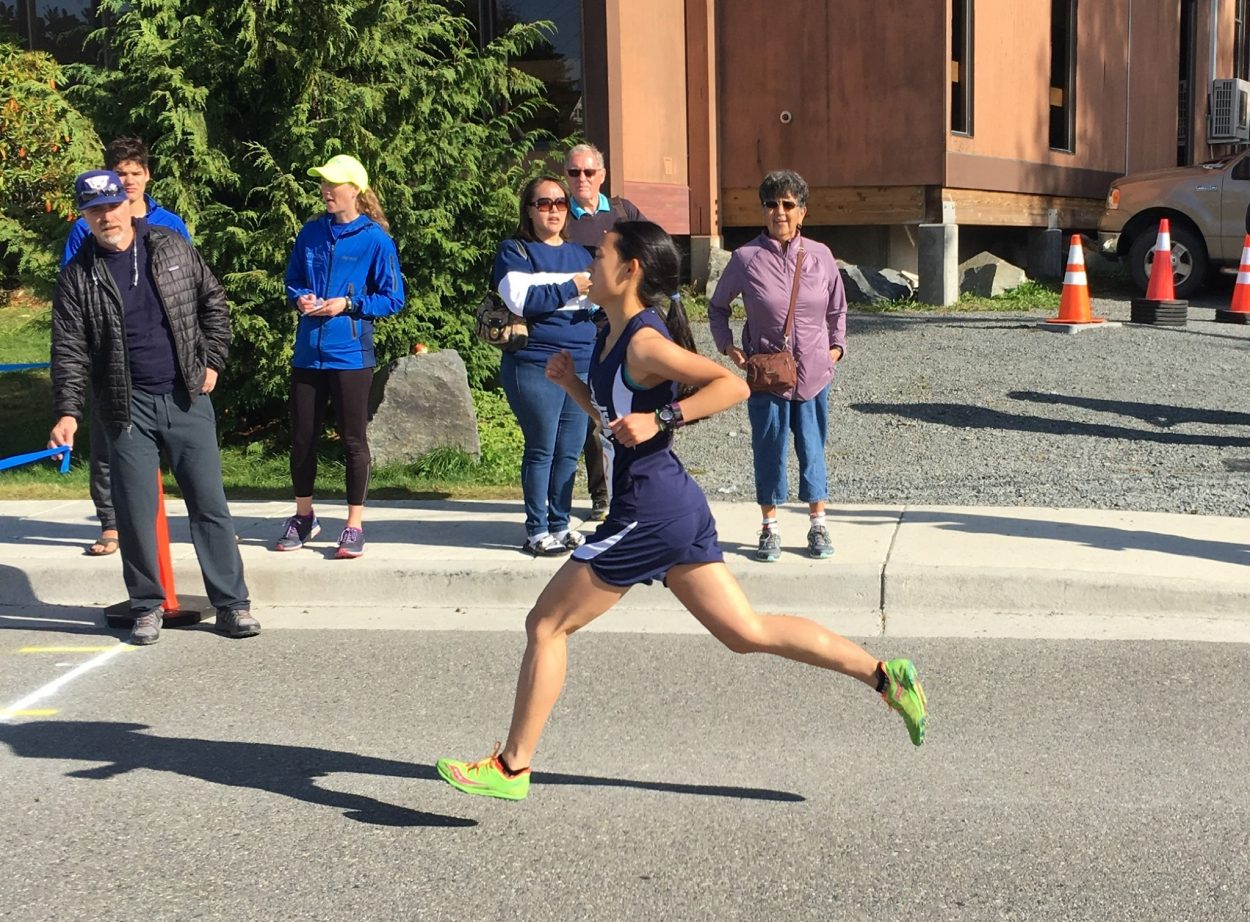 Chase led the Lady Vikings to a close second place team finish behind Haines. Junior Maia Cowan finished in 4th individually place at 20 minutes, 56 seconds, and Kendra Coonrad finished in 5th place at 21:09.
Sophomore Uriah Lucas finished in second place with a PR of 17 minutes, 17 seconds. He knew he was doing well when he heard his split times. And he was able to keep up with the regional champion, Siyel George from Haines.
"He's quite a bit faster than me and that's the first time I've ever ran around him so I knew I was doing pretty good," Lucas said.
Like Chase, Lucas takes the sport seriously. He ran 35 to 50 miles a week over the summer to prepare for the season.
Senior Kole Sperl took third place among small schools with a time of 17 minutes and 48 seconds.
Both Petersburg teams qualify for the state meet this coming weekend in Anchorage. They'll take the seven fastest runners on each team.
It will be Durkin's first time to State and he says he's heard some horror stories about the course.
"I can't say that I'm excited to run that because I've heard that it's very hilly and I hate hills very much. And I've heard that it's just hilly and nasty," Durkin said.
But sophomore, Kendra Coonrad, sees it a little differently.
"When it rains it's like ankle deep mud in parts of it," she said. "Really, it's kind of fun."
That's Junior Kendra Coonrad. As hard as the State course is, she has learned to like it. She's been to State twice and was last year's 2A champion.
"Freshman year and I saw the course for the first time and I was like, 'terrible course'. And then we ran it and I think the constant hills I just pushed myself harder and so I PR'd on that course both freshman and sophomore year so I'm hoping to do it again this year."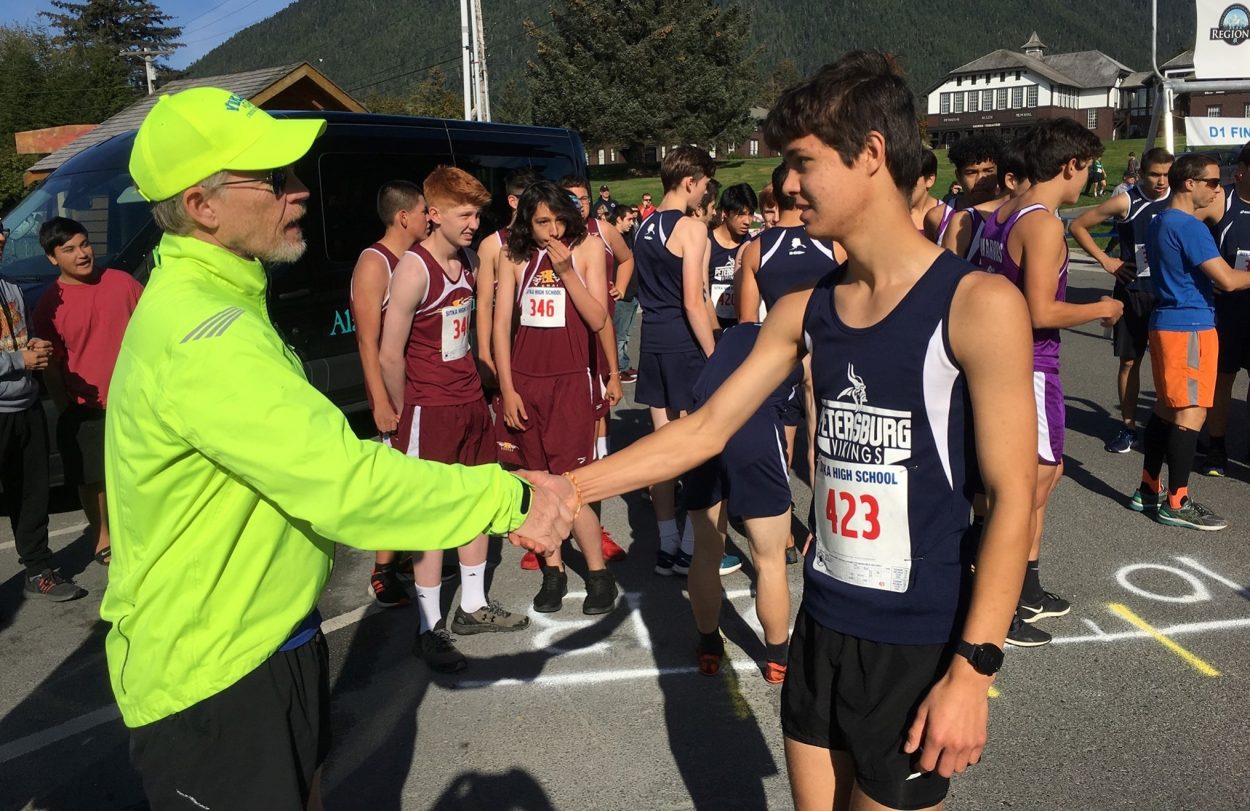 The Petersburg boys team is ranked first in state and the girls are close. Both teams think they could win.
"I think we can," Lucas said. "I hope we can."
"I think we're right up there with Haines," Coonrad said,"and I think we have a shot."
Last year the Petersburg girls' team took 5th place at State and the boys took 9th place. But the divisions have changed this year, separating out the larger 3A schools. So, Petersburg will only be competing against 1 and 2A schools from around the state.