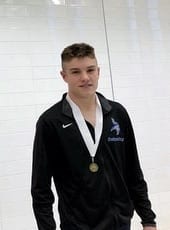 Three Petersburg High School swimmers wrapped up their season and their high school careers at the state championships in Anchorage last weekend.
Seniors Peter Kowalski, Maria Pfundt and Maddy Whitethorn swam in two events each. Kowalski took sixth in the 200 free style and fourth in the 500 free, making the finals in both events.
Pfundt and Whitethorn did not make the finals. Pfundt had the 10th place time in the 100 butterfly in preliminary heats and Whitethorn's 100 free style time was the 11th fastest in preliminaries. Whitethorn and Pfundt were also 13th and 16th in the preliminaries for the 50 free as well.
Dimond High took the girls team title with Sitka finishing fourth. Robert Service High won the boys team title. The top school from Southeast was Juneau-Douglas in fifth place. Kowalski's scoring gave Petersburg a 16th place finish, tied with Thunder Mountain.
Joe Viechnicki spoke with coach Andy Carlisle about the state meet.
The state meet closes out the high school swim season. But the youth club season comes to Petersburg this weekend with the November Rain meet.