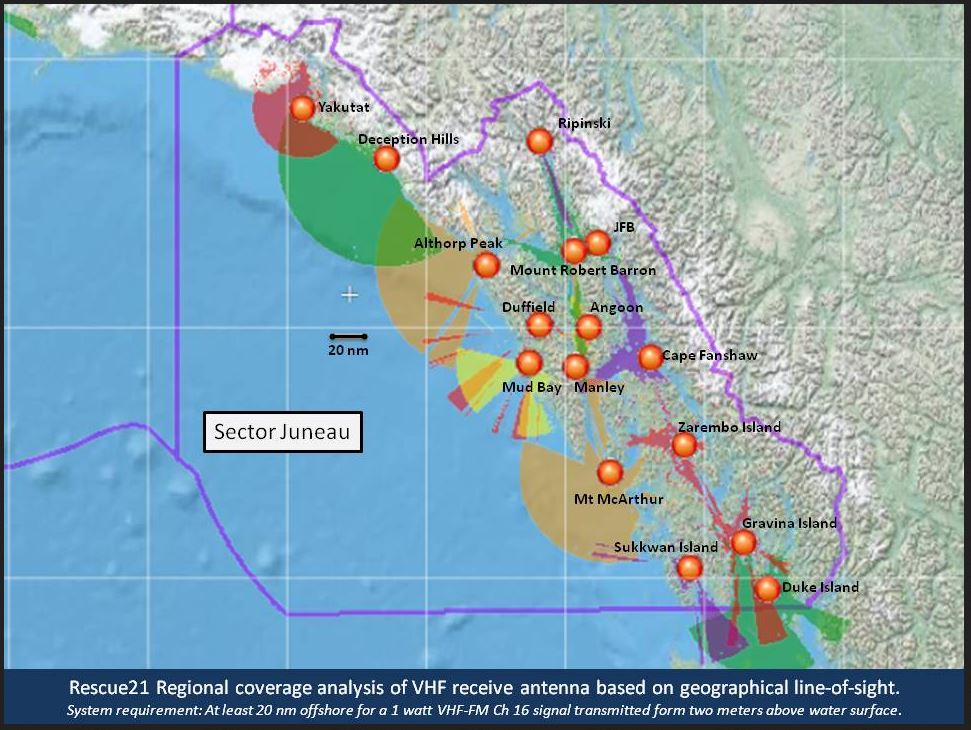 The U.S. Coast Guard has released a list of communications towers in Alaska that may not be receiving VHF radio broadcasts and is warning mariners to bring back up communications systems.
Seven of the problem towers are in Southeast Alaska, including Zarembo Island and Cape Fanshaw near Wrangell and Petersburg, two towers in southern Southeast near Ketchikan and Prince of Wales Island, along with sites near Sitka and Pelican. Those are dead zones where the Coast Guard won't be able to hear distress calls on emergency channel 16.
In Southeast, the towers not receiving are Duke Island, Sukkwan Island, Zarembo Island, Cape Fanshaw, Duffield, Althorp Peak and Deception Hills. Other sites in Alaska are Pigot Point, Bede Mountain, Raspberry Island and Cape Gull.)
"Specifically to Southeast, there's some towers that we're looking into and making repairs on parts of the towers to get them up and running, back to full running status," said Matthew Schofield, assistant public affairs officer for the Coast Guard's district 17 in Alaska.
The Coast Guard has hired a contractor to do the repair work. One of the issues is getting power generators back up and running at the communication towers. Schofield said the fix is happening as soon as possible.
"I don't necessarily have a timeline, I don't want to assign something that isn't 100 percent here for that but at this point some of the sites are able to receive, they're able to receive some of the signals and some of the calls, but they may not be able to transmit so we're also working that," he said.
The Coast Guard this month warned that even with a fully functioning system it cannot hear all VHF calls in Alaska's mountainous terrain. VHF radio is the cheapest means for emergency calls by mariners in distress. But the Coast Guard is recommending other communications systems as a back-up, like satellite phones or texting devices, emergency beacons or even cell phones where there's service.
"Any means that people can take when they're out on the water to contact the Coast Guard is obviously recommended," Schofield said. "But we'll get to the calls the best we can and we do want to ensure safe passage throughout the water and throughout the fishing season."
Commercial fisheries are ongoing in Southeast through the winter. Tanner and golden king crab seasons start up February 17th and crabbers will be hauling pots to the fishing grounds. This winter has already brought hazardous conditions with freezing spray warnings, strong winds and a deep freeze.