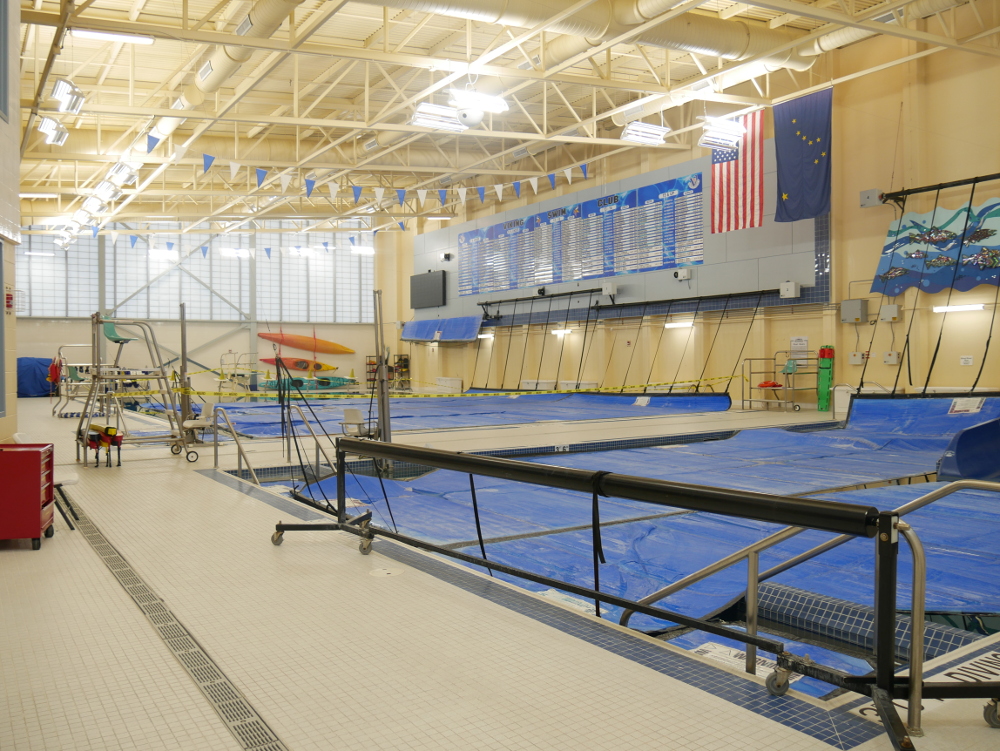 The Petersburg borough is partially pumping out the community's swimming pool this week as it continues to look for a significant leak.
The pool has been closed since temperatures nosedived to zero degrees the week of January 13th. Initially, the boilers shut down during that cold spell. They've since been restarted but other problems have been uncovered including a leak in the lap pool that employees and outside companies have so far been unable to pinpoint.
Parks and Recreation director Chandra Thornburg updated the borough assembly Tuesday night.
"So we turned off the pool on Friday," Thornburg said. "It stayed off. Over the weekend we lost approximately 22 inches of water. So it was determined that the water is being lost from inside the pool."
According to estimates by staff, that water loss over the weekend was over 50,000 gallons of the 200,000 gallon pool. Thornburg said borough employees have been testing various piping and drains but have so far been unable to locate the source of that water loss. They've used an underwater camera and dye testing. She said they're pumping water out of the pool this week to the level of some underwater lighting.
"If it is the lights we will need to procure material to stop the leak," Thornburg said. "It will need to at least cure for 48 hours. Once cured and refilled the pool will take approximately 7-10 days. So at the earliest we're looking at next Saturday to reopen the facility."
That's a week from this Saturday, February 1st for the best case scenario.
The leak hasn't been the only remaining problem. Two different air handling systems are also damaged. One has since been repaired and restarted. A second system has busted coils that will need to be replaced but may be patched in the short term. The loss of those systems has created bad air quality above the pools. However, it's possible the mezzanine workout space could be reopened as soon as Wednesday, January 22 if those restarted systems improve the air.
There's also a problem with heat exchangers used to keep the pool water warm. Those have a slow leak and may need repairs.