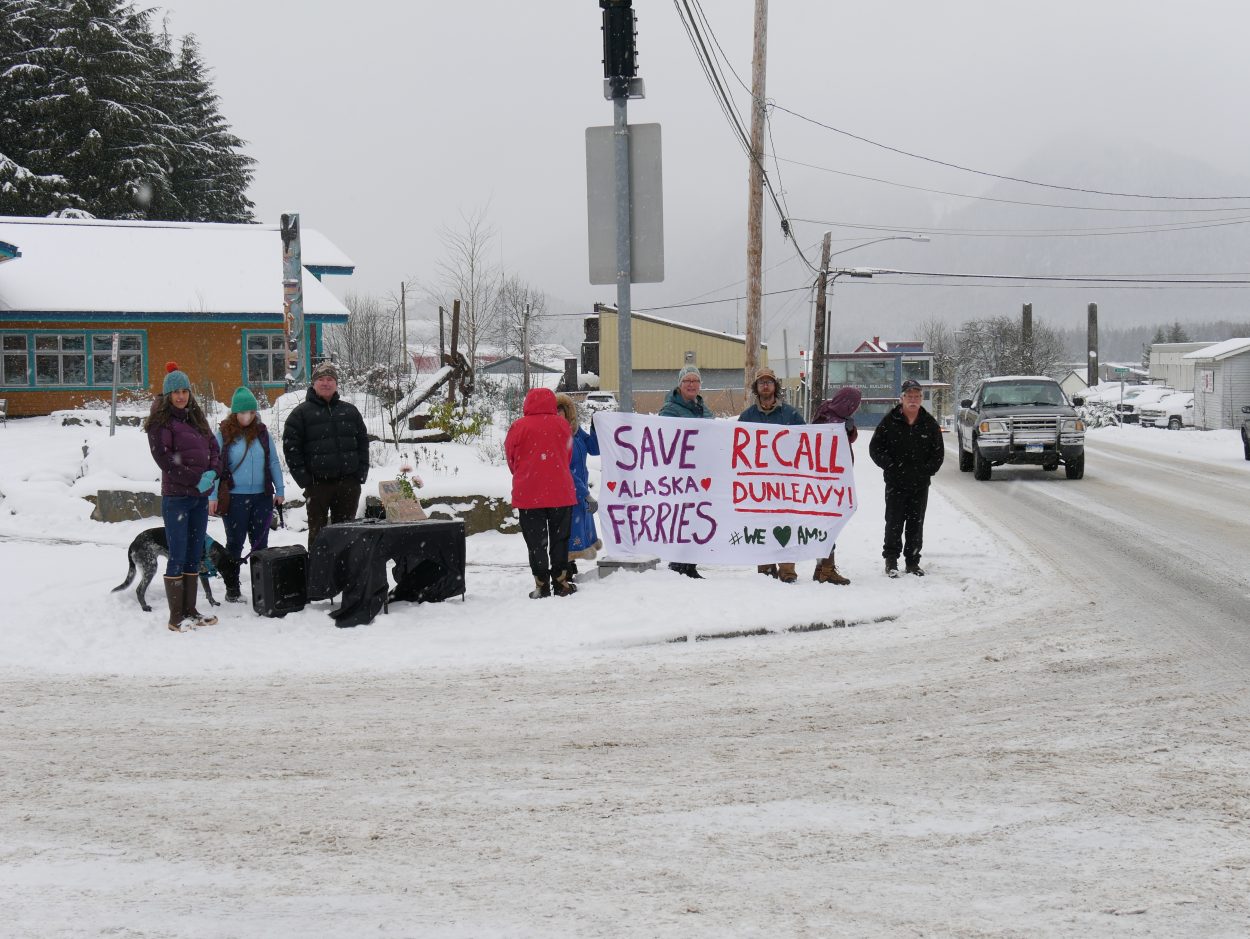 Petersburg residents were disappointed Monday when Governor Mike Dunleavy cancelled his trip to town due to snowy weather. He was going to meet with community officials and kick off a series of community meetings around the state on budget issues. As Angela Denning reports, a small group of residents went on with a protest anyway.
About 15 people are gathered at the intersection in front of the Petersburg Public Library. They're holding a large white banner with purple and red lettering that reads, "Save Alaska Ferries, Recall Dunleavy". There's somber music playing on a nearby speaker.
These residents are carrying on with a planned funeral of sorts for the state ferry Malaspina, which is permanently docked.
"She's been taken off her routes and maintenance has been pulled," said Malena Marvin, one of the event organizers.
Marvin says they wanted to come together to recognize the drastic cuts to the ferry service. $43 million dollars were cut from the ferry budget last year. Ten of the 11 ferries are now sidelined. Marvin says they want to give Dunleavy a message.  
"We would like to send him a message that this really matters to us," Marvin said. "This is our transportation. It's how people in Coastal Alaska get around."
People like Alenna Nilsen. She's 33 and grew up on Petersburg's Mitkof Island. She says she spent much of her youth on ferries traveling to school events in the region.
"It was really essential in keeping me active in the dark hours of winter as well as connecting with my fellow peers, my teachers, my coaches, and leaders in this community," said Nilsen.
Adele Rosvald is in a long blue coat with fur trim and she's helping to hold up the banner. She says she's here because Southeast Alaska needs ferries for freight, medical travel, and getting students to activities.
"Just because we have less population that Anchorage, we still need a transportation system," Rosvald said.
Michael Truex is a carpenter who is raising a family in Petersburg.
"I feel like we're being abandoned as a region," Truex said. "I just built a house here. You know, I've invested in the long term and then this Governor comes along and pulls the plug on all of our efforts. And I don't appreciate it."
The area was under a winter weather advisory with snowy conditions at the time Dunleavy was expected to arrive in Petersburg. Alaska Airlines was able to land its morning jet in Petersburg but an afternoon flight was canceled. Dunleavy's office says he was weathered out of Petersburg and Juneau. The Governor travels in the state's Department of Public Safety's King Air prop plane.
Spokesperson for the Governor, Jeff Turner, says Dunleavy plans to reschedule the trip.
Petersburg Borough Manager, Steve Giesbrecht, was disappointed that weather got in the way.
"Whether we agree or disagree with the Governor, I think it's important to get an opportunity to have him come to Petersburg and kind of see what's important to us," Giesbrecht said.
Giesbrecht says the borough planned to talk to the Governor about several topics, ferry cuts being at the top of the list. Also, community revenue sharing, education, local infrastructure, and the State absorbing the raw fish tax.
"There's a lot of questions about how we will maintain the community in the future without the state's support and how does the Governor see that relationship going down the road," said Giesbrecht.
The Governor's trip to Wrangell on Tuesday is still scheduled as of Monday evening.