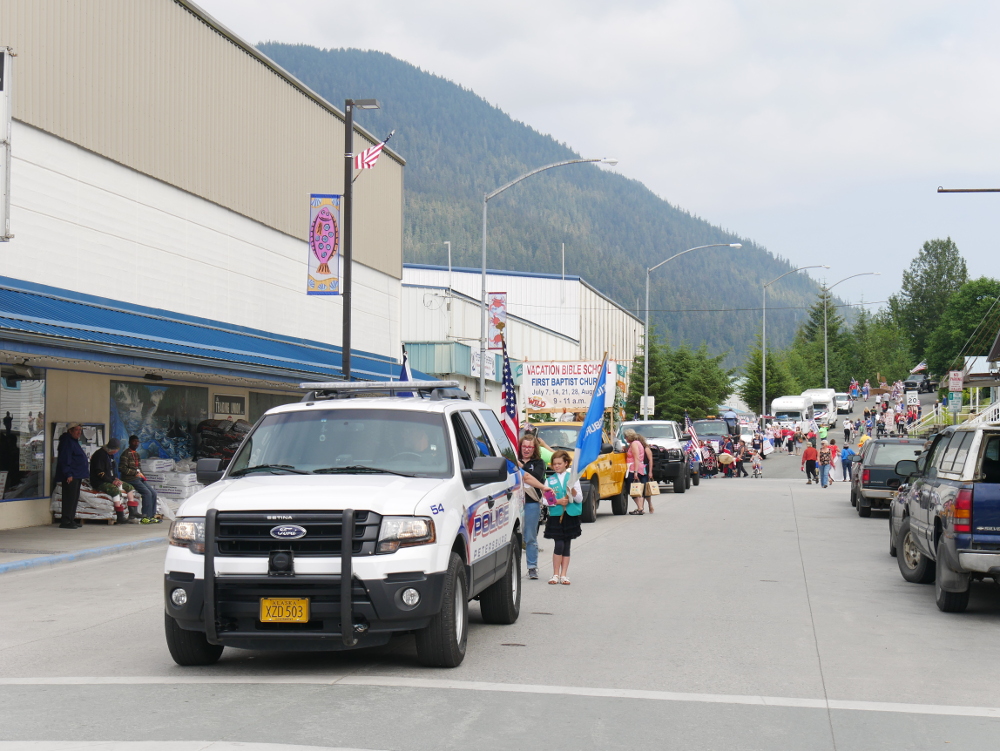 Petersburg may look into requiring a permit for some parades in the future.
Police chief Jim Kerr suggested the idea to the borough assembly this week following last weekend's celebration for Elizabeth Peratrovich Day.
"I guess the way it had been done before is they would notify me of a parade and if they needed the road shut down we would notify (public works director) Chris (Cotta) and we'd get the barricades set up," Kerr told the assembly. "Needless to say, this parade grew in size and with the lack of communication, I'm requesting that we look into developing an ordinance for a permit or letter of approval for parades and events that are in the roadway."
Kerr suggested a fee of 20 or 25 dollars to go toward the cost of street barricades. He wants to require marchers to submit plans for the parade route, along with contact information for event organizers
"This would pertain to anything in the road that effects the flow of traffic," the police chief explained. "So like the high school doing their noise parade, that doesn't affect the flow of traffic. They're moving with the flow of traffic, it doesn't affect it. So just anything where we have to shut down that section of road for public safety type stuff."
Kerr thought several events would be exempt from needing a permit because the borough takes part, namely the Little Norway Festival, Fourth of July and the Christmas tree lighting. Other parades regularly held during the year are for St. Patrick's Day and Elizabeth Peratrovich Day. Other political marches and rallies are staged from time to time.
This type of permit could also be a way for a neighborhood to shut down a street for a block party.
Later in the meeting assembly member Chelsea Tremblay recognized the organizers of Sunday's celebration and said she hoped to draft a proclamation honoring Peratrovich.
"The fact that someone was born here who helped, was part of a huge team of people that brought about the first anti-discrimination law in the United States is pretty remarkable," Tremblay said. "I know it took a lot of work to make something happen and there was a lot of passionate dedication and to recognize the mural that will be put in front of the courthouse. So I'm hoping to do that proclamation. Yeah just thank everyone again for all their work. It was a true gift to the community."