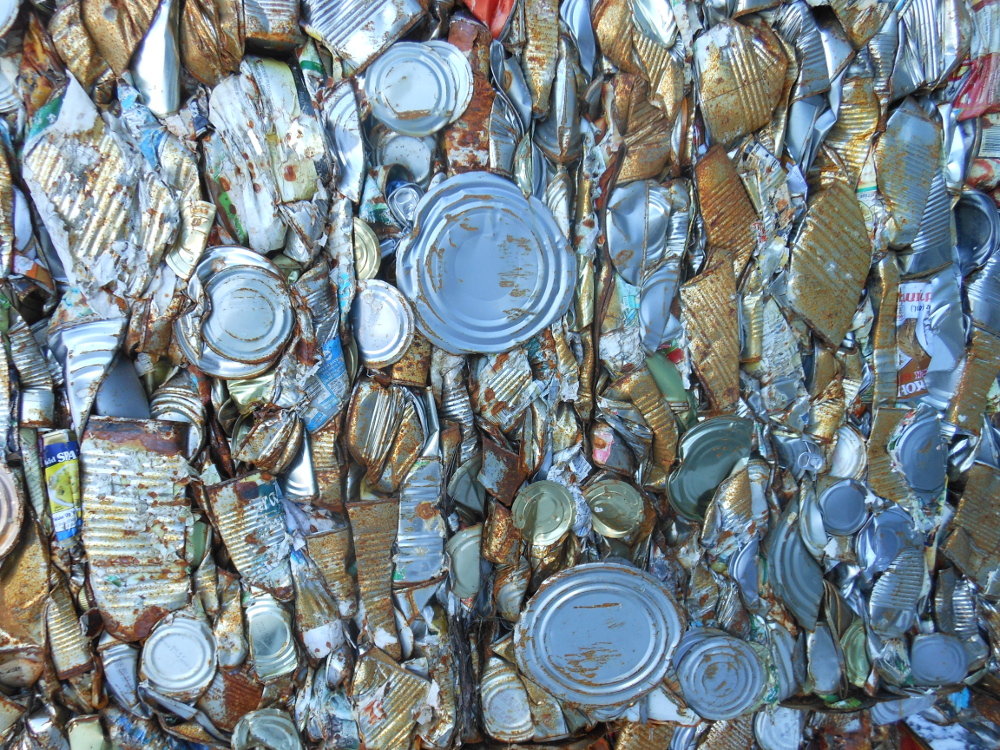 Borough officials in Petersburg expect to be reviewing options for the future of the recycling program.
The municipal government has provided curbside collection of mixed recycled materials in big blue collection carts since early 2016. Prior to that, it contracted with a private company for the service. For about two years, the borough has been losing money on recycling. A loss of markets for those goods has meant it costs the borough more to ship out recycled goods than it does to send that same material to a landfill in Washington.
So the borough commissioned a rate study for the sanitation department. As part of that study, public works director Chris Cotta told the assembly that staff is looking at four options for the future of recycling. One option is keeping the status quo, with curbside collection of a wide range of recyclables.
"A second option is to continue with co-mingled recycling and picking up that recycling but reducing the number of pick ups in combination with eliminating the low value commodities from the recycling stream," Cotta said. "A third option would be to discontinue curbside collection and go to a drop off program for our recycling and a fourth option would be to have no recycling and just quit recycling, just be picking up garbage, get out of the business of recycling."
Cotta said staff is looking at the size of rate increases needed for the different options. He thought rate hikes were likely ranging from one and a half percent up to five percent depending on the decision on recycling.
Assembly member Jeff Meucci wanted to provide some forum for public input.
"You know I think an issue as complex as this is going to take a work session for us to kind of sit down, have it explained to us, what it all means," Meucci said. "I'm sure we can look at all four of the options. I'm sure Chris will have and the city manager will have a recommendation for us but I think the community kind of wants a chance to chew on this and weigh in on it."
Meucci also asked for the rate study and recycling options to be published on the borough website once it's completed. Others agreed a work session on the topic sometime this spring would be a good idea.
In other business, borough manager Steve Giesbrecht reported on the findings of an environmental review of land proposed for an exchange between the borough and fuel company Petro Marine.
The review was completed by consultant Shannon and Wilson and mostly paid for by Petro. The company has asked to exchange land it owns on South Nordic Drive for borough land across the street leased to Petro.
Giesbrecht told the assembly that the borough is now in wait and see mode.
"The report does show the presence of some contaminants in at least two locations on the property," Giesbrecht said. "The next step though starts to get kind of, a little nebulous. We're going to discuss with Petro what their plans are and to kind of hear from them on when are they going to reach out to Alaska DEC and what is Alaska DEC going to tell them and what's the time frame on that?"
The DEC is the Department of Environmental Conservation, which in 2012 signed off on clean up work done on some of the Petro property. The DEC at the time wrote that remaining contaminants in the soil did not pose an unacceptable risk to people or the environment. This latest review found fuel contamination, arsenic, chromium and lead in soil and ground water tested. That property used to include a bulk fuel storage facility. The borough land proposed for exchange has also had past cleanup work for fuel contamination and is the current site of a gas station.