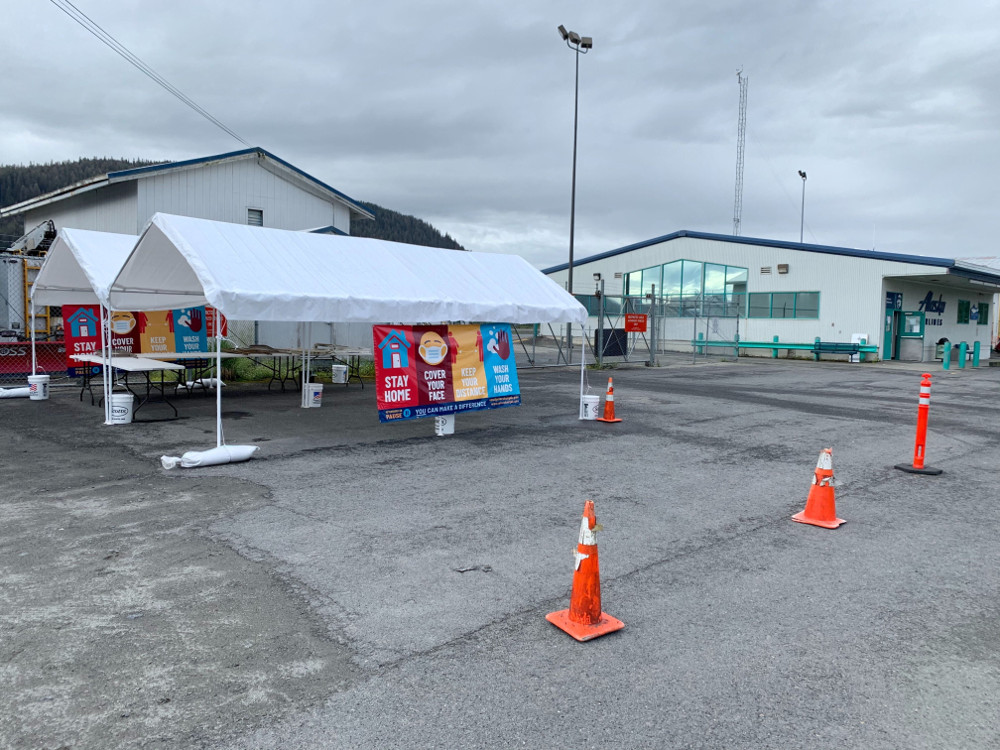 Petersburg's assembly Monday gave the first of three approvals needed for a new permanent local law on emergency actions and powers for borough officials. It's similar to the temporary ordinance that's been in place during this year's COVID-19 pandemic. The assembly also voted to allow some elected officials to attend meetings in person and OK'd emergency funding for the school district.
A temporary law for emergency response was approved by the assembly March 20th and extended for an additional 60 days. This is a permanent version of that ordinance, allowing for orders to protect public safety and health and granting authority for enforcing those measures.
The borough's incident commander Karl Hagerman called it a catch all ordinance.
"It allows the borough to act quickly and decisively in response to any kind of emergency really," Hagerman told the assembly. "And we've seen how it is effective in responding to the pandemic that we're facing right now."
The ordinance says that the borough manager, incident commander and assembly can order a curfew or evacuation, close businesses, prohibit gatherings and call up law enforcement help. The assembly can end these orders by the manager or incident commander.
Assembly member Jeff Meucci supported the new version of the local law.
"You know I'm pretty comfortable with, there's lots of checks and balances in this," Meucci said. "This doesn't give an incident commander or the borough manager any direct authority here. There's always checks and balances with the assembly and local government."
A more limited emergency law was part of the city of Petersburg's code, before formation of the borough government. That prior law referenced an emergency preparedness plan and named the city manager as the incident commander for an emergency.
The new borough ordinance takes three readings by the assembly. It passed the first reading on a 6-0 vote. Assembly member Bob Lynn had some legal questions he wanted answered in time for the second reading and some possible amendments.
The assembly did agree to remove "pandemic" as one of the disasters specifically mentioned in the ordinance. The law makes clear the emergency powers can be used for any natural or man-made disaster or enemy action.
In other decisions, the assembly extended another public health mandate on meetings for the local government. Those have been online or by teleconference only since the end of March. Assembly member Meucci thought it was too early to change that.
"I don't see a big hurry to get together," Meucci said. "I mean I think a lot of use are going to be in and out of town throughout the summer. You know without any more testing up at the airport we still don't know if we're getting anything coming into town with our visitors. I'll probably not be voting in favor of it this time. I'd like to kind of see how we move forward with the health of the community."
The proposed change will allow members of the assembly and other local boards the option of showing up in person for meetings, or by teleconference. Public participation would continue only by phone or email. Assembly member Bob Lynn liked the proposed change.
"It allows members to make their choice of whether they want to attend in person or to do it telephonically," Lynn said. "It takes no rights away. It requires masking, if you want to, if you don't want to you can still call in. It's a first step in trying to come back to some normal way of doing business."
Elected officials have to wear a face covering, go through a temperature screening and observe social distancing if they do attend a meeting in person.
That change passed on a 5-1 vote with only Meucci voting no.
One other pandemic related vote was approval of a payment of $70,178 to the school district for responding to the emergency. That comes from federal coronavirus money, through legislation called the CARES Act.
Vice mayor Jeigh Stanton Gregor supported the payment to the school district.
"I was really excited the CARES Act money can be used for that, to reopen our town here and school is a critical part of that," Stanton Gregor said. "And again I'm very glad we can use this money to support our school district that way so we can get back to our school life as normal as well."
That was a unanimous vote for the payment to the school district.
The money will go to pay administrators and staff working extra to transition to distance delivery for learning and meals this year. It will also pay for summer programs and transportation along with temperature screening kiosks for students, staff and the community in preparation for returning to the classroom.