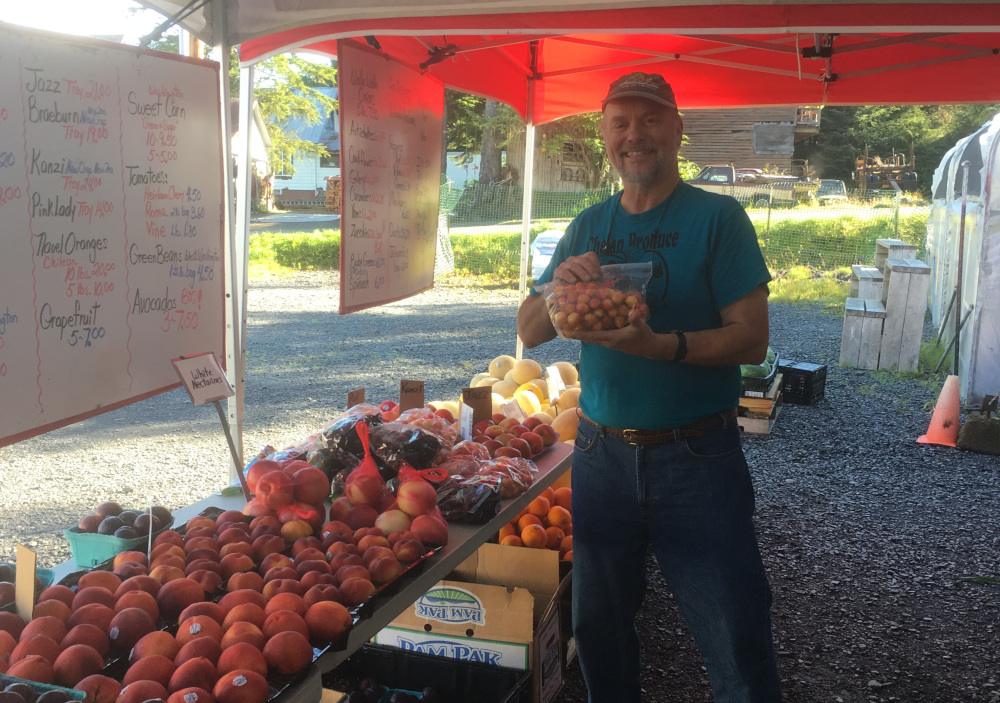 The COVID-19 pandemic is impacting yet another business in Southeast Alaska. Chelan Produce has announced it won't be bringing fresh fruits and vegetables to Petersburg and Sitka this summer, due to coronavirus concerns – and are not sure about next year.
Chelan Produce co-owner Dave Kensinger said they decided to cancel the summer operation because of coronavirus health precautions all along the supply chain. First, in Seattle, with their supply warehouse closed to outsiders, he would not be able to choose quality products to bring to Southeast Alaska.
"What I do, I actually go down there," Kensinger explained." I look at the product and – something that nobody does – I actually taste it, to see what it tastes like. And that's the thing I always tried to put more emphasis on, was the flavor of the product. So that's kind of what I feel is what makes it possible for me to bring up really good product."
Kensinger and his wife and business- partner Mona Christian, have been supplying southeast Alaska with fruits and vegetables for the last 42 years.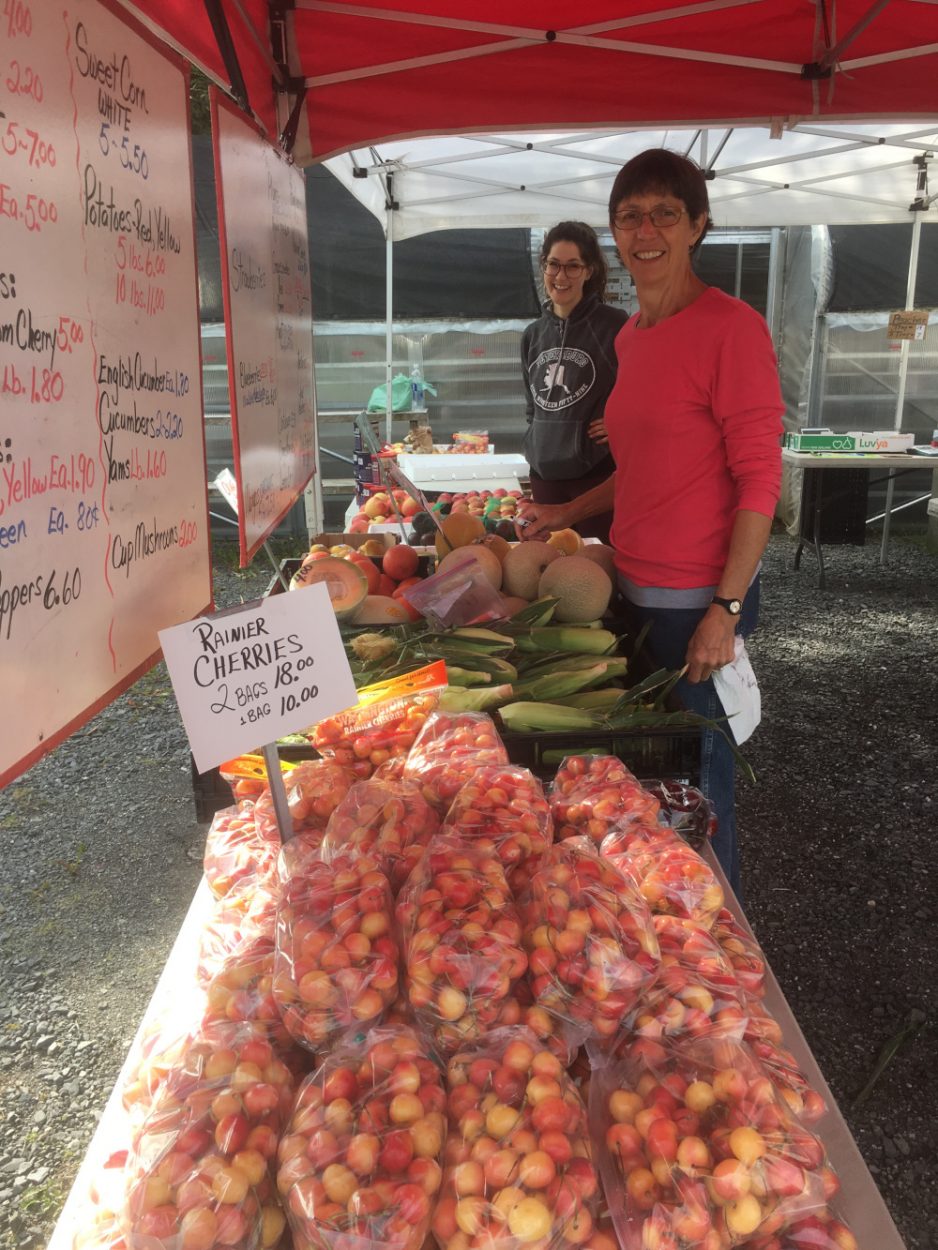 In summertime, that usually includes strawberries, blueberries, honey mangoes, melons, white sweet corn, cherries and stone fruit. "Everything that you can imagine is produce," says Kensinger.
Chelan also has a garden store, which has already ended its summer season.
Typically the company ships about 26,000 pounds of produce from suppliers in Seattle every two weeks, by barge – which has increased its prices as well. Then they fly to meet the barge in Petersburg, and then on to Sitka to sell at markets, twice a month. Up until 4 years ago, they traveled easily throughout the region (on the Alaska Marine Highway System. But that became unfeasible, as ferry service has been greatly reduced by budget cuts and breakdowns.
Instead, Kensinger says he takes 9 different flights in a 2 week period – which has been logistically difficult during the pandemic. And he estimates he's in contact with close to 1000 people during that time, in transit, buying and selling.
Kensinger is concerned about COVID-19 risks across the board – at his popular stand in both towns, for his customers, for his approximately 30 employees, and for himself.
"Particularly in Sitka, everyone comes at the same time so we have a huge, huge influx of people," said Kensinger. "And in Sitka we normally have 16 employees, in a really small space. And in Petersburg we usually have 8 to 9 employees. So I just couldn't figure out a way that we could do it and keep everybody safe." He said he himself doesn't want to be a carrier of the virus. "I would feel really bad if I was the person that brought the virus into town and infected a lot of people."
The company announced it was canceling its summer season via a Facebook post, and was met with an outpouring of comments with well-wishes and hopes for their return.
"It's really a loss for the community of Sitka," says Holly Marban, who was saddened at the news. She has been both a customer and a summer employee at the farm stand in Sitka. "Chelan is something that many, many Sitkans look forward to every Saturday when Dave and Mona come down."
Marban says there are other options in the summertime in Sitka. But she'll also miss the community experience.
"So when people were waiting in line, he or one of his employees would be walking around offering a sample of cherries or a slice of a nectarine or a slice of a new melon that he just brought up. It really allowed customers to have a new relationship with the food that they were buying. So that they could make an informed decision about what they wanted to serve to their family, what they wanted to have on the table that week. And was it as fresh as it looked? Or as fresh as it smelled? And so were really able to enjoy that experience."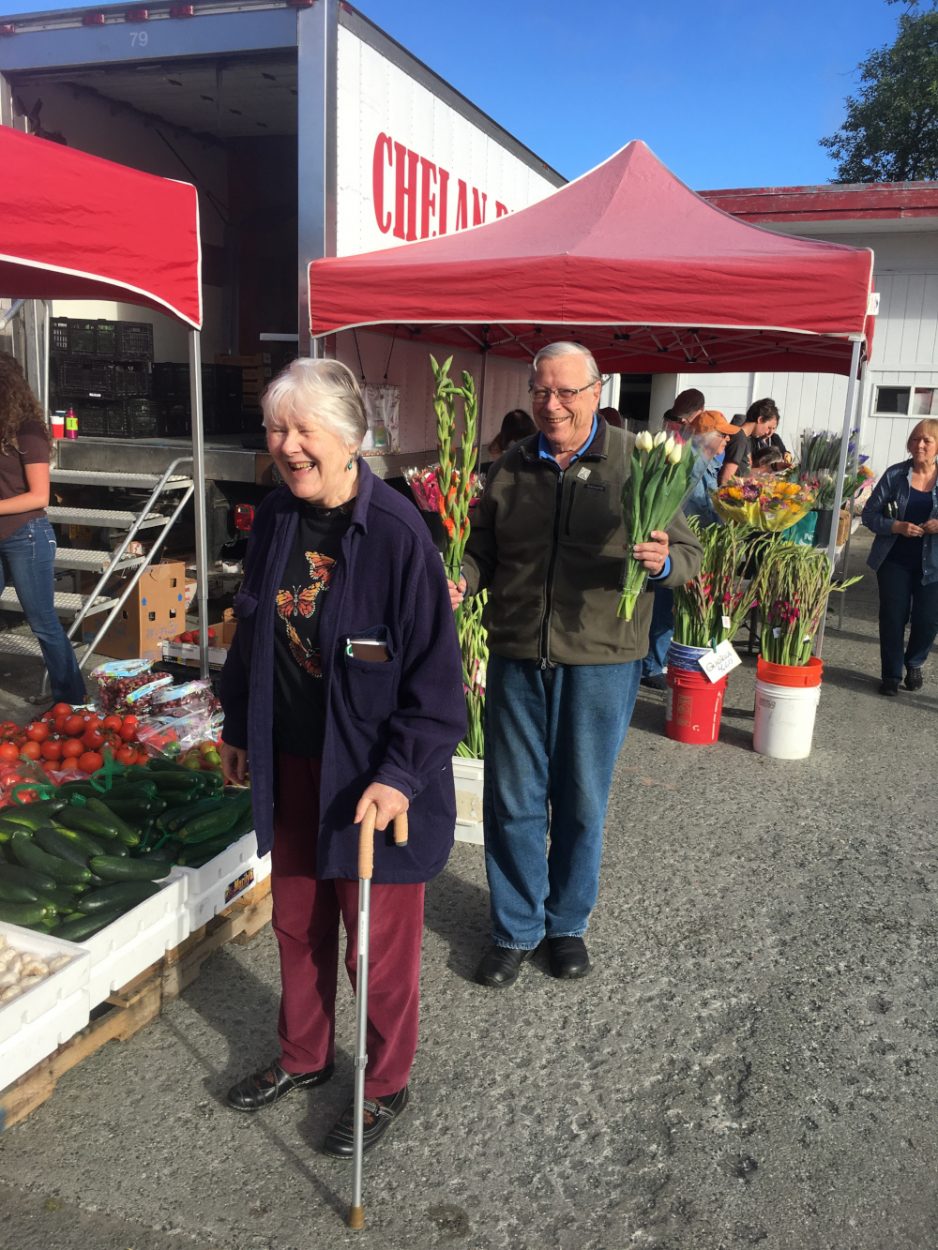 Dave Kensinger says he hopes to resume operations and garden store next summer. "We're on hold for summer, we'll operate the garden store for sure next year and then hopefully start up Chelan again next year," he said.
But, he said he can't make any promises at this time. "The only thing I want to caution everybody is we're both 65 right now, so we're getting closer to the end of our working life than towards the beginning. So yeah, we're definitely leaving the option open to start up again in the spring next year."
In Petersburg, management at both grocery stores at Hammer and Wikan and the Trading Union told KFSK they are looking at increasing produce orders to meet customers' needs.
(Editor's note: Chelan is a longtime underwriter and supporter of public radio including KFSK in Petersburg.)