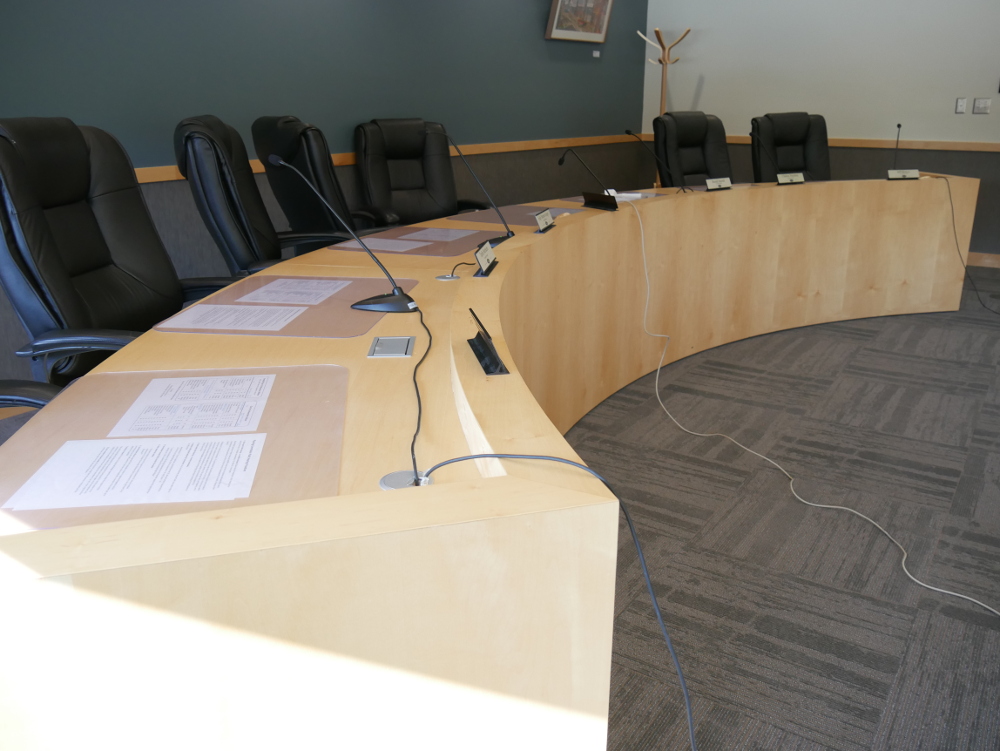 It looks like seats on Petersburg's borough assembly and school board will be contested in the October election. By Tuesday's deadline, four people filed for two seats on the assembly and three candidates are running for two seats on the school board.
Both incumbents on the borough assembly are seeking re-election.
37-year-old Brandi Thynes, formerly Marohl, works as an electrician at the OBI Seafoods plant in Petersburg. She's seeking her second three-year term.
"I actually, I enjoyed it," Thynes said of her first term. "It's been interesting, or course right now there's a lot of controversial issues and you know I like being involved in the discussion and all that goes with it."
Community members have been closely following and frequently commenting on assembly decisions this year relating to precautions for the global health pandemic. That includes dozens of emails and phone testimony on an emergency law that's up for a final vote next month.
Thynes thinks the local government has responded well to the pandemic and has listened to concerns of citizens.
"I probably tend to be more on the side of less government as opposed to more and having more personal responsibility in a pandemic as opposed to some of the other members," she said. "And I think that's part of why I chose to run again, just because there's a lot of people that feel the same way as I do and I think that they need a voice as well."
Thynes thinks the assembly will have decisions to make on spending coronavirus relief funding and thinks the borough can play a role in helping local businesses rebound.
Another assembly incumbent 65-year-old Jeff Meucci is a retired research diver for the Alaska Department of Fish and Game. He's interested in improving the economy after the pandemic and thinks the local government can make that conversation happen.
"I mean I think there's going to be some need for conversation about what we're going to do with the visitor industry," Meucci said. "This year obviously they didn't show up in town but next year they're going to want to be back and we need to do as much as we can to encourage economic development in Petersburg. This will always be a commercial fishing town but we need every little bit of economic development that we can and we can't afford to turn people away."
Meucci said the borough government has to have plans in place to respond to the pandemic and he remains committed to following guidelines and advice from health experts. He thinks there are other conversations the community needs to have.
"It struck me over the last month and a half that we don't have enough day care facilities or day care places for young kids in town and unless parents are confident that their kids are in a safe place and things are good with their kids we'll never get back to work here," Meucci said. "We need to get back to work here. I want to look at that a little bit. I want to see what we have and if, we have a enough and if we don't have enough what the borough can do to work with other organizations in town whether it's PIA or Tlingit-Haida (Petersburg Indian Association or Central Council Tlingit and Haida Indian Tribes of Alaska) just to kind of try and figure out how we're going to move forward."
Another important issue he sees on the horizon is the replacement of the Southeast Alaska Power Agency's electrical transmission cable south of the island. Meucci was mayor of the community in the 1990s and narrowly lost a bid for that seat last October.
Also seeking a seat is 65-year-old Dave Kensinger, co-owner of Chelan Produce and Garden Store. He's also served on the planning commission and as vice president of the board for the Chamber of Commerce. The pandemic is also a reason for him to run.
"From my position on the chamber I've been able to see the impact that all the COVID related issues have had upon the retail and the tourist industry here in town," Kensinger said. "And I have some real concerns for that and we've been working really hard in the chamber to try and funnel some money particularly to the smaller businesses that don't have the capability, they don't have an accountant on staff and things of that nature. So I got a lot of concerns for the community going forward."
He praises the COVID-19 response by the local government, schools and hospital. He thinks the local government has tough choices from economic impact but wants to maintain services.
"You know if our streets don't get plowed, we have lousy schools, you can't get fixed at the hospital then people are going to look at moving to other towns," Kensinger said. "So I think it's really important from a business perspective to make sure that we maintain the high quality of services that we have from those three entities in town and that's going to be the best thing we can do to have a good business environment going forward."
A fourth candidate is 60-year-old Marc Martinsen. He has worked as a fisherman, in the family business on dock and harbor construction as well as transportation work for the Petersburg Indian Association. He's been on Petersburg's city council and has run four times for borough assembly. He's opposed to the borough's response to the COVID-19 pandemic and an emergency ordinance up for its final vote next month.
"Well if you want to take the emergency ordinance I mean I think it's an insulting, embarrassing, very stupid idea," Martinsen said. "I mean we're not a town of children. I mean when there's a fire, the fire department's going to act. If something needs police action they will do their thing, same for EMTs, search and rescue. They don't need someone to tell them what to do. I mean do the clean up on the ordinance, Petersburg borough. I think eliminate all the new language, eliminate the fines, maybe the assembly could be called on short notice on emergency if it ever happens."
The ordinance would allow for measures like curfews, business closures and prohibitions on public gatherings during emergencies. The borough has had a temporary version of that local law in place this year to respond to the pandemic but has not fined people or implemented curfews. It was the state government that suspended gatherings and closed businesses earlier this year. The local government has approved temporary orders following some of those state measures.
Besides public health response, Martinsen wants to be on the assembly to push for reductions in local government spending.
"Well our economic situation's going to be, I don't think people realize what's coming here by this time next year, it's going to be tough," he said. "You can't come back economically without government stop raising taxes and fees, put money into the engine that drives the economy, that's private people in businesses. Maybe we privatize garbage collection, go back to centralized recycling. Ever since that recycling thing started, it's going to be a hole you're just throw money into. I know people want to recycle but we had a good thing going before. You had those big bins and if you want to recycle, take your stuff there. There's less on your garbage bill. Maybe we can cut the motor pool; I can think of a couple machines there that we just don't need."
Besides the assembly, there's also a race for one of the seats on the school board. Incumbent board member Katie Holmlund is running for re-election and she faces a challenge from Craig Anderson. Another incumbent Megan Litster has no challenger for her two year term.
Overall there are 26 seats to be filled with a total of just 21 candidates. That will leave eight seats unfilled by election unless some win a seat by write in votes. Those vacant spots can be filled by appointment afterwards.
(Editor's note: this story has been updated to include assembly candidate Martinsen's comments.)