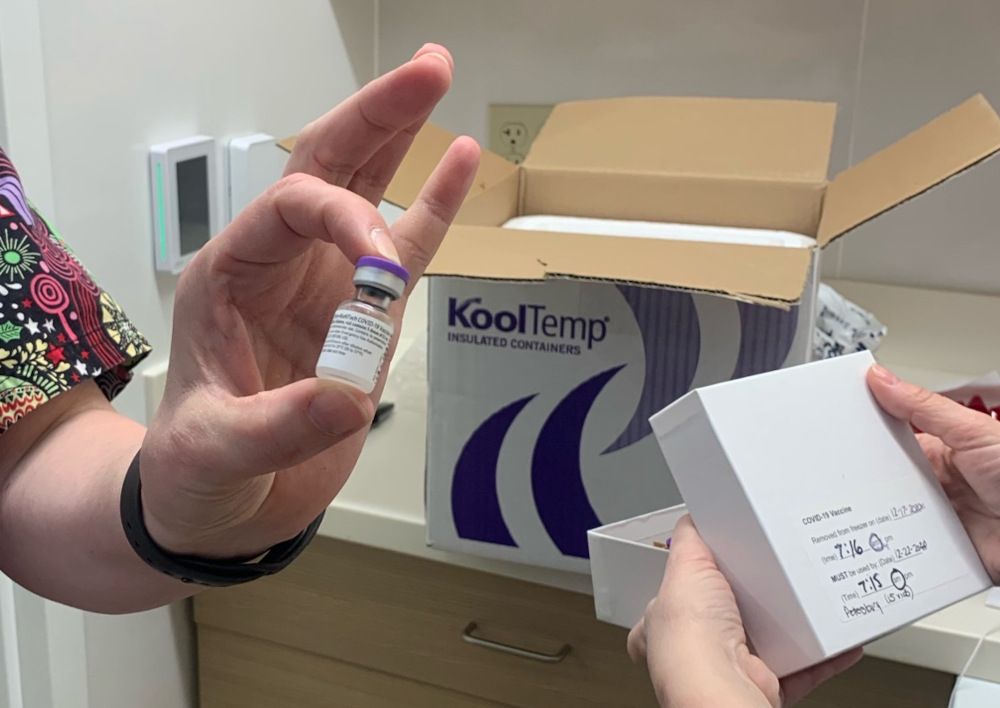 State and local officials are reminding Alaskans of the limited amount of COVID-19 vaccine during the early stages of the nationwide immunization effort.
State officials involved with the allocation of vaccine doses held an online information session Wednesday, December 30. This week, the week of January 4th is the start of vaccinations for health care workers who provide essential services and are at high risk of contracting the disease. They fall under Alaska's vaccination plan, under phase 1-a, tier three. Kelsey Pistotnik, public health advisor with the Alaska immunization program, encouraged people to visit the state's website to find out about their eligibility to receive the vaccine at this early stage.
"So I want to make that very clear that it is still a very finite amount of vaccine, so we want to make sure that it's going into the right arms," Pistotnik said.
By the end of December the state's Department of Health and Social Services reported 13,271 vaccine doses have been administered in Alaska. Most of that was the Pfizer vaccine. In addition, Alaska expects another allocation of 52,900 doses in January, with just over half of those from Pfizer. Beyond that the state does not yet know future allocation numbers but is developing additional phases to make the inoculation available to more people. A portion of the state's doses are going to tribal health care providers and those providers are able to give the shots without following the state's guidelines for who is first.
The group fielded questions, including one on whether Alaskans could get their first dose in another state and a second dose in Alaska.
"The bottom line is that states are rolling out vaccination differently," said Pistotnik. "And so because we have prioritized a specific group in Alaska does not mean that another state has done the same thing. So it really isn't as simple as 'Oh well I can get vaccinated in Alaska, I'll just get the second one in the next state I'm in. It just may not work out that way. And I think it's also really important to know when you're thinking about getting vaccinated within the state of Alaska to really try to get your first and second dose at the same location."
The state's site also includes an interactive map showing vaccine providers around Alaska.
Here in Petersburg, 150 people have received the first dose. Among those are residents and staff at the long term care facility at Petersburg Medical Center and Mountain View Manor's assisted living facility. Other health care workers and emergency medical first responders were among the first to receive Pfizer vaccine locally.
Petersburg's emergency operations center reports that small batches of additional vaccine are expected in to Petersburg Medical Center, which is following recommendations from the state's advisory committee. Local officials also say there is a separate allocation for the Southeast Alaska Regional Health Consortium and that PMC will be assisting with vaccine distribution for SEARHC beneficiaries. To get on the waiting list to get the COVID shot people can contact the clinic at 772-4299 or fill out an online survey.