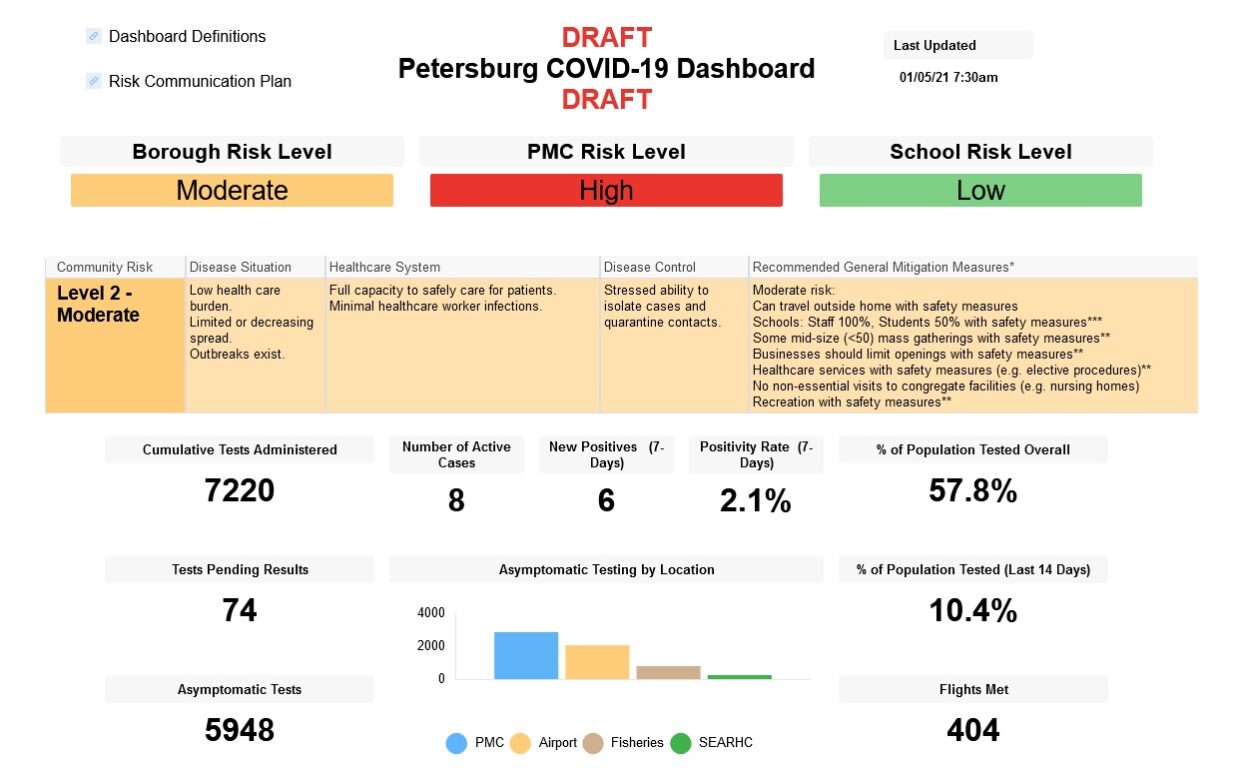 Petersburg's borough assembly Monday adopted a COVID-19 communication plan for the community. It's a more in-depth, online tool for relaying the status of the pandemic in Petersburg, local response and recommendations for individuals, businesses and organizations as COVID case numbers change.
The borough rolled out the draft plan a month ago. It lists testing numbers, active cases, positivity rate and other useful information. It also assigns a color status depending on different factors. Petersburg started off 2021 at level one, yellow or low risk. The borough's incident commander Karl Hagerman told the assembly that emergency officials would be talking about whether that should change after new cases were reported in the opening days of the new year.
"We're definitely seeing a surge in COVID-19 in Petersburg at this moment and I think it's important for this plan to be put in place so we can fully communicate the risks to the community and hopefully stop any additional spread," Hagerman said.
He said the online site would be updated every day. It has recommendations for businesses and community gatherings depending on risk level in the community
Mayor Mark Jensen asked about case numbers that would lead to change in the community's risk status.
Hagerman responded that it's more complicated that just case counts. That decision can also be influenced factors like where an outbreak is occurring and capacity in the health care system.
"Even if we have a situation that's fairly serious but we know it's isolated to like a travel-related case or series of cases that are all in the same family but they're all isolated from the rest of the community then that would allow the team to forego any elevation of the community risk level," he explained.
Both the schools and the medical center have their own risk plans, although the borough's online dashboard reports the color status of both of those along with that for the overall community.
Chelsea Tremblay praised the online tool and hoped others would use it.
"I hope it's the resource that many community leaders and people who are curious about the status of COVID in Petersburg can make themselves, make it a tool that you can work into your life because a lot of work went into it and it shows," Tremblay said.
The plan only has recommendations, not mandates, for health restrictions. For instance, it advises limitations to indoor public gatherings and recommends having non-essential businesses close if the community is under red status, level 3, the highest risk category.
The manager, incident commander and assembly can mandate health measures under the borough's emergency ordinance. Once the community moves to a higher risk level it would stay there for a minimum of seven days. After that local officials would determine whether to extend it or not.
Petersburg has mandates in place requiring face coverings in indoor public spaces and around co-workers, along with another that requires pre-approval before cruise ships and other passenger vessels dock here. There's also a local mandate requiring testing for travelers from elsewhere in Alaska on top of the state's mandate for incoming out of state travelers.
The assembly voted to adopt the plan by a 6-0 vote with assembly member Taylor Norheim not at the meeting.
(Editor's note: shortly after this meeting Petersburg's EOC decided to elevate the community's risk level to moderate. KFSK will be reporting on that decision as well)