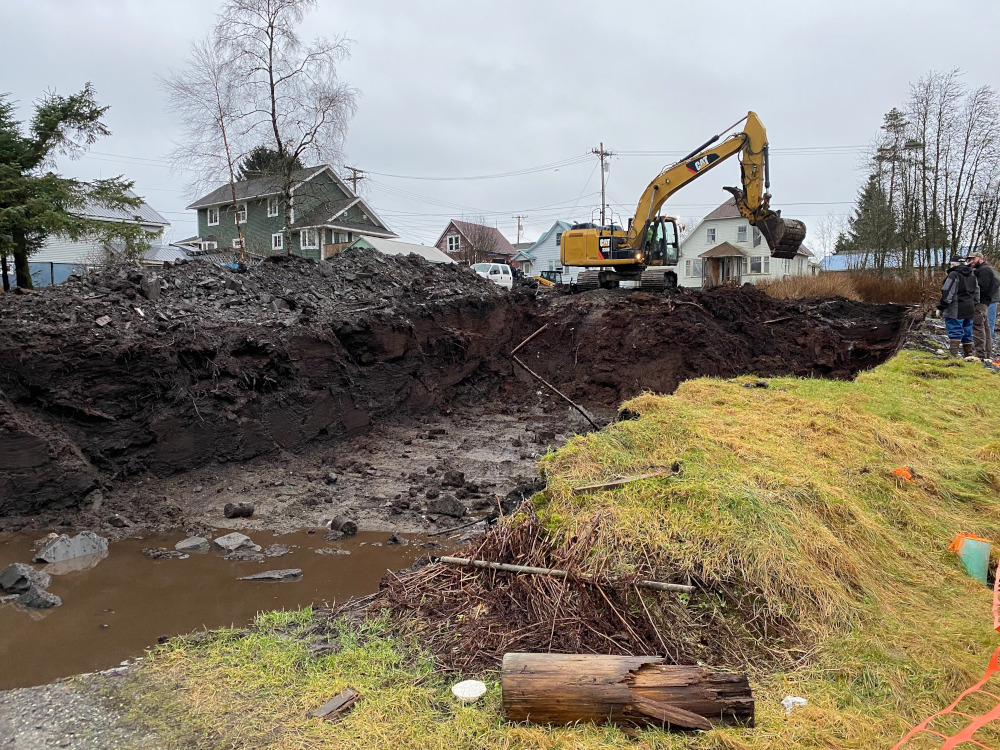 Construction has started on a multi-million dollar affordable housing project next to the Petersburg Medical Center.
Local company Rock N Road began excavating the site on Excel Street last week in preparation for a new building with 15 apartments.
"We're just really excited to get going," said Glenn Gellert with Swell LLC, the Anchorage development and financing company that's doing the project. "We've been working on this project for quite a while now and it always feels good when the digging starts."
The apartment building has a price tag of 5.7 million dollars. It's financed by a combination of low income housing tax credits, federal housing grants paid out by the Alaska Housing Finance Corporation and a low-interest loan from the Rasmuson foundation. Originally called Valhalla Place, the name has been changed. Gellert said there was some pushback on that first name. It's now called Vakker Sted, Norwegian for "beautiful place."
The plans call for two one-bedroom units and 13 two-bedroom apartments, most of them rented to people who qualify for lower-income housing. The developers hope people who work in downtown or others who need easy access to the hospital will rent those units.
Construction was supposed to start by the middle of last year. Gellert said the pandemic played a role in the delay, but there were also issues to address with demolition of the homes that were on the site, along with an allowance to put parking spaces at a nearby lot the company also purchased.
Gellert said it's not unusual to be starting construction work in the middle of winter.
"We have been doing a lot of work in Kodiak at this time of year and Kodiak has a lot of the same kind of temperature and weather conditions as Petersburg," he explained. "So we've been building there year-round. You know in Anchorage it's a little more problematic but we're kind of following the lead of our civil contractor there and as long as he can get to his pit then he feels pretty comfortable working at this time of year."
Swell has hired a Palmer company called Burlywood as the contractor for the project. Gellert thinks there may be around 10 people working on the construction at one time. It's expected to take about a year, with people moving into the new building in 2022. It will mean a big increase in available rental housing for the community in the downtown area – a need identified in Petersburg's 2016 comprehensive plan. In addition, the Petersburg Indian Association is putting in four affordable housing units this year too.