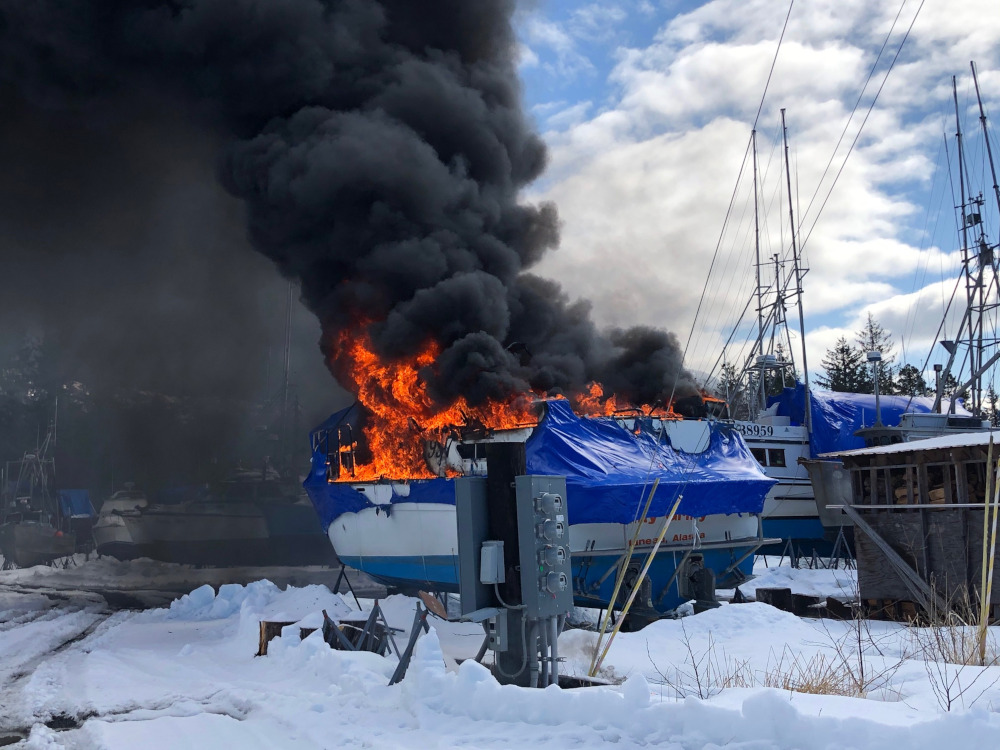 Fire destroyed a commercial fishing vessel stored in a boat yard in Petersburg Sunday afternoon.
The Petersburg Volunteer Fire Department was called to the Petersburg Marine shipyard in Scow Bay around 1 p.m. Sunday, March 28 for a fully involved boat fire.
PVFD spokesman Dave Berg said the department responded with two engines and crews.
"We got on the scene and found about a 32-foot bow picker, a fiberglass boat and cabin that was quite involved with flame, lots of black smoke," Berg said on Monday. "So we extended hose lines, hooked up to the hydrant, had to lay a long piece of hose to get into the facility and about a thousand feet of large diameter hose from the fire hydrant all the way into facility and started attacking the boat. It was a little difficult to get out. Some of the small cubbies and that sort of thing continued to have some fire there."
The boat is the Nitty Gritty, a 31-foot boat registered to Denny Heimdahl of Petersburg and used for gillnetting and trolling.
Volunteers eventually were able to extinguish the blaze but Berg expects the boat is likely a total loss.
"The engine compartment and cabin were pretty much completely destroyed," he said. "The cause of the fire is under investigation but there hadn't been anyone on the vessel for a while. Although the vessel was connected to electric power, the electric did not go off, in other words the breakers didn't trip but we suspect the only thing that was on the boat that would have caused a fire was some sort of electrical connection space heater, or block heater on the engines that sort of thing."
The vessel was not near others stored at the shipyard and Berg said there was little chance of the fire impacting other boats there.