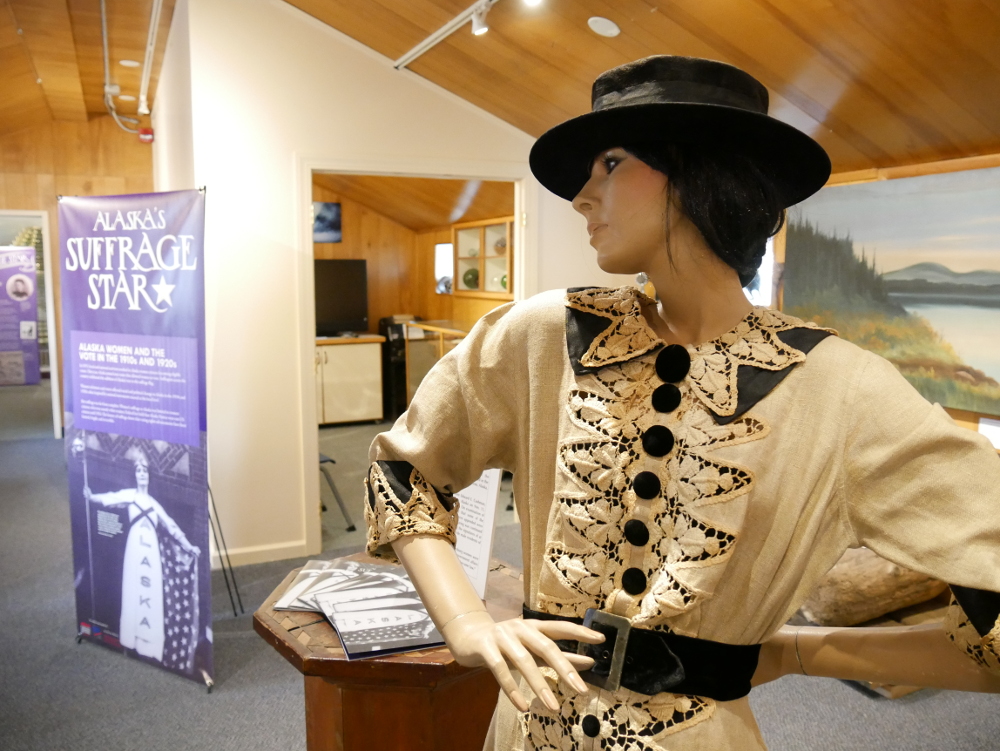 The Nineteenth Amendment, ratified in 1920, gave women the right to vote across the country.
But it took years of state-by-state campaigning to get there. In 1913, Alaska joined nine other states in granting suffrage to women.
Alaska State Museums has a traveling exhibit about this history. It's here in Petersburg at the Clausen Museum through July 24.
Katie Anastas spoke to Alaska State Museums curator Anjuli Grantham about the exhibit and how this history connects to voting access today.
The exhibit is called Alaska's Suffrage Star.
"It refers to a literal flag, and it also indicates the idea of the women themselves who were advocates of suffrage here in Alaska," she said. "Those were the stars as well."
The exhibit features four of those women, including Tillie Paul Tamaree. A Tlingit educator, she was arrested after accompanying a Tlingit man to a polling station in Wrangell.
While the exhibit focuses on the women's suffrage movement in the 1910s, curators also included a timeline showing ongoing challenges to voting rights. It ends in 2013.
Grantham said understanding this history is important for American democracy. She's noticed a pattern: an expansion of voting rights, and then backlash and restrictions.
"This is what's happened across U.S. history for decades and decades," she said. "So hopefully people can see this, have the broader view and realize that it's time for us to move beyond restrictions and towards greater access."
The Clausen Museum is open Monday through Saturday from 10 a.m. to 5 p.m. The exhibit's next stops are Ketchikan, Fairbanks and Wasilla.