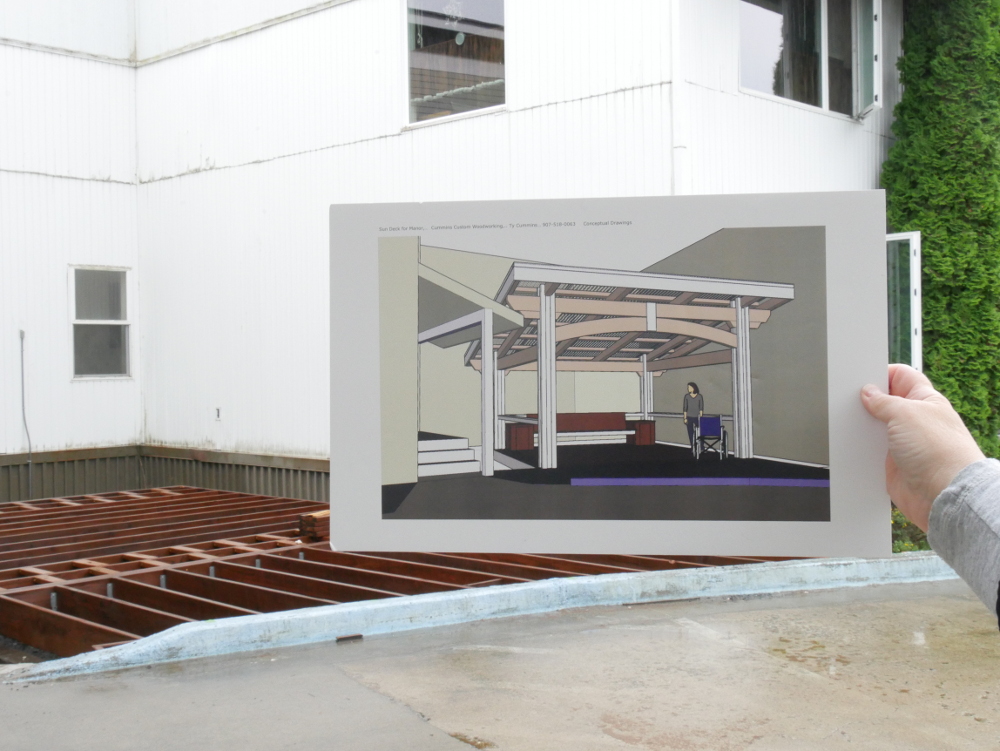 Rising freight and lumber costs have impacted construction projects all over the country. That's the case for a new deck at Mountain View Manor, an elderly housing and assisted living facility in Petersburg. Katie Anastas spoke to the project's founder about what's ahead.
Seniors at Mountain View Manor have to sit in the driveway if they want to be outside on the west side of the complex. It can get windy, and there's no overhead protection from rain or snow. Sally Dwyer has several family members at Mountain View Manor. She noticed an empty area by the parking lot filled with gravel and overgrown weeds, and got an idea.
"I'd always looked at this space as wasted space, where the two buildings join. And I kept saying to myself, gosh that would be such a cool place to put a deck. The main thing is to get people out of the driveway and out of the wind tunnel here at the sally port. There is another deck on the back side, but it's the same problem: no roof and it's a wind tunnel."
Dwyer first introduced the "Deck Out the Deck" project to the public in 2019. Since then, the Petersburg Community Foundation, Petersburg Indian Association and individuals have given $78,000. It was $4,000 short of the original fundraising goal, but it was enough to start.
"And then the pandemic hit and our costs went up 35%. And that's really scary because we were $4,000 from our goal. Now, we're $34,000 from our goal."
That's due to rising costs of freight and materials, including wood. Right now, the base of the structure is complete. It's made of beams and steel piling donated by Tamico, a local construction firm. Now, after one month of construction, Dwyer is anticipating the next round of expenses.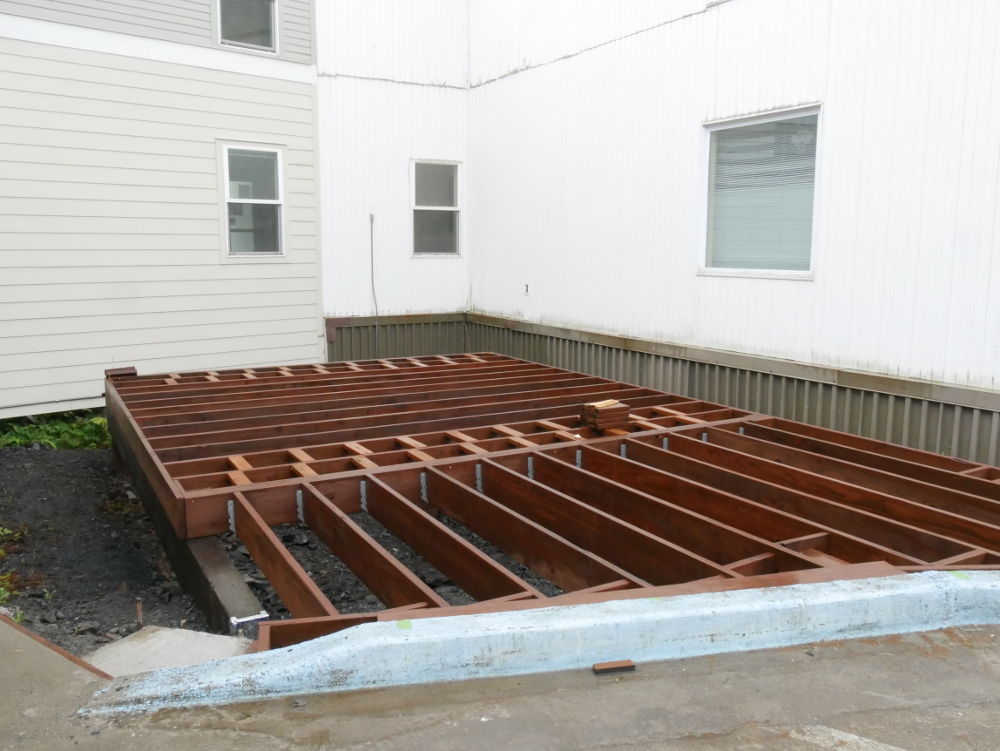 "It's also going to have a pitched roof to the back, so the snow will fall off of it, and we're going to do that clear with LEXAN so that it's always got light in there. We're going to put lighting in it, we're going to put ceiling heaters, and then we'll have movable furniture."
The moveable furniture will give families more comfortable seating options, Dwyer said. And that comfort can mean a lot.
"When I come up to see my mom, she's in her wheelchair. I'm standing, peering down at her. I like to be at the same level with her so we can talk even-steven, not like I'm in charge of her or something."
As she begins a new round of fundraising, Dwyer said she's proud of how far they've come.
"My mom's up here, my aunt and uncle are up here, I know most of the people who are up here living. I just feel like it's really important to take care of our senior citizens and I think it's up to us in the community to make it a better place for them to live."
If you'd like to donate, you can send a check to the Petersburg Borough at PO Box 329 with "Deck the Deck" written in the memo.