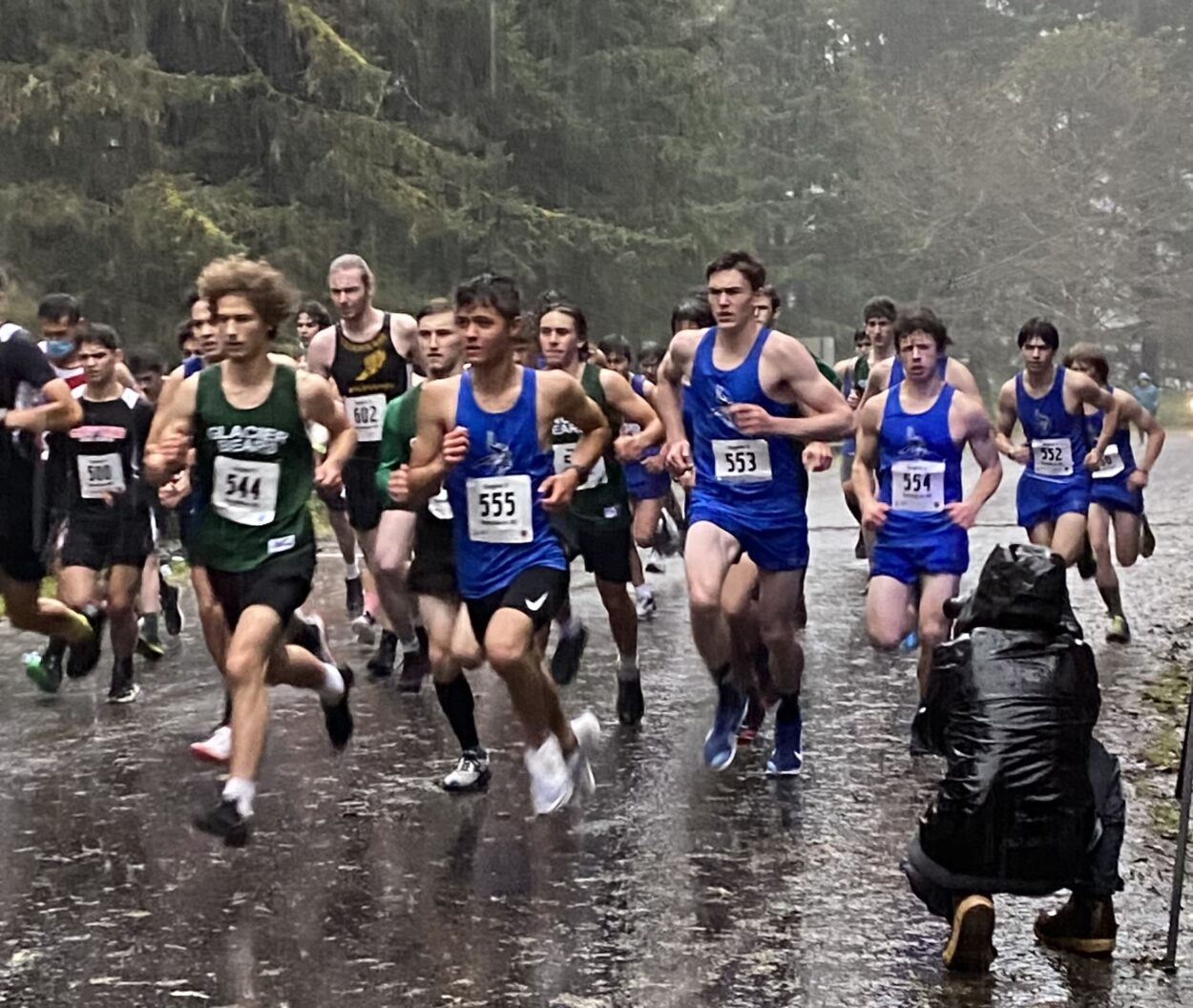 Petersburg's cross country teams are heading to the State meet in Anchorage this weekend. Both the boys and the girls teams earned their spots during the regional meet in Ketchikan last weekend. Senior Uriah Lucas won the region title for the boys. KFSK's Angela Denning reports:
While a fall storm was blowing here in Petersburg Saturday, the high school's cross country teams were running a race in Ketchikan.
By all accounts, it was a very wet trail.
"We had full blown hail storm right at the beginning of boys D III race and as they came running by me they had their hands over their heads trying to block the hail," said Petersburg's Head Coach, Tommy Thompson. "It was hailing hard plus blowing against them for that first minute and a half. There's a lot of things that the guys had to fight. That hail storm came; it ended but then it started raining and it was so cold that some of our kids were, it seemed like they were nearly hypothermic, Everybody was, I mean, all the runners suffer from the same things. We just have a lot of runners with no body fat and so it was a lot of shivering during the race and after the race. And they all performed really well."
Senior Uriah Lucas did particularly well, winning the boys regional event for all schools. He finished with a time of 17 minutes 4 seconds, just 2 seconds shy of his personal record.
"I feel like it was a good race," Lucas said. "I didn't run the time I probably could have; I felt pretty comfortable. But it was a good race; I feel like I executed the race well and it was about exactly as I planned to race."
Lucas finished a whole 44 seconds ahead of second place, a runner from Haines. Lucas says the gap started to grow in the second mile.
"There's a hill you have to go down and I kind of opened up on the way down that hill and I got a pretty good gap on the guy. That's when it first started," he said.
As a team, the Petersburg boys finished in second place behind Haines and in front of Craig. The top three schools in the region qualify for the state meet.
Senior Michael Durkin took 8th place at 18 minutes, 10 seconds. Sophomore Valon Weathers finished 13th at 18 minutes 47 seconds and sophomore Breiland Willis followed in 14th place at 19 minutes 2 seconds. Senior Chase Lister took 19th place at 19 minutes, 18 seconds, sophomore Kieran Cabral took 21st place at 19 minutes 47 seconds, and freshman Caleb Lutomski finished in 24th place at 20 minutes, 31 seconds.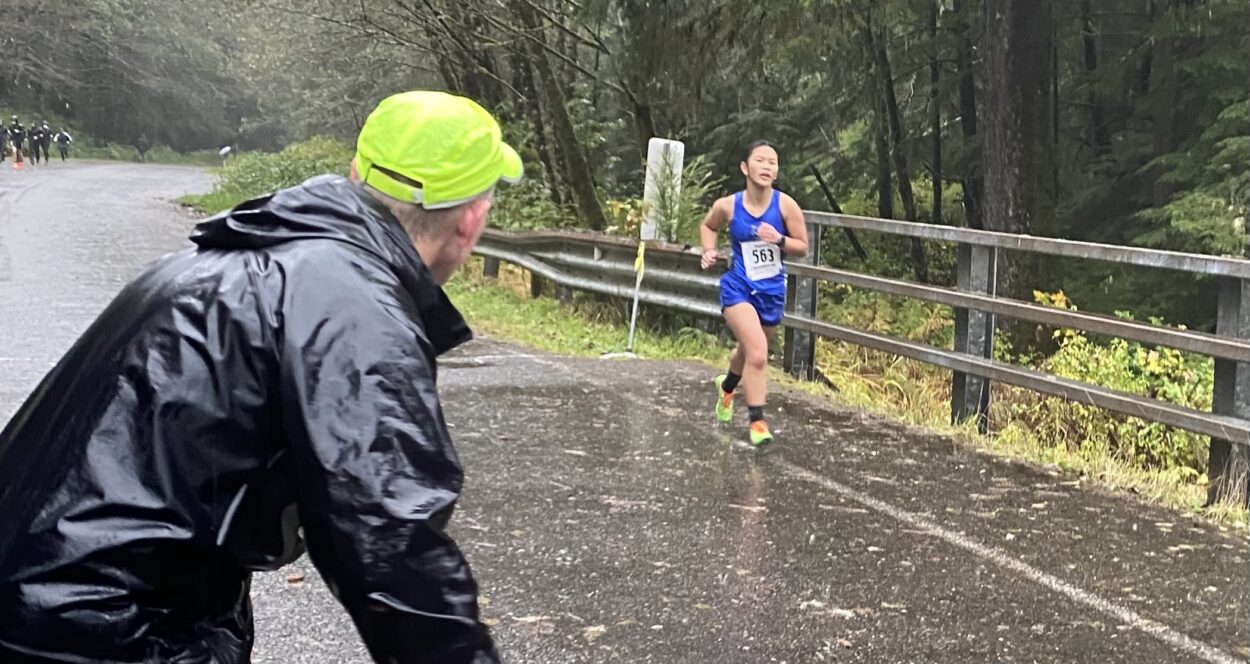 For the Lady Vikings, the team took third place behind Haines and Klawock. Kinley Lister led her team in 7th place with a time of 20 minutes 17 seconds. That time is a whole minute and a half faster than her personal record but that's because the trail was a little shorter, she says.
"We're not a hundred percent sure that these times, for some of the girls results counted as actual PRs because there was some troubles with the courses that had to be changed because of flooding in Ward Lake."
Lister says the cold was a challenge to contend with.
"It took me quite a while to warm up just because it was so cold that day," Lister said. "And so, I didn't run as hard as I could've if we had better weather conditions."
Following Lister for Petersburg was junior Alexus Sakamoto Quezon in 12th place at 21 minutes, 24 seconds. Freshman Kate Thompson took 16th place at 22 minutes 55 seconds. Senior Deirdre Toyomura finished 18th at 23 minutes 1 second, and Lakell Deinhardt finished in 30th place at 35 minutes 30 seconds.
Last year, there was no state cross country meet because of the pandemic so it makes this year even more special since both teams qualified.
"It's a big deal when you can take as many people from your team as possible," Thompson said. "Because again, we're all in it together, we're not a boys cross country team and a girls cross country team. We really are one big group; we train together every day. I think it's great for the kids; they bond, they play and they compete and it's a really good, healthy long weekend in Anchorage to go up there and race."
Lucas hopes it snows. He likes running in it. As for preparing for State, he says he is paying closer attention to eating well and getting enough sleep this week. And he's keeping his mind on one thing.
"The mentality of wanting to win," Lucas said. "I'm not going to worry about time as much. Time will come with winning. I'm just going to go there like I'm going to win."
Lister says her goal for the state meet is to beat her personal record and to finish in the top 15.
The state meet will be held at Bartlett High School in Anchorage on Saturday.