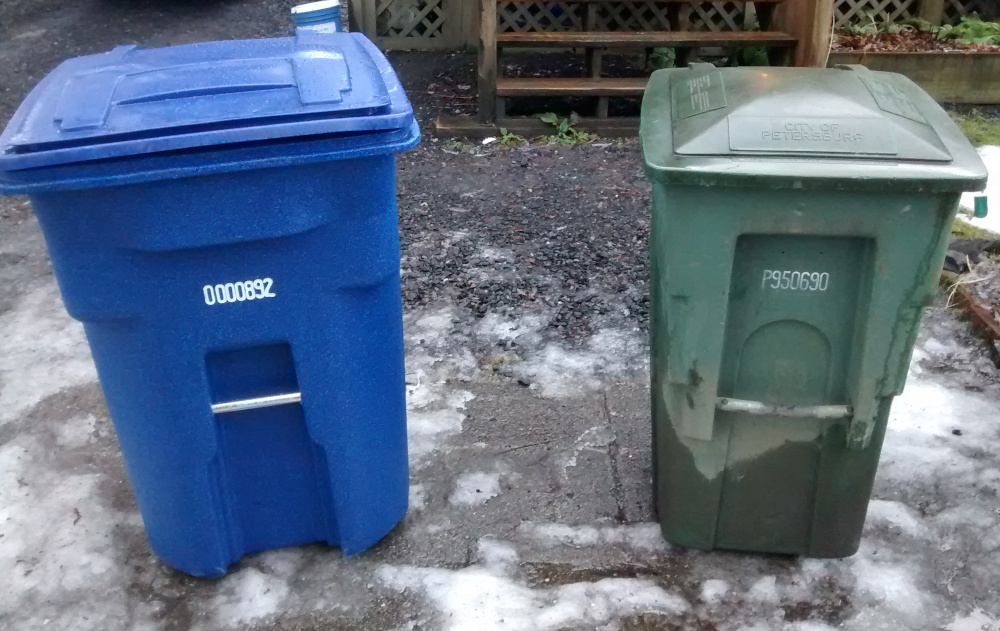 Rate hikes for curbside collection and fines for unsecured garbage cans are part of a new ordinance that passed its first of three readings by the Petersburg borough assembly Monday. The changes are the result of a rate study and ongoing problems with bears seeking an easy meal.
This revision is several years in the making and seeks to address multiple issues. One is an ongoing problem of bears knocking over trash cans for an easy meal.
The current ordinance requires customers to make a "reasonable effort" to keep garbage from animals and has some definitions of what that means. This rewrite goes into more details about those measures, like a ratchet strap or heavy rope, or keeping garbage inside until the day of collection.
Local resident Cindy Lynn said she is not able to wait until the morning of to put out her garbage and is not able to comply.
"My pickup is Thursday mornings at 08:30," Lynn said. "I cannot physically, I'm sick, get out at 08:30 to put those cans out. That's impossible. Moving them around is hard enough but getting up in time before the pickup is just not even feasible."
The borough already has the ability to fine someone for not securing garbage. This change would lower that fine amount to $50 for a first offense. But it could go up to $300 if the problems continue.
Assembly member Jeff Meucci liked the problem animal provisions in the proposed law.
"I think we've been struggling with bear issues here for a long period of time, many years," Meucci said. "I'm going to be glad when this thing moves forward to passing in its third reading so that next summer when the bears are out and people are calling and complaining about their garbage cans getting dumped over we'll have a tool to kind of mitigate that problem. Garbage cans are still getting knocked over. There's still a few people in town that haven't figured out that bears like to get in the garbage. But yeah I'll be voting for this. I think it's a good idea and long overdue."
Public works director Chris Cotta hoped the new ordinance would help reduce bear problems but he said he doesn't expect them to end entirely.
The new law isn't just about bears.
Curbside collection of recycling would be reduced to every other week. The change would allow the sanitation department to sideline one of its three collection trucks and not plan on replacing it, saving a quarter million dollars. The local utility has been looking for ways to cover the costs of recycling since a drop in the value of that material because of a loss of markets.
The proposed ordinance would also raise collection rates three percent a year for five years. That's based on recommendations of a consulting company in 2020.
"What the rate consultant had found was if we didn't make any changes to our recycling program we were probably looking at about a five percent annual increase whereas if we go to every other week collections we can hold that to about a three percent annual increase," Cotta said.
He also reported on one encouraging development, a rebound in value for recyclable materials.
Last year the borough had been considering ending the collection of some of the less valuable material based on input from Republic Services, Petersburg's solid waste company
"They encouraged us not to do that as this time," Cotta said. "They said they feel like there's enough value in the things that we're collecting now that we don't really need to alter our mix to keep the value of our commingles at a good level."
Petersburg collects mixed or commingled recyclables as part of local trash service. A reduced collection rate for customers who recycle would continue under the proposed ordinance.
The price of dropping off some material at the baler facility would stay the same, while others would increase. The borough would charge more for disposal of items like fiberglass boats and travel trailers that don't have value as scrap metal. And the proposed ordinance includes new language to discourage disposal of junked vehicles without fluids and wheels removed.
The assembly passed that ordinance in first reading 6-0. The changes take effect immediately if it passes two more readings of the assembly although the first rate hike wouldn't happen until next July.