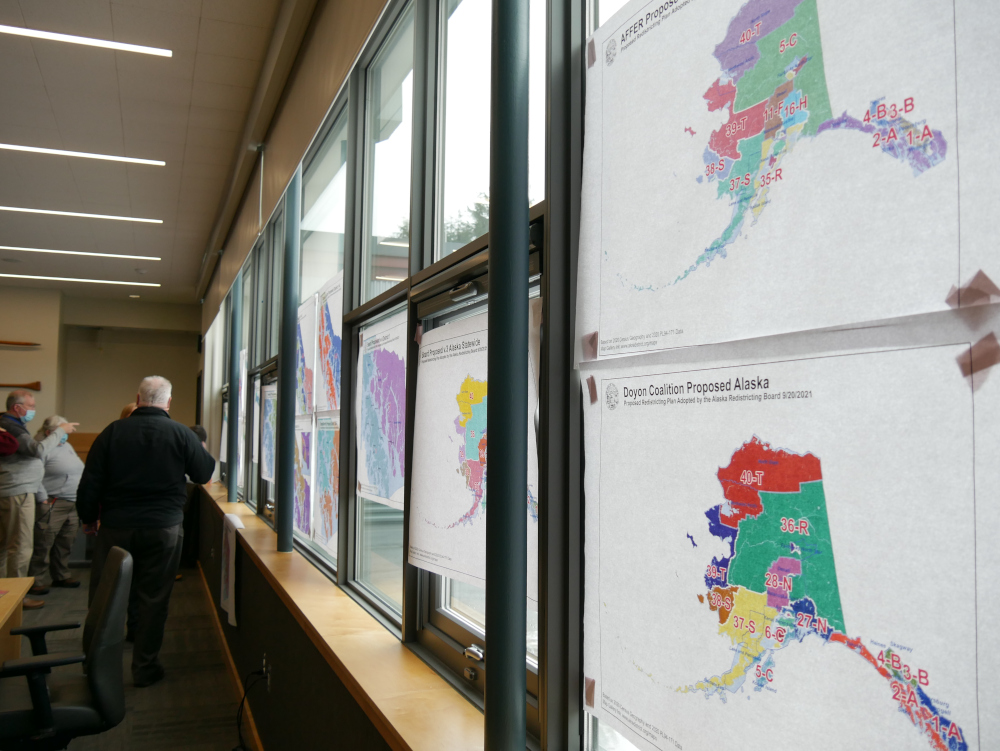 The board charged with redrawing legislative districts heard from residents of Petersburg last Thursday. Proposals would either keep Petersburg in a Sitka district or group it with Juneau or Ketchikan.
Three of the five Alaska Redistricting Board members made the trip was one of three members of the Alaska Redistricting Board to make the latest swing through Southeast for public testimony.
"We've been hearing a lot from Southeast which is fantastic and it will impact the way that we end up ultimately drawing your district boundaries down here," said board member Nicole Borromeo.
Because of changes in population, Southeast Alaska will see different house districts in some form next year.
The board is showing maps of six possibilities, two generated by the board and four drawn up by other groups.
"I think there's five different ways that Petersburg is treated on these maps here today and so we may hear consensus from the community or we may hear different opinions," said board member Bethany Marcum.
She said there has to be changes in legislative lines because of population changes.
"Southeast has lost about 1100 people since the last census cycle in 2010," Marcum said. "And so we have to accommodate that by redrawing the districts, trying to get them all as close to the target population of 18,335 while at the same time creating compact districts, contiguous districts and trying to keep in mind the socioeconomic integration of communities. Obviously all of Southeast has some commonalities but there are certainly some communities that are more tied together socioeconomically than others."
Several of the proposals group Petersburg with Kake, Sitka and other small towns from Prince of Wales Island to Yakutat, which is close to the status quo. Among those options is one that would add Wrangell to that district. A variation on that proposal by the Doyon coalition would be similar but put the mainland near Petersburg in a Ketchikan district.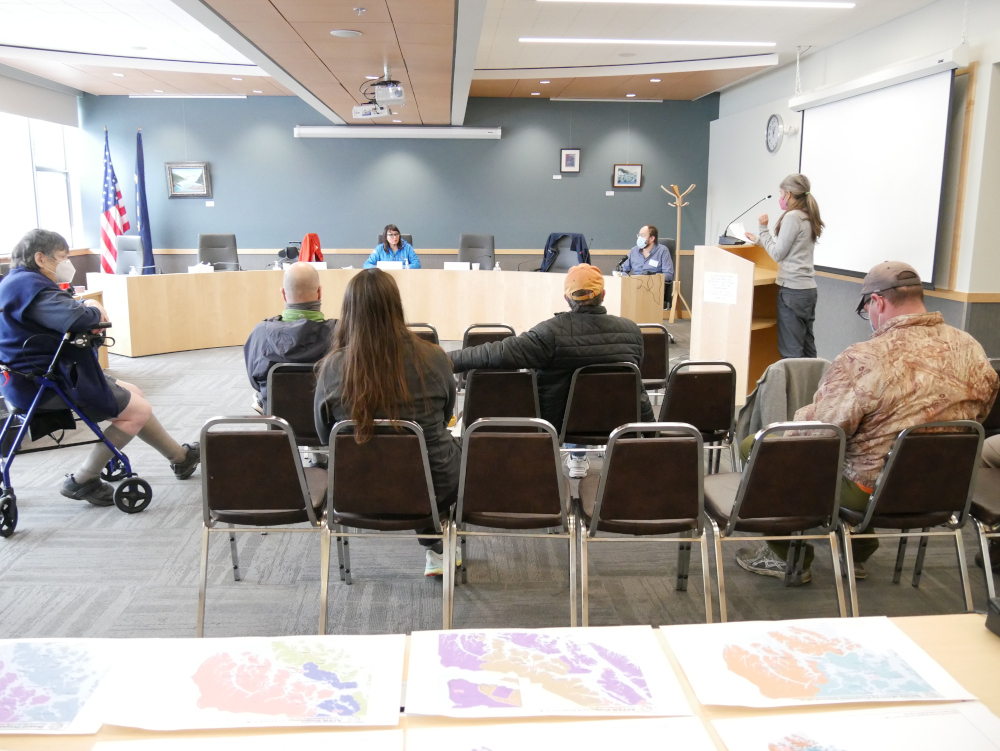 Malena Marvin supported the proposal by the Senate minority that would add Wrangell and Yakutat to a Sitka, Petersburg and Prince of Wales district.
"Economically speaking those islands are also really similarly emerging from kind of like a logging, post logging economy and have really diversified in similar ways with fishing, with kind of lower scale tourism," Marvin said. "None of these are big cruise ship communities which I think is kind of crucial because a community that, our community tends to be pretty strongly against cruise ships and it wouldn't make sense to pair us with Ketchikan or Juneau where they're really depending on cruise ships as economic drivers."
Another option puts Petersburg in a House district with Wrangell and most of Ketchikan. And there's a proposal that would put Petersburg and small communities on the north end of Prince of Wales in a Juneau district.
Chelsea Tremblay also supported the proposal for Petersburg remaining with Sitka and small island communities.
"I worry in some of the other proposals with the way we would be disproportionally represented as a smaller community as opposed to, or in relation to the larger spaces," Tremblay said.
Tremblay is a member of the Petersburg assembly but was only giving her own opinion. Petersburg's assembly hasn't yet voted on any input from the borough. If it does it'll have to be soon; the board is working on a tight schedule with the late release of census data this year. But the board's Marcum thinks they will make a November 10th deadline.
Yes it's a lot of work and we've been, there are no weekends or holidays when you're on this board," Marcum said. "But it's so important for the future of this state and so it's a really sweet part of this process to hear from the communities."
Staff encouraged people to submit public comment well before November 10th.
Petersburg did oppose the redistricting effort a decade ago when the community was moved into a Juneau district. A court challenge from elsewhere in the state ultimately torpedoed that plan and Petersburg ended up back in a Sitka House district. Find the maps for the six proposals along with hundreds of public comments already gathered on the board's website.
The board is traveling to other Alaska communities over the next few weeks. They'll also take input in a couple of statewide teleconferences. The first one is Wednesday October 20th from 10 a.m. to 4 p.m. The toll-free number for that is 844-586-9085. People can also submit comment by email at testimony@akredistrict.org
(Both Marvin and Tremblay, quoted in this article, are volunteers at KFSK where this story was produced.)