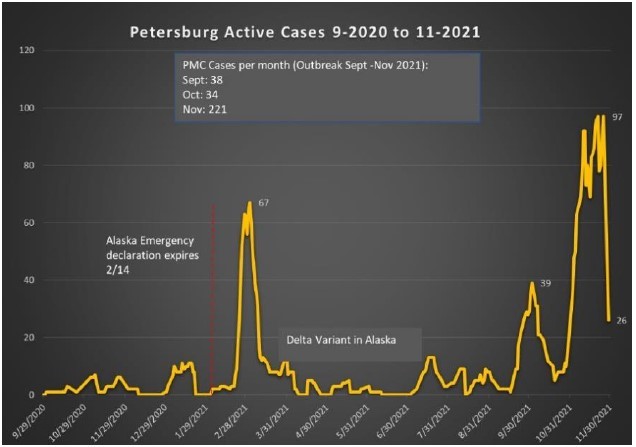 Petersburg's active COVID-19 case count dropped to 26 on Monday, November 29, the lowest count since early November for the community.
The Petersburg Medical Center reported just one new case Monday, one on Sunday and none on Saturday. Petersburg had seven on Friday, nine on Thanksgiving and eight the day before.
The latest numbers may mean Petersburg's worst outbreak of the pandemic is easing. The active case count peaked at 97 in the middle of the month. The medical center reports a total of 293 cases in the past three months, most of those, or 221 in the month of November. Petersburg's total case count is now at 557 since the start of the pandemic.
The medical center continues to encourage social distancing, masking and limited gathering indoors heading into the holiday season.
Take home antigen tests are available at the Joy Janssen Clinic, public health and Rexall Drug. Infections that are diagnosed early can be treated with monoclonal antibodies. However, the medical center says physicians are concerned with patients who wait too long to seek that treatment. The COVID information line is 907-772-5788.
As of Tuesday morning, the school district reported nine active cases for staff and students – the breakdown there is three at the elementary, one at the middle school and five at the high school. All three schools are back to in-person learning for students who aren't sick or quarantining.
Meanwhile, the borough still has its buildings mostly closed to the public. Borough manager Steve Giesbrecht wrote in an email to KFSK the plan is to reopen on Monday, December 6th if case numbers remain low this week. Giesbrecht planned to make that decision Wednesday morning. Some departments may reopen sooner than that if staffing levels and mitigation measures allow.
Most borough buildings have been off limits to the public since November 3rd. A face covering requirement in all indoor public spaces is in effect through Monday, December 6th, unless the assembly decides to extend it.