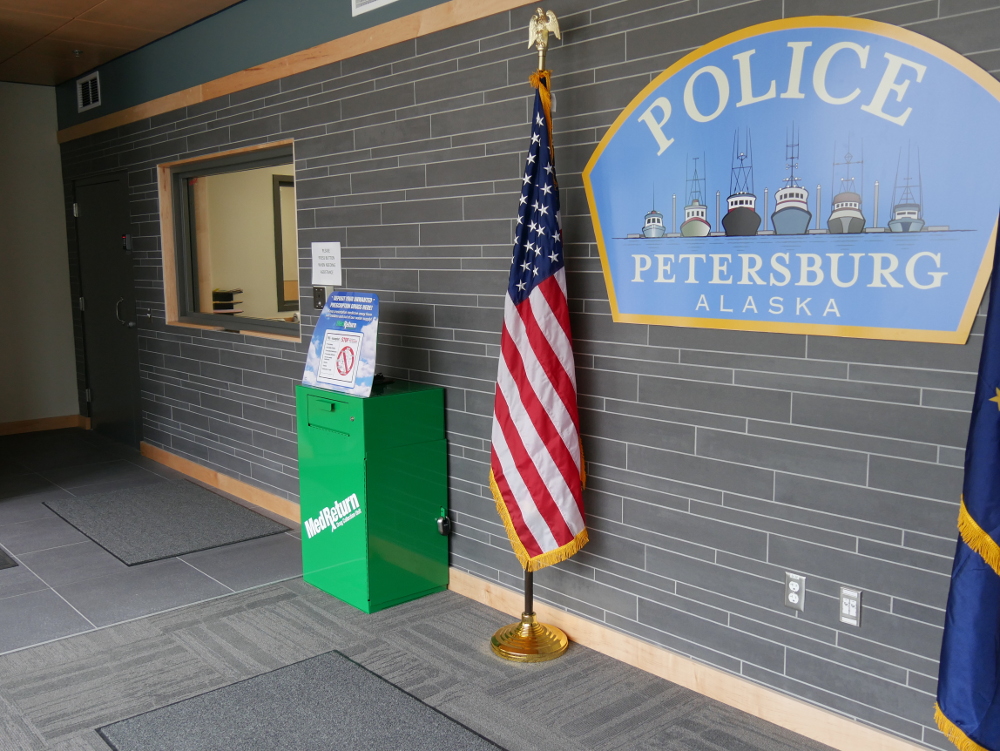 Petersburg's borough assembly Monday approved pay increases and incentive payments for police officers and dispatchers. The changes are meant to keep employees already on the force and attract others to fill jobs in a short-staffed department.
A report compiled by borough staff this winter offered two options for recruitment and retention for both officers and dispatchers. The borough is down to two dispatchers and is having police officers fill in answering police, fire and emergency medical calls.
Mark Testoni is chair of the borough's public safety advisory board and urged the assembly to considering implementing pay increases and other incentives proposed in the report.
"As you probably know, the police department's at a very critical stage right now," Testoni said. "They're understaffed on the police side and they went down to two dispatchers as of I think it was a week ago Friday, a person resigned. If one of the dispatchers gets sick or for some odd reason can't perform the job anymore, the 911 system in the town will basically be non-existent."
Management surveyed officers and dispatchers this winter about the impacts of long hours and short staffing. The report includes that input along with wage and benefit comparisons for similar positions in other communities from a consultant in 2020. It proposes incentive payments to keep workers on the job and bring in new ones as one option. A second alternative had wage increases and incentive payments for the remaining dispatchers. Both options include boosting the borough's contribution to employee retirement accounts and filling two supervisor and support jobs in dispatching that haven't been staffed.
Police chief Jim Kerr recommended the second option for wage hikes and called it a step in the right direction.
"I think that is showing that the borough cares about the employees and is doing additional stuff to try and retain employees," Kerr said. He said the boost to wages brings Petersburg more in line with the pay for jobs in other Alaska communities.
Adding the supervisor and support jobs in dispatching is the biggest part of the increased cost from the proposals, more than half of the roughly $200,000 boost to the borough's annual spending. But supporters of that move say it will allow for some job advancement in that department and help applicants view it as more of a career.
Assembly member Tom Fine-Walsh did not support the wage increases.
"Not enough clarity on where the money would come from," Fine-Walsh said. "I know there are a lot of departments that would also like a $200,000 pay increase, they're struggling to do their jobs as well. And as a lot of people have said during this meeting, recruitment and retention is a problem across the board and I'm just not convinced that this is going to solve that problem, throwing a little bit of money at it."
Assembly members also approved some changes to the proposal. One gives the borough manager the authority at his discretion to give incentive payments for recruiting new hires and keeping existing staff. Another removed an increase to the borough's contribution to employee retirement accounts. Instead of a three and four percent cap to match an employees contribution that would have been capped at six and seven percent.
Bob Lynn was not in favor of that change because other borough employees under the same contract would not be getting more in benefits.
"I think we need to be as fair as we can with all our employees and I just cannot support giving one group regardless the increase without looking at it for all and I can't agree to do that without doing the union negotiations," Lynn said. "All our employees need to be treated fairly and this does not, this singles out a group."
Assembly member Jeff Meucci was one of only two voting to keep that retirement benefit hike.
"I understand it's out of the union negotiation cycle but we've got an issue down at the police department that we're going to have, we have a captain answering the dispatch phone, we heard about maybe Fairbanks answering the 911 calls," Meucci said. "We're going to have possibly the chief down there answering the dispatch phone. Yeah I think we need to do all we can to help that department downstairs."
Ultimately the assembly voted to remove the retirement contribution increase. Combined for the officers and dispatchers and EMS coordinator, who also would have benefitted, that's estimated at $30,806 a year.
Meucci wanted to take steps to addressing staffing shortages but did not see this as the end of the discussion.
"This isn't solving the problem, this is just funding a couple of options to try and make the dispatcher and police department programs more attractive to people who are looking for work," Meucci said. "I'm just guessing but I'll bet you it's going to take at least a year or so to fill those five positions at least a year."
Some changes could be a little more immediate, like removing the responsibility of cleaning bathrooms and jails from the dispatchers job or paying retention incentives.
The vote was 5-2 for the wage increases with Fine-Walsh and mayor Mark Jensen voting against it. Without the retirement benefit the estimated cost of the changes are $173,316 annually. The assembly signaled it would dip into reserves to cover that additional cost if need be, instead of looking at a tax hike. It's also possible the borough could see the reinstatement of some state funding for community jails this year depending on the legislature and governor.
As for other borough employees contract talks for the next collective bargaining agreement are expected a year from now. The pay increases for police officers don't take effect until July 1st. However, the borough is boosting pay for the remaining two dispatchers immediately and is now advertising vacant dispatcher jobs based on the higher level of pay. New hires will also get a $2500 incentive recruitment payment, half at their hiring and half after a year on the job.
This story has been corrected. It initially reported the wage increases did not take effect until July 1. However, new hires and current employees for dispatching will see those higher wages immediately.