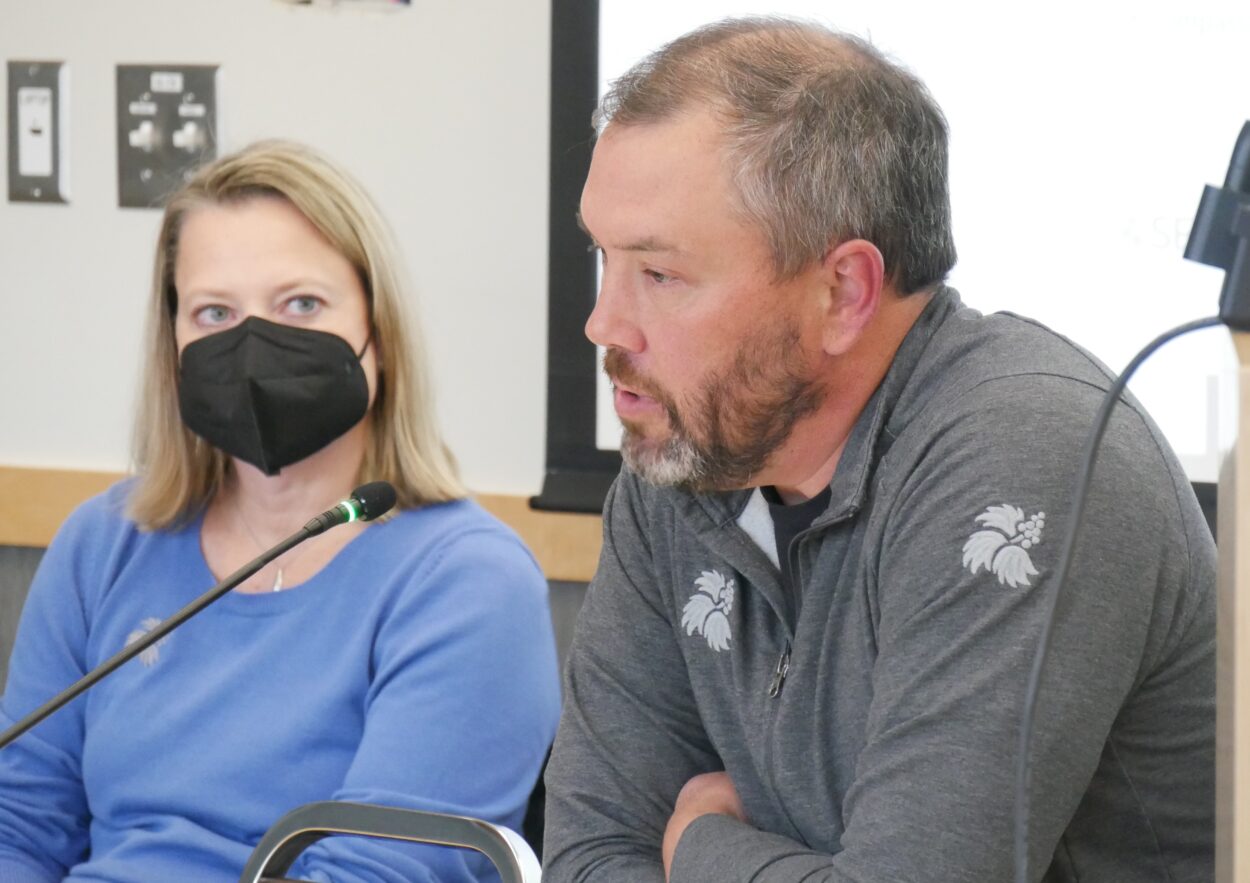 The CEO of the SouthEast Alaska Regional Health Consortium said last week his organization is open to talking about any role in the future of Petersburg's health care. Charles Clement met with the board of the Petersburg Medical Center Thursday about whether the two could work together on a new hospital facility.
The medical center board invited SEARHC leadership to meet with them and answer questions about whether the regional health care provider would want a larger role in this community. PMC is looking into constructing a new hospital but the 80-90 million dollar price tag has made many question whether SEARHC or some other larger provider should take on that task.
Several PMC medical staff addressed the board and they stressed the importance of local control and a work force of people living in Petersburg.
"The people of PMC are committed to their work and their community," said PMC's chief nursing officer Jennifer Bryner. "They develop and deepen their roots in Petersburg. They buy houses, they raise their families and they strengthen the social and economic foundation of our island home. I support an independent community based hospital for our hard-working and independent community."
Medical staff also said an independent hospital could be more flexible in the services it provides than a larger organization like SEARHC. PMC is overseen by an elected seven person board and its building, with parts of it dating back to the 1950s and 60s, is owned by the borough.
Local resident Harvey Gilliland wanted to see it continue under municipal ownership.
"I know that the Petersburg Medical Center has some issues that need addressing including possible construction of a new facility which would to me be preferable to continue to be owned by the city and operated independently," Gilliland said. "It seems to me that SEARHC is kind of ready to pounce on the possibility of a down and out situation."
But others attending the meeting spoke up for the care they've received through the regional provider. Alaska Native Sisterhood camp 16 president Barbara Erickson thought health care provided by SEARHC could help.
"I'd also like to take into consideration the cost it takes to set up appointments, to have our people go outside the community to the other hospitals," Erickson said. "It's costing the state and SEARHC a heck of a lot of money and we don't have all the facility here that we need to serve everybody all the time. There's a lot of people that have to be medevaced out and that costs money."
A SEARHC clinic in Petersburg helps patients with referrals, travel and housing for care in Sitka or elsewhere. SEARHC also expanded into dentistry and mental health counseling in 2021 with retirements by long-time local providers.
SEARHC has a 15-person board with members elected by 15 Alaska Native tribes in Southeast. The Petersburg Indian Association's representative on that board is Annette Bennett. It's a not-for-profit tribal health care organization in 27 communities. It provides health care to Natives and non-Natives and has hospitals in Sitka and Wrangell. CEO Charles Clement said SEARHC is planning to break ground on a new 300 million dollar facility in Sitka at the end of next month.
"As you can imagine, a small organization here in Southeast Alaska coming up with the kind of money that it takes to do that, it's been a process," Clement said. "And we're there. This last winter we went out and issued our own bond offering through Wall Street and were able to raise all the funds and we look forward to getting shovels in the ground here this spring."
SEARHC also has health care clinics in some Southeast communities and provides itinerant services in others. It has around 1400 employees and brought in 344 million dollars in revenue last year. Clement pushed back on comments that his organization is only interested in the bottom line.
"Many of those clinics that you see those 27 communities, many of those communities would not have clinics if SEARHC didn't subsidize them," Clement said. "We are committed to each and every community that we serve and it is not about the bottom line, it is about providing the best possible health care in a responsible, reasonable fashion."
Clement said SEARHC would aim to match or increase health care if it became the provider here. However the regional organization would likely have other jobs like IT, finance and human resource elsewhere.
"But I think if you at the head count for Wrangell and/or Sitka, there's more employees in both those locations than there ever have been in the past," he said. "I mean our goal is to bring as much medical care to the communities that we serve and try to leverage the economies of scale, the (electronic health records) that we've already paid for, the finance and compliance systems that we've already got in place, the policies, procedures, billing systems, things like that."
The CEO said the regional provider is open to discussions about the future of health care in Petersburg but thought many of the questions were getting ahead of the conversation.
"If people felt like there was more to talk about I think we'd be super happy to talk about it," Clement said. "What does that mean, what are the options, what do things look like, what are the pros, what are the cons. Again, I think just to say we would do anything at any price is not fair but we'd also say is there something we could possibly do to help you out, probably. Really understanding what that might look like takes more conversation."
Petersburg's mayor Mark Jensen invited SEARHC's chief medical officer Dr. Elliot Bruhl to speak to the borough assembly last June. Bruhl talked to the assembly about how the regional provider could build and operate a new hospital here. Signs went up in yards last summer supporting SEARHC and some residents said they wanted to consider that option.
Hospital board member Kathi Riemer said the board was blind-sided by that issue last year.
"So I appreciate your coming because I think a lot of, you know how it is in small towns if you're from Metlakatla, the rumor mill gets going," Riemer said. "And it was at a very difficult time because it was smack dab in the middle of the pandemic where half the town wants one thing, the other half wants the other thing. It created an adversarial situation in our community. And I just wanted to be sure that we heard from you. I like what I'm hearing; I think a collaborative relationship could really benefit both of us."
The two organizations said they hoped to continue talking. And PMC Board members encouraged the community to talk to them about their hope for the future of health care and a new facility.