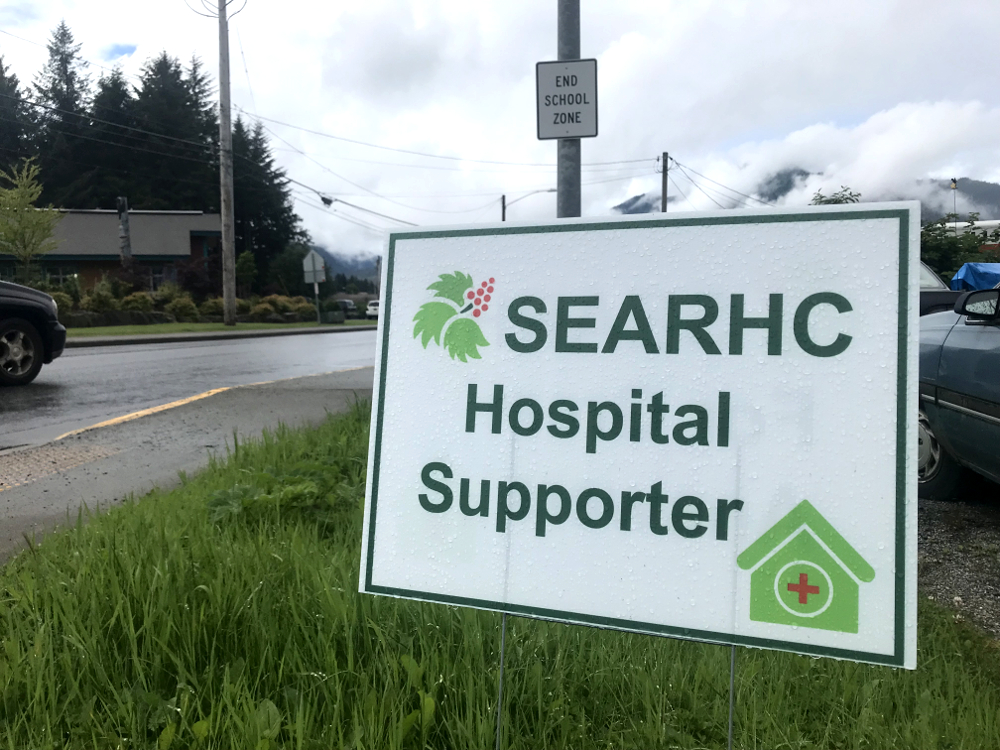 Petersburg Medical Center has been the community's healthcare provider for 100 years. With systems failing and maintenance costs rising, PMC's medical board is asking Petersburg to support its plans to build a new hospital.
The Southeast Alaska Regional Health Consortium, also known as SEARHC, is an Alaska Native run nonprofit. In June, a top official told the borough assembly that SEARHC would be interested in building and operating a facility in Petersburg.
Petersburg's tribal government circulated yard signs this summer supporting SEARHC. In this second part of our series on local healthcare, Katie Anastas looks into what the yard signs mean.
Drive past front yards in town and along Mitkof Highway, and you'll see them. White signs with green text, supporting the "SEARHC for great answers" on one side. The other side reads "SEARHC hospital supporter."
They're an outward indication of a budding debate over the future of local healthcare. A question of whether to support PMC's plan to build a new facility, or to let SEARHC take over operations and build a hospital on their dime instead.
"To me, it feels like the community is standing on the edge of the pool; SEARHC on the shallow end, PMC on the deep end," said Ron Ware, a transit driver for the Petersburg Indian Association. "It feels safe to jump in the shallow end on the SEARHC side because they're going to cover the cost of a hospital. PMC, ok, we're going to jump in and there's a strong possibility we could go over our head."
Petersburg Medical Center published a master plan last year, after five years of analysis that determined much of the facility is failing. The medical center held numerous town-hall-style meetings on its facility needs and services as part of the process. It includes three cost estimates.
One, based on a potential site north of Haugen Drive, was $92 million. Another, at the same site but with a different design, was $96 million. A third, in the unlikely event they built a multi-story facility at their current location, was $110 million.
Each of those estimates includes the cost of site preparation, design work, and equipment. PMC CEO Phil Hofstetter has maintained from the beginning that he has no intention of making taxpayers shoulder the cost of a new facility.
"From the starting point, when I came in here, I was adamant about not extending the cost to the community," he said on a monthly radio show. "That's something that is a last resort to me."
The price tag is well past the borough's or medical center's capacity to borrow money anyway. The borough's bond capacity is $32 million, and it's already using some of that money on other projects. It could borrow more through a revenue bond, but it's not likely.
Still, that cost is a top concern for SEARHC proponents like Ware. They don't want taxes to go up, so SEARHC seems like a win-win: a new hospital, plus no tax hike.
"The community as a whole is getting older," Ware said. "There's not that many people paying taxes for one reason or another. So it's going to fall on a small majority. And that majority is worried that our taxes will go up."
Instead of taxes, PMC is seeking grants to fund the project. Hofstetter has said securing grants requires a phased approach, and that some funders like to support certain stages of projects. Borough assembly members and medical board members have expressed their confidence in Hofstetter's ability to get that money.
But to Tracy Welch, tribal administrator at the Petersburg Indian Association, a phased approach is still too much of a risk.
"What does that look like? Are they going to build a pit out somewhere, pick a site, build a pit, and then all of a sudden we're not able to find the grant resources?" she asked. "It's going to fall back on the taxpayers to pay for this. They're not going to let a pit sit out there without moving forward."
Welch says PIA's tribal council bought the signs that now stand in many Petersburg lawns. They designed them in-house, ordered them, and distributed them out of their office at the end of June; Welch says SEARHC was not involved in the creation of the signs.
With the help of their transit system, PIA delivered signs to those who couldn't pick them up themselves. Ware says the 200 signs were gone in a week, and Welch says it was a 50/50 split between Alaska Native and non-native households.
One of those signs went to Carrie Martinsen. For her, a big benefit of a SEARHC facility would be access to a broader network of specialists working in the region.
"My children and my husband get care through SEARHC," Martinsen said. "The idea of them not having to leave town for certain things would be great. Seeing firsthand the kinds of specialists they move through their facilities, I think that could benefit everybody. The conversation has to be more about the realities of living here, and how we can provide the best care at the best price for the entire population."
Martinsen says she appreciates PIA for pushing for that conversation.
"PIA is very community-minded, and also works really hard on lifting up its members, a lot of whom have been marginalized in a lot of ways," she said. "So I think that their role and their hopping on making these signs, like, hey do we want to talk about this, is great. And they didn't just offer the signs to their membership, it was to everybody."
And, she says, it's not meant to disparage PMC.
"I hope that the PMC staff knows that because I have a yard sign, it doesn't mean that I think they're not doing a good job at what they're doing," she said. "It's just to have the conversation, to know that we're looking at all different options and angles and pitfalls."
PIA hasn't taken an official stance on a possible SEARHC facility. And Welch says the signs are meant to be a conversation starter, rather than an endorsement by PIA.
But some PMC workers do feel like it's a stance. A stance causing division within the community that, Hofstetter says, could negatively impact their ability to get funding.
"The signs are division," he said. "I'm not interested in creating PMC signs, because if you create another sign it just creates division. And that's not what we need to get the job done."
Hofstetter says staff have worked hard in the last year to help with COVID mitigation plans at the school district, speak to the assembly, and organize health fairs. After a challenging pandemic year, the signs can further lower morale.
"When I see how hard our staff work, how challenging the past couple of years have been, how vested our staff are in the community, how I know that patients are cared for on a daily basis, how our physicians are completely invested in this community, it bothers me that the signs depict wanting to go with another agency," he said.
PIA says they're working to organize a town-hall style discussion with SEARHC representatives. SEARHC's senior director of lands and property management, Maegan Bosak, declined to comment on the yard signs or SEARHC's interest in Petersburg.
Petersburg Medical Center's board has created a Community Engagement Committee that will work to answer questions, address concerns and hear recommendations about expanding healthcare services in the community.
PMC supporters say it's important to maintain community control. We'll hear more about that in the next story in this series.
This story has been updated with Tracy Welch's correct title. A previous version referred to Tracy Welch as Petersburg Indian Association's tribal coordinator. Her title is tribal administrator.