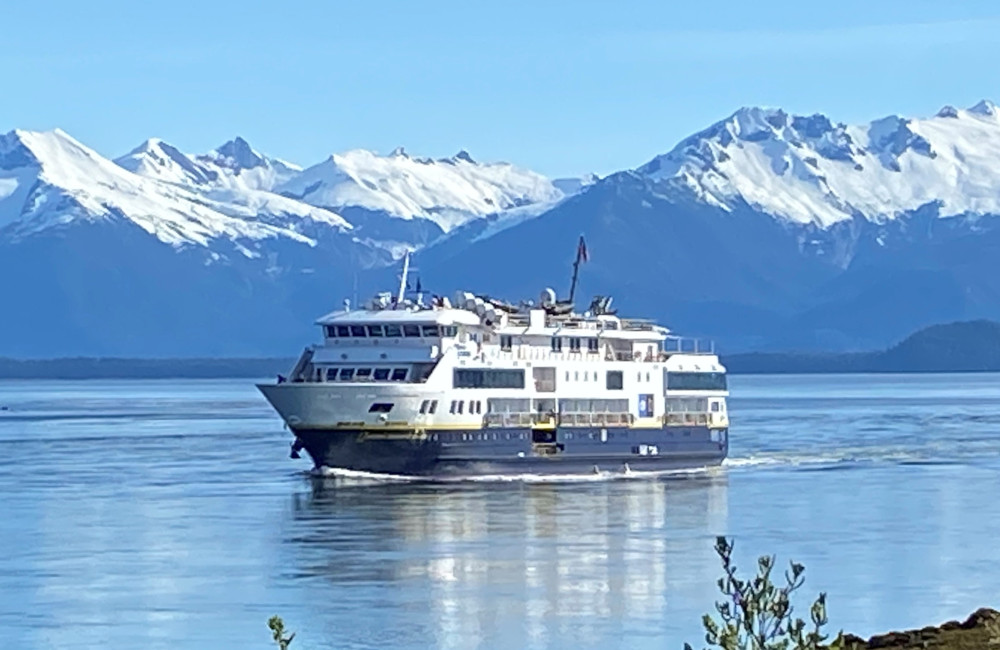 Petersburg officials are hoping to convince one of the cruise companies that makes port calls here to let their passengers circulate and spend money in the community.
The cruises offered by partner companies Lindblad Expeditions and National Geographic are around one third of the 92 port calls expected by small to mid-size ships this summer. It was a discussion at Monday's meeting of the borough assembly.
Chamber of Commerce president Jim Floyd said he understood the companies were not allowing passengers to visit shops based on the community's COVID-19 status. He's hoping to change that.
"It is a big problem that affects, it's about money," Floyd said. "Let's be honest, it's about money. Here we are talking about the budget. We're talking about raising utilities, we're talking about raising harbor fees. It affects every facet of our little town."
Borough manager Steve Giesbrecht said the practice is a decision by the company tied to the community's COVID-19 risk status as defined by the Centers for Disease Control and Prevention. The manager said he's reaching out to the cruise companies to see if it can be changed.
For the first year of the pandemic Petersburg had a health mandate requiring cruise ships get approval from a health officer before docking. There weren't any port calls in 2020 and that mandate expired at the start of last year's season. Besides that requirement the borough hasn't had any restrictions on passengers circulating in the community.
Assembly member Chelsea Tremblay does contract work for the companies and is married to an employee. She said the practice is not specific to Petersburg.
"They don't let folks off the boats anywhere, Bahamas, Baja, San Diego, Seattle, crew included stay on the boats," Tremblay said. "This is very much their policy. So if you've heard that it's specific to our hospital, I don't know where you're getting that information but the crew would have loved a day off in San Diego, or Seattle, or any of those other places, not to mention the passengers."
Passengers board and leave ships for the Southeast Alaska cruises offered by those companies that start and end in Juneau, Sitka and Ketchikan. And the voyages focus on more remote parts of the region.
A spokesperson Patty Disken-Cahill responded by email that Lindblad Expeditions is in active discussions with the borough to discuss opportunities. She confirmed that current company policy prohibits them from allowing guests to freely explore communities listed as medium or high risk as defined by the CDC for the protection of guests, crew and the local communities.
"We continue to monitor this policy and the CDC's status for all ports that we visit," Disken-Cahill wrote.
The CDC's website continues to show Petersburg at medium risk for COVID. That's based on new admissions to the hospital, percent of hospital beds occupied with COVID patients and total new cases per 100,000 people in the past seven days. Meanwhile, the state's COVID dashboard shows Petersburg at substantial risk level and reports three cases in the past week. The Department of Health and Social Services also reports one non-resident COVID case in Petersburg and additional death for a Petersburg resident, a woman over the age of 80. That's the sixth COVID death of a Petersburg resident KFSK has seen reported by the state.
The Petersburg Medical Center took down its online dashboard this week and planned to replace it with an updated one.
In other business Monday, the assembly appointed 12 people to a new task force on early childhood education and agreed assembly member Tremblay should chair that group. They also agreed the borough should talk with the Petersburg Medical Center about possibilities for PMC to provide services at the borough's assisted living facility.