After one Petersburg Coast Guard ship saw its commander off earlier this month, another did the same last week. The 65-foot buoy tender Elderberry welcomed its new commander during a ceremony on Friday.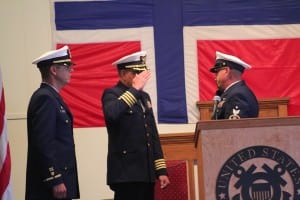 Chief Warrant Officer Daniel Burke, who's commanded the Elderberry since 2009, stepped down from command of the ship during the ceremony. In his remarks, Burke recognized the crew of the cutter and acknowledged their hard work and long hours on a relatively small boat.
"It's about those guys right there. The crew," Burke said. "And we've had very large turnover in the four years I've been on board. There's been a lot of guys, but it's still a small crew, an eight man crew. And they work hard. And without a doubt, they are the hardest working coasties that I've ever served with on every platform."
Following his tour in Petersburg, Burke heads to San Francisco to work on the Coast Guard Cutter Aspen. That's a return to warmer climates for the outgoing officer, who has had previous assignments in Florida and Puerto Rico. But Burke says that from fishing salmon and halibut to wakeboarding the Wrangell Narrows, his time in Petersburg will certainly stand out.
"This isn't the first small town that we've lived in in Alaska," Burke said. "We lived in Cordova. And we went to Florida after that. So we knew what we were getting into coming to Petersburg. And within the first month, I think, coming here, I asked for the extra year. So I was obviously very impressed with Petersburg in a very short period of time. So thank you to you folks who welcome us Coasties to your town."
Senior Chief Boatswain's Mate Randal Burr takes over the Elderberry. A 27-year Coast Guard veteran, Burr comes to Alaska from a stint on the Coast Guard cutter Bristol Bay in Detroit. He's also previously served on ships in New York and Pennsylvania, and his accomplishments include repairing navigational aids in New Orleans as part of the city's recovery from Hurricane Katrina. Coming up from the lower 48, Burr said that he's been impressed already.
"What can I say," Burr said. "I've spent more time going up I-75 up and down the country. This is my first time in Alaska. And what an adventure. Coming across the country, I saw all these big things, and I realized they were mountains. We don't have those in Michigan. And I'm really excited to be here in Petersburg. I'm looking forward to doing some ATON in God's Country, is what I want to say."
The Elderberry has been in service since 1954, and the 65-foot ship is the smallest buoy tender in Alaska. The cutter is responsible for maintaining buoys and navigational markers from Thorne Bay near Prince of Wales Island to Auke Bay near Juneau.