45 graduates marked the end of their high school career Tuesday night for Petersburg High School's class of 2014. Friends, family and faculty listened to keynote speaker Sue Hardin, retiring after 23 years of teaching language in the district.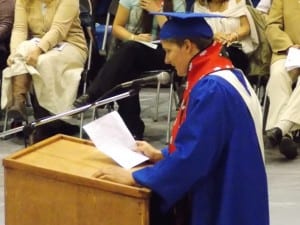 Graduates also were presented with over 58-thousand dollars in scholarships from local businesses, organizations and individuals. Here are some of the sounds from the commencement ceremony Tuesday night.
05GRADSOUND
Those were the voices of seniors Fran Abbott, Stephanie Pfundt and Robyn Schwartz singing the national anthem, high school principal Rick Dormer, salutatorian Bret Martinsen, valedictorians Abigail Taylor and Diane Murph, and teacher Sue Hardin, along with the concert choir and band.