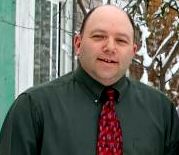 Tye Leif Peterson had nearly 40 videos and over 2,000 images dating back to November 2007. As Angela Denning reports, some of those images included students from Petersburg.


There were photos of children in the Petersburg School District from the past three to four years when Petersen worked as Director of Maintenance. None of the photos were pornographic in nature.
Some photos were taken through a hole in the wall that led to a gym used by visiting school sports teams. In them, the children were in various stages of undress, according to court documents. There were 27 victims identified in the photos that he took through that hole.
Acting Superintendent, Erica Kludt-Painter says the FBI found the hole.
"That had been discovered actually throughout that investigation because they could tell from the nature of the angle of the photographs and so we, yes, that was obviously taken care of immediately and when those images were discovered it was actually you know with students from another school and so they were contacted immediately," Kludt-Painter says.
The hole in the wall has been fixed.
Petersen also obtained 26 images of Petersburg students from computers given to them for the school year. Kludt-Painter says Petersen had access to nearly every place in the school district as all Maintenance Directors do. That included the students' computers.
"They are locked in the technology room at the high school which actually is only accessible by a couple of people in the district but the maintenance director is one of them because that's an area that does require their support," Kludt-Painter says."They work hand in hand with the technology program so they do a lot with shipping machines in and out and you just of course assume that they are going to be responsible."
There was no evidence that Petersen had abused any children in person.
When deciding the sentencing, the judge took into account the kind of child porn that Petersen possessed which included graphic videos of young children being sexually abused. The court also considered several factors like the number of images, the age of victims, that he used a computer, that he distributed the child porn, and that he had no criminal history.
Petersen used several e-mail accounts to obtain and trade child pornography. The FBI began investigating him in July of 2013 when one of those accounts was linked to another child porn trafficker.
"The whole process was so shocking to people that I think everybody just tried to be as open as possible with information and tried to work together as best we could so that people were aware of what was going on you know every step of the way," Kludt-Painter says.
Petersen was the school district's maintenance director from 2002 until October 2013 when he was arrested.
School Board President Jean Ellis says after the incident there have been no additional safety measures for the district.
"No, not really because we do a background check on everybody but in his case nothing would have appeared because he was hired several years before any problems were out there," Ellis says. "Our supervisors are in charge of these things and he was a supervisor."
Ellis says the school district is still run well and that Petersburg is a great place to live.
"I think these things can unfortunately happen anywhere and we just all need to be diligent and aware but we also have a wonderful community and I feel overall a very safe place to raise children," Ellis says.
In addition to jail time and probation, Petersen was also sentenced to pay $3,000 each to two victims of the child porn that he possessed. The two had been identified through the National Center for Missing and Exploited Children.