A graduate student from Petersburg opens her first gallery show of paintings in her hometown tonight. 29-year-old Elizabeth Buschmann is working to earn a Master of Fine Arts degree at Carnegie Mellon University in Pittsburgh. Her show at Miele gallery is called "A Life on Facebook" and it features 12 black-and-white oil paintings from Facebook photos.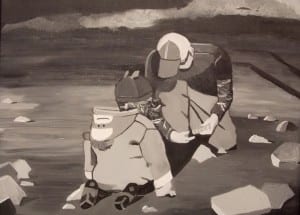 She spoke with Joe Viechnicki about the inspiration for her show.


Buschmann's work will be on display at Miele (me-AY-lay) gallery starting with an opening reception tonight (1/9)from 5-7 p.m.