A rare thunder and lightning display caused a brief power outage in Petersburg Tuesday afternoon.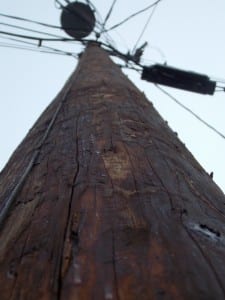 Petersburg Power and Light superintendent Joe Nelson reported that lightning hit a tree along with a transmission line and distribution line for the local electric utility. The lighting strike was near Mitkof Highway, three point seven miles south of downtown, after 3 p.m. Tuesday afternoon. Nelson writes in an email that the transmission line bringing hydro-electric power to town did not suffer any apparent damage. However a transformer serving customers near that site was damaged. Power and Light crews worked to replace that damaged equipment shortly after and power was restored to Petersburg customers.
Thunderclaps rumbled through the area for part of the afternoon, a rare event for Southeast Alaska, and unusual for this time of year.