A new independent ferry service in Southeast Alaska is delaying the start-up of service that was planned for this weekend.
The Rainforest Island Ferry was scheduled this Sunday, June 14 to start round-trip, four-day-a-week connections between Coffman Cove on Prince of Wales Island, Wrangell and Petersburg.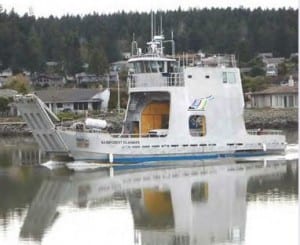 The independent ferry authority's manager Kent Miller says the ferry has not yet received a certificate of inspection from the U.S. Coast Guard for the Rainforest Islander, a converted 65-foot landing craft. Miller said the authority expects to have that in place for start up of service, now planned for Sunday June 28th. He said the North End Ferry Authority will be contacting passengers who have booked service this month, offering to rebook those trips and have those passengers travel for free. "That is the least we can do for people who've been interested in traveling on the boat right away," Miller said. "And of course have to add a really sincere apology for having to delay the start up again."
Miller said "dozens" of people are impacted by the delay. "We have had really excellent interest in using the service and have made quite a few bookings for that time. So it's very painful for us have to tell people who really wanna use the service that we're delayed."
The North End Ferry Authority has been trying to restart a ferry connection based in Coffman Cove for over three years. That service was once offered on a larger vessel by the Inter-Island Ferry Authority based in Hollis.
Once it starts up service, the Rainforest Islander will be landing at Shoemaker Bay south of Wrangell and Banana Point south of Petersburg, with van service to bring passengers into those towns.
Miller says the new ferry service has hired a captain and deckhand, along with an office manager. The office will open on Tuesday, June 16. To rebook, or find out more information the email address is reservations@rainforestislandsferry.com and the toll free number is 1-844-329-2031