The results have been made official in Petersburg's October 4th election with little change in the final numbers. Petersburg's borough assembly met Friday morning to certify the vote count.
"Just make sure the circles are filled out for every ballot that you look at, 'cause I'm not looking at them," borough clerk Debbie Thompson told the assembly as they opened and tallied the remaining nine absentee and questioned ballots.
"No hanging chads," joked assembly member Kurt Wohlhueter.
"So now what we are opening are the city of Kupreanof absentee ballots that we sent over," Thompson explained, adding, "so they did not have to cross the water on election day, they were able to vote our election and theirs."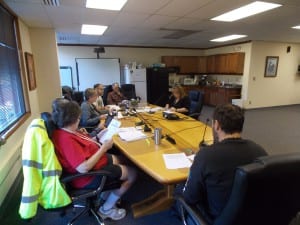 The overall turnout borough-wide was one thousand 1129, nearly 42 percent of 2703 registered voters. That's one of the highest recent vote counts but not the highest. Last year's turnout was at 16 percent, the lowest turnout for a municipal election in over a decade. But the year before with several sales tax questions on the ballot, turnout was 39 percent. And the turnout for formation of the borough in December of 2012 was nearly 56 percent.
This year Mayor Mark Jensen was re-elected to a three year term and faced no opposition. Assembly incumbents Jeigh Stanton Gregor and Kurt Wohlhueter retained their seats running against former city councilor Marc Martinsen.
Sandra Stevens was elected to the school board although she plans to resign her seat this month. Mara Lutomski was the only write in candidate to win a seat. She will continue on the school board for another three years.
Darlene Whitethorn was the only candidate elected to the hospital board. Three seats there had no interest.
The planning and zoning commission has a full roster with Otis Marsh, Yancy Nilsen and Tor Benson winning seats.
Bobby Dolan and Glen Reid Jr. were elected to the harbor board. Barb Fish and Alec McMurren were elected to the library advisory board and two seats on the public safety board will be filled by Jerod Cook and Devren Bennett. Remaining vacant seats can be filled by appointment at a later date.
The final vote count for the ballot proposition to prohibit commercial marijuana was 419 in favor and 705 against. That's over 62 percent opposed to prohibition.