Petersburg's representative in the Alaska House next year will be someone from Sitka, either the 27-year old Democrat who holds the seat, or his 70-year-old Republican challenger. Sheila Finkenbinder, a former aide to Wrangell representative Peggy Wilson is campaigning around House District 35 this fall. She's making the case for a representative in the Alaska House to be older, with more life experience and a member of the Republican-led house majority.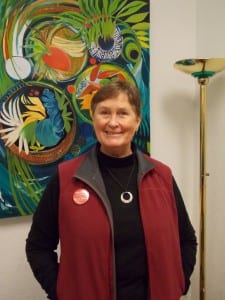 Finkenbinder has lived in Sitka since 1990. Her work experience includes heading up the Sitka Chamber of Commerce and founding a jobs and business resource center in Sitka.
Joe Viechnicki spoke with her about the state budget crisis and what she would do to make up a multi-billion dollar budget shortfall.


The general election is Tuesday, November 8th. Absentee voting started up October 24th and is available through November 7th at the Petersburg Public Library from 11 a.m. to 3 p.m.