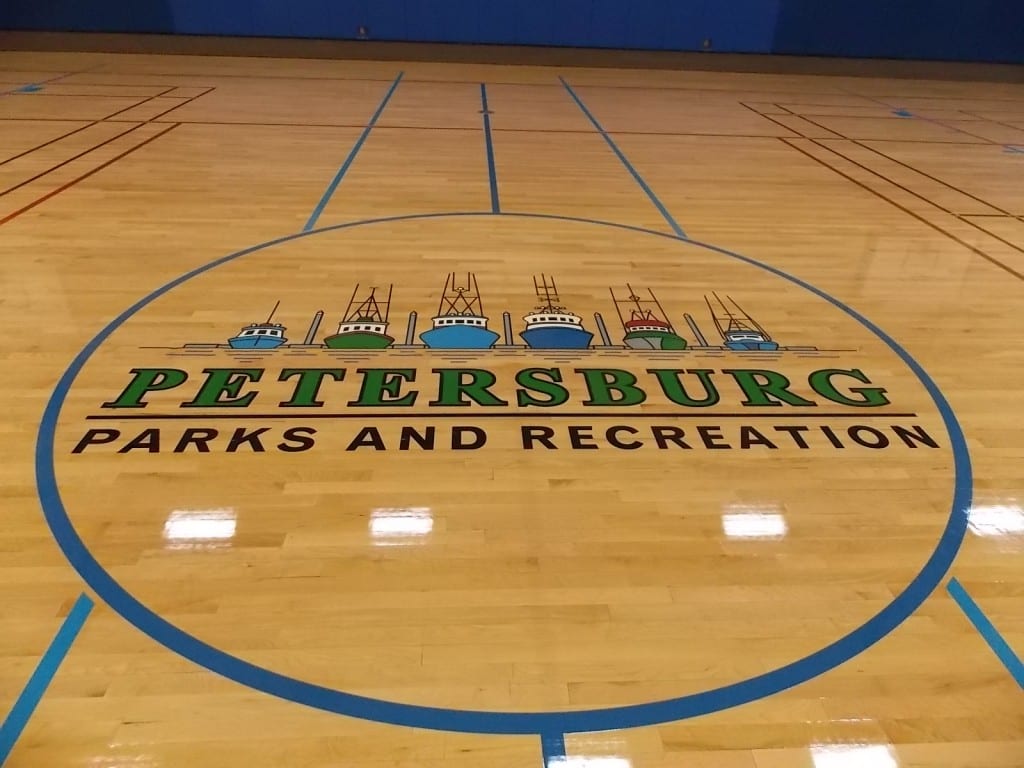 The Petersburg borough is holding off on raising the age limit for unaccompanied kids at the community gym and pool. Parents have pushed back and asked the borough to take other steps to keep kids safe before making the age limit change. Petersburg's borough assembly weighed in on the issue last Friday. Angela Denning reports.
The Parks and Rec Department has been reviewing its policies with the borough's attorney and is proposing the age restriction at the community center to improve safety. In recent public meetings, numerous parents have spoken against the change saying the department should look at other ways to keep kids safe. At the assembly meeting, most of the public concerns were expressed in letters; over a dozen of them taking up 30 pages of the assembly's meeting packet.
Only one resident, Alice Williams, spoke in person at the meeting, which was held at 9 a.m. on a Friday.
"I agree with many others who have submitted letters," Williams said. "A lot of improvements can be made to make the facility safer for our kids without setting the recommended age restriction. Let's focus on those."
Parks and Rec has proposed not allowing kids 10 and under to use the facility without guardian supervision for unorganized activities like open swim and open gym times. An August 12 letter from the borough's attorney, Sara Heideman, defended the proposal, stating it was prudent to increase the current limit from six years old. Heideman cited increasing insurance premiums.
Parks and Rec Director, Chandra Thornburg, wanted to make the age change this fall but has postponed plans.
"At this time, the age limit discussion has been put on hold until after this assembly meeting to see where the assembly wishes to go," Thornburg said.
The mayor posed that question to assembly member, Brandi Marohl, who brought up the discussion item. Marohl said she wanted the borough administration to be more involved in running the department. She said the assembly should direct the borough manager to address the public's concerns.
"Obviously, we need to tell the manager what we expect because it was not happening until a whole group of people got together and basically said this isn't going to work," Marohl said.
Assembly member, Jeff Meucci, was also concerned.
"I think the whole thing has been handled very poorly from the start, very poorly," Meucci said. "When I get –and we all get–these letters from the community and phone calls something is haywire and it needs to get fixed."
Meucci said he expects the borough manager to work with Thornburg to address community concerns and to report back on the progress. 
Assembly member, Bob Lynn, agreed.  He said he understands there are a lot of moving parts and change won't happen overnight but he thought the concerns should be addressed.  
"I think there are some really valid concerns here," he said. "I think those all need to be taken on but I think there needs to be what I'll call 'a plan of attack' to do that and that's what I'm not seeing."
Parks and Rec no longer has an advisory board like some other borough departments. To get community input Thornburg helped start a Friends of Parks and Rec group a few years ago. She said the group doesn't want to be a decision-making board.
"I have talked to this group about the upcoming changes," Thornburg said. "We started discussions with them eight months ago; let them know about different things. They're choosing to focus on the projects."
Meucci said he sees these conflicts as an opportunity for the department to make changes. He suggested getting some of the concerned community members into the Friends group to help decide day to day operations.
"I mean, you need to get the buy in from the community here or it's just not going to be successful," he said.
Thornburg has an email list of residents and said she will invite them to the Friends group. She has compiled a list of public questions and concerns and what the department is doing to address them. Those have been emailed to community members who attended the last public meeting. 
Another issue of concern for residents, and assembly member Marohl, is the new Sunday closure at the Community Center. The Parks and Rec Department has had problems filling positions recently. This spring there were ten vacancies prompting closures on Sundays and Mondays. The department has decided to remain closed on Sundays but has reopened on Mondays.
There is another public meeting about Parks and Rec scheduled for Monday, October 7 at 5 p.m. at the Community Center.