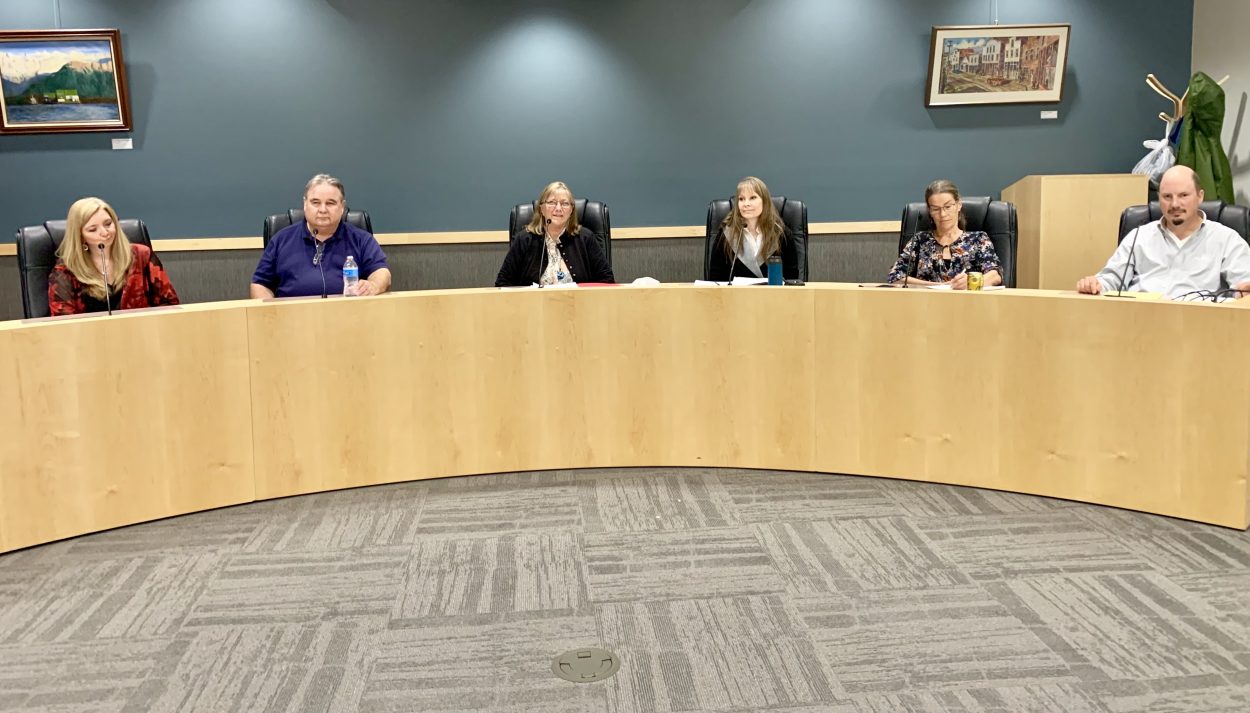 The Petersburg municipal election is Tuesday, Oct. 1. There are six people running for three open seats on the Petersburg Medical Center's board. KFSK's Angela Denning reports.
Among the six candidates are two incumbents hoping to keep their seats:
George Doyle, a former U.S. Forest Service worker and current local realtor (incumbent)
Cindi Lagoudakis, a former mayor and also a retired U.S. Forest Service worker (incumbent)
Local business owner Lisa Nilsen
State Fish and Game crab biologist Joe Stratman
Former Fish and Game employee Jackie Tyson
And Stacey Thorsen, who has worked at the medical center in the past and long distance for other hospitals
This month, KFSK hosted a candidates forum along with the Petersburg Pilot and the Petersburg Medical Center. For an hour and a half, the hospital board candidates answered questions gathered from the community. One of the questions was whether the candidates supported building a new hospital or renovating the current one.
A 2015 study found most systems in the current facility needed to be replaced. The cost of building new was estimated at $40 million and the cost of renovating at $16 million. This year, Petersburg Medical Center received a federal grant of $224,000 for a master plan to get updated details about options moving forward.
Incumbent George Doyle says he wants to wait for that analysis before making a decision. He said he does support long term planning.
"I do have family members that have worked in the medical field as well as a brother who worked for thirty years developing medical parts and I've spent a lot of time discussing it with him and others," Doyle said. You always run into the same things whether it's space or funds or whatever. They all said make sure you're planning for the future the day after you do what you do because you're going to need something else and so that's why I want to wait until we see what the analysis brings in."
Doyle says whether PMC goes with a new hospital or a renovation, it will be a community decision not a board decision.
The other incumbent, Cindi Lagoudakis, agrees. She says ultimately it should be up to the community. She also wants to find out what the options are through the master plan before making a decision. But she says the facility does need improvements. She says being on the board has taught her a lot about staff needs.
"Technology has changed dramatically over the last 25 years as has technology in health care and that facility really isn't adequate to deal with those changes," Lagoudakis said. "We have patients complaining about where they are provided care because staff is cobbling space to be able to provide care in areas like you know, closets in hallways. And there are issues with patient confidentiality and safety as well."
Candidate Lisa Nilsen doesn't necessarily support either option—building new or renovating. She says she needs concrete numbers to consider any changes. She describes herself as "extremely fiscally conservative".
"I'm not buying into a new building," Nilsen said. "We're sitting in a building that was built in 1950s. It was renovated for $9.9 million dollars, which was over budget. The Power and Light building, which was renovated, was renovate for 600 and some thousand dollars only to make it more comfortable for the employees in it, is essentially what [Utility Director, Karl] Hagerman had written in the paper. Not that it necessarily needed it, even cutting off a corner. I can remember driving by going, 'Oh, so we're literally cutting off corners in Petersburg now for 600 and some thousand dollars'."
Nilsen says she doesn't support PMC accepting grant money for a feasibility study. She says that jumps too far ahead.
Jacki Tyson says she wants to look at both options–renovating and building new—and wants to find out how much each would cost. But she's concerned about spending any money now.
"I think of the financial instability of our state and the shrinking money for projects such as this," Tyson said. "I think about the uncertainly of health care and what may be on the horizon if "Medicare for All" becomes a reality and Medicare is something that helps fund our hospital. The thought of the borough having to put a multi-million dollar bond to add to the debt of the town also concerns me."
Stacy Thorsen says she won't be able to decide whether to build new or renovate until she sees what the feasibility study finds.
"I worked in the hospital seven years ago. I know the condition it's in. I know they've done their best to keep it up and there's been updates and projects," Thorsen said. "I was actually in the hospital last fall, last winter, saw it as a patient first hand and pretty much the same issues there were back when I worked there so I believe that definitely something needs to be done."
Joe Stratman says he needs to learn more about both options before making a decision on what's best. But he says the hospital needs improvements to meet regulations.
"I get the sense that there are regulations that are in place that govern the physical plant and that the hospital has been granted extensions on some of these regulatory requirements," Stratman said. "With my work, I'm familiar with working with state regulations and statutes and so I would look forward to the opportunity to learn more about the regulatory side of hospital business."
Stratman says the bottom line though is that both options will be costly.
As for new services the candidates would like to see at the hospital, Lisa Nilsen says she wants to see birthing services return. She says she was born at the local hospital herself.
"Bring the babies back," Nilsen said. "I'm passionate about [that]. We're women, we're built to birth babies. We're built to do that job."
Jacki Tyson says she wants services to help get patients off of drugs.
"I see doctors prescribe medications but I don't see any way to help people once they become addicted, once their minds have been used to the medications," Tyson said.
Cindi Lagoudakis would like to expand services benefiting the aging population. She supports more visiting physicians and more telehealth services.
"I am blown away by the possibilities," Lagoudakis said. "Everything from wheelchair assessments to pediatrics to all kinds of things that you can do through telehealth and we have been exploring some of that."
George Doyle says PMC should focus on the current services and making sure the staff has the appropriate support they need to meet current regulations.
"I think it's important to try to hold on to the ones we have and maybe, through some of the telemedicine-telehealth, maybe expand in that matter, that's kind of a growing area," Doyle said.
Stacy Thorsen also believes that telehealth is worth expanding.
"I've seen that program expanded in other communities and it works really well in other rural communities." Thorsen said. "The behavioral health-psychiatric aspects of it work really well."
Joe Stratman says he would look to hospital staff to make recommendations for new services but he would support getting an MRI machine.
"That might be something that if it were here, you know, would allow folks to travel less for that service," Stratman said. "That seems to be something that's often needed."
The hospital board candidates were asked many questions during the live forum. You can listen to the entire forum HERE.