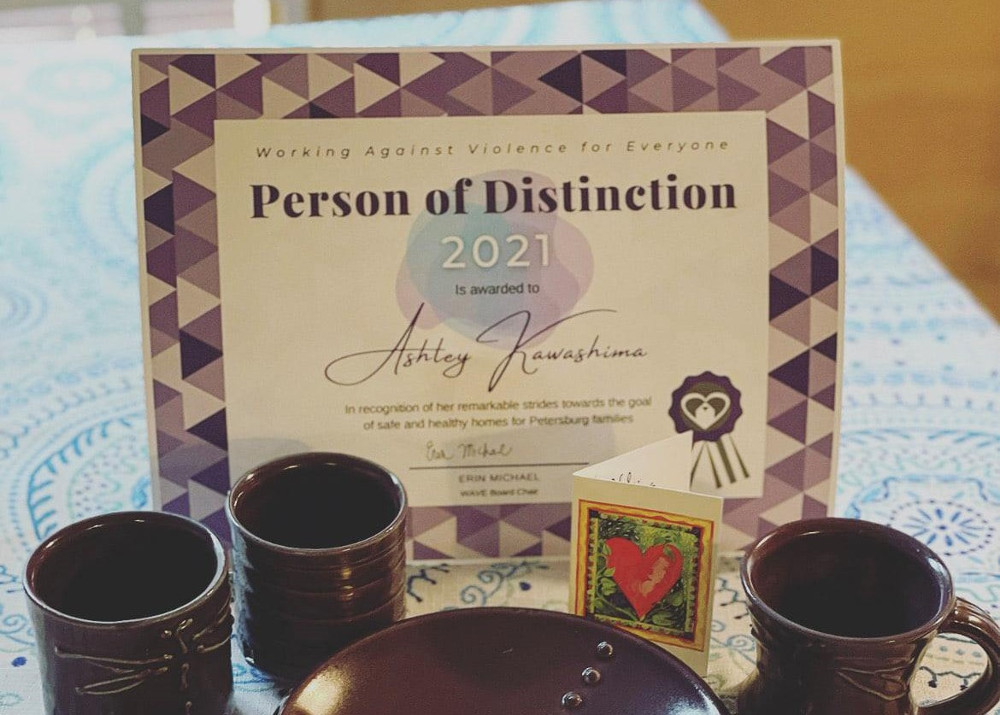 Petersburg's advocacy organization for victims of violence opened its doors at a new location Friday. Annette Bennett, the executive director for Working Against Violence for Everyone (WAVE), said they're looking forward to holding in-person events again in the larger space. It's about double the size of their previous office.
"We have an area where we can do presentations, and we don't have to rely on any other agencies, when their business hours are open," Bennett said. "It's going to be really exciting."
The open house included recognition of a community member whose work has made a positive impact. This year's award recipient was Ashley Kawashima. Bennett said her work has been especially important during the pandemic.
"Being a voice for people who are facing housing insecurity has been a really big thing, especially on the EOC," Bennett said. "Making sure that we had a plan in place for people who might get COVID who don't have housing and hand-washing stations for people who don't have running water. Those are things that people might overlook if they didn't have her at the table."
Kawashima is the chair of Humanity in Progress, a nonprofit working with people experiencing housing insecurity. She said she's grateful for the award.
"All of the things that I have done this year literally could not be possible without all the amazing work of literally everyone else that was in that room," she said.
Humanity in Progress formed in April 2020 as a collaboration between several community members. This weekend they held a food drive. Looking ahead, Kawashima wants to address additional needs in the community.
"If we can get people into housing, can we have move-in boxes ready to give them with cleaning supplies, and paper towels, and toilet paper? Because the cost really adds up when you're already pinching pennies to try and get into a new place," she said.
If you missed the open house, Bennett said, community members are welcome to stop by at 1103 S Nordic Drive, next to Joan Mei Restaurant.