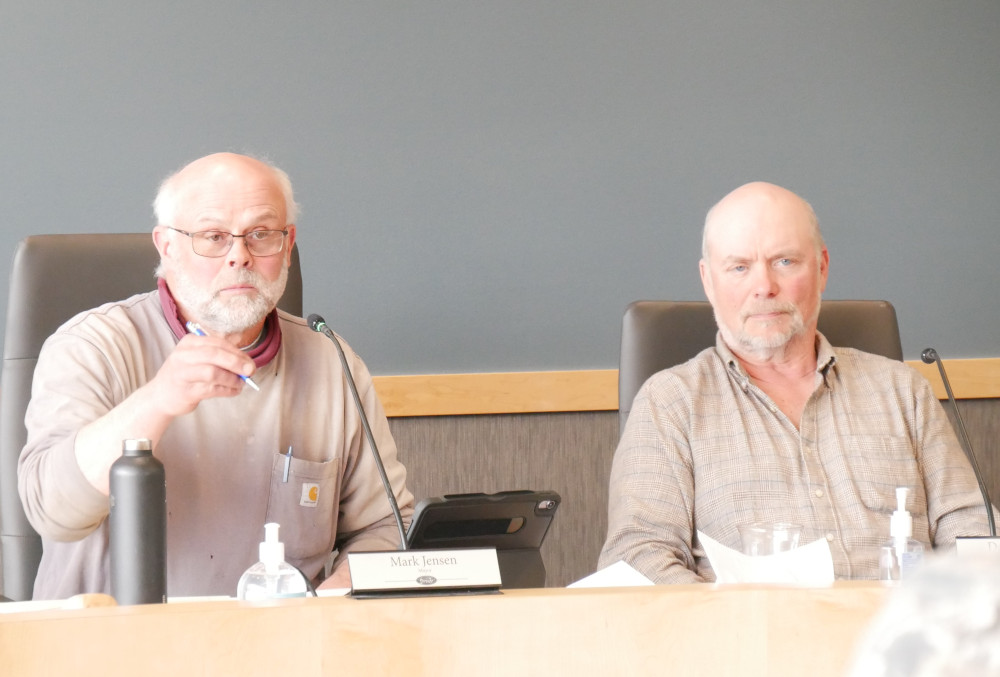 Petersburg's borough assembly Monday came close to voting down a proposed borough budget for next year. The spending plan narrowly passed in first reading despite some questions from assembly members about the police department's budget.
For the fiscal year that starts in July, the budget proposal would increase spending in the borough's general fund by nearly a million dollars, or 9.9 percent, boosting that number to $10,705,841.
It would add staff in a couple departments while keeping tax rates the same as this year for the most part. The plan would also use $265,691 of general fund reserves to balance revenue and spending.
Assembly member Dave Kensinger was a vote against the budget in its first reading. He wanted to avoid spending those reserves if possible and he suggested looking into scheduling for police officers.
"And I don't have any preconceived notion on this," Kensinger said. "I don't know whether we have enough policing coverage in town or too much. But I think it's worth looking at."
An internal report by the borough this winter looked at a few scheduling options along with salary comparisons to other communities. Based on that report the assembly approved a boost in pay along with recruitment and retention incentives for officers and dispatchers. Its part of the $191,266 increase in spending in that department anticipated for next year. In fact, spending is going up in almost all other departments and utilities under the proposal. Kensinger thought scheduling changes could mean a reduction in the number of officers and a smaller budget.
"I think our budget has been saved and the rate payers and the property tax payers in town have been saved because we've gotten quite a bit of money from the federal government and from the state government through CARES (Coronavirus Aid, Relief, and Economic Security Act) funding. And I don't anticipate that money to be available like it has been in past years," Kensinger said.
The borough has used one-time pandemic emergency funding to pay some police and fire expenses. It also has a healthy and growing reserve in the general fund; that reached $7.7 million last year.
Assembly member Jeff Meucci also was a no vote because of questions about the police department. He cited records he's been pouring through to determine the amount and types of police calls in recent years.
"I'm just trying to go through each of those years and understand what the bulk of the calls are to the police department and making sure I understand what's going on at the police department better than I do right now," Meucci said. "So yeah, we'll have time to talk about it some more but at this point I'm not going to support it in its first reading."
Mayor Mark Jensen said he had a couple questions on the budget but would vote for it.
"But I'm looking forward to the public hearing and to see if we get any input from the public but overall I think it's a pretty good budget. I can see why things are going up," Jensen said.
The borough is expecting more state funding in the upcoming year but also is reporting increases in local expenses, 2-2.5 percent more for the cost of labor contracts along with an expected increase in the borough's insurance payments. The budget adds a building maintenance employee and an additional job in the harbor department.
Revenue is expected to increase from both sales and property taxes. The finance department reports that local sales last year remained flat while a new source of revenue, sales from online orders shipped to Petersburg continued to rise. The borough joined an effort to start collecting that in April of 2020. That year the borough saw an average around $10,000 a month from online sales. Last year it jumped to an average of $22,000 a month. The biggest months for that revenue last year were November and December.
The budget assumes the same property tax rate for service area one, and a small increase for the rest of the borough.
It would boost the school district's contribution from $1.8 million to two million dollars, the first change for that payment in over a decade. The borough has also earmarked $200,000 in federal pandemic relief money for deferred maintenance at the schools. That would come from the borough's $633,420 in federal funding from the American Rescue Plan Act. Other earmarks for that money are $30,000 to respond to federal funding audits, $50,000 for a new pool cover and accessibility mats for the cemetery, $65,000 for daycare outreach and $50,000 for cybersecurity.
The spending proposal would keep funding for community service organizations KFSK, the Clausen Museum and Mountain View Manor food service at or just above this year's level.
The assembly has been approving rate increases for most of the enterprise funds that include local utilities. And this budget has some major capital projects; the largest are an overhaul of the Blind Slough hydro plant, dredging in South Harbor and renovation work at the community pool.
The vote was 4-3 to approve the budget in its first reading with Meucci, Kensinger and Tom Fine-Walsh voting no. There will be two more votes on the spending plan, including a public hearing later this month. Throughout that process assembly members can vote on any additions or reductions they'd like to see.