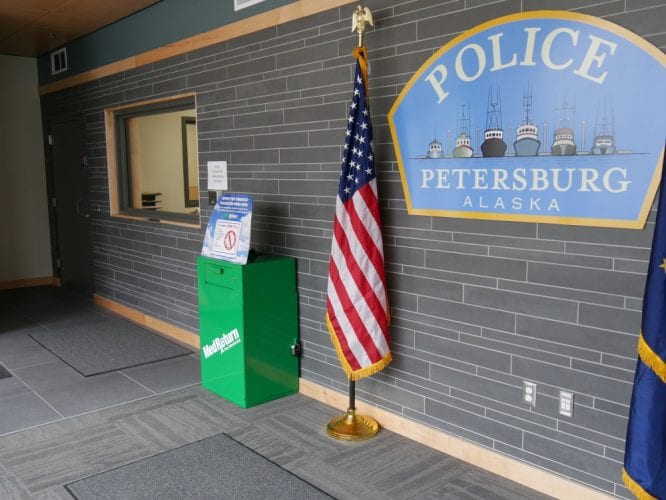 The Petersburg borough is one step closer to having a budget for the fiscal year that starts in July. The borough assembly Monday gave the second of three approvals to the proposed spending plan but not before voting down money for an audit of the police force and adding funding for a housing and food non-profit.
For the public hearing on the budget, community members came out to support the local police force after hearing some assembly concerns about the size of the department's budget.
Pharmacist Cate Kowalski urged the governing body to add money for police.
"Public safety, our police officers are a direct extension to public health," Kowalski said. "If this department is cut, it will burden public health by minimizing the safety health care providers need in times of crises and emergencies. We live in an extraordinary community where most of us know our police officers by name. In closing I urge you to try defending our police, not defunding them."
She was not alone. The assembly also heard by phone from Petersburg resident Luan Madole. Her husband Thomas was a village public safety officer killed while on duty in the western Alaska village of Manokotak in 2013.
"Please consider the ramifications of your vote, if you are leaning towards eliminating an officer position and what it means to our community," Madole said. "Money is not worth losing a life. I wouldn't want that on my hands and I hope you wouldn't either."
Three assembly members voted against the budget in its first reading and several had questions with the size of the police department and whether the borough could save money by looking at different scheduling. In March most of the assembly voted to approve pay increases and incentive payments to retain officers and dispatchers already on the payroll and recruit others. It's part of the $191,000 increase expected in the police department's budget for next year, amidst spending increases in nearly every borough department. During this budget process, no assembly member has proposed a reduction in officers. However, in the second reading of the spending plan, several called for an audit. Jeff Meucci proposed adding $25,000 to the police department for a wide ranging independent review of everything from policies, training, duties, staffing, scheduling and trends in crime calls.
"You heard earlier about cutting the police department," Meucci said, "I have never been involved at an assembly meeting about cutting the police department. We all support the police department. By asking questions regarding a department I don't think that should be an indication that you don't support this department or the other. And I think an independent review of what's going on so we can have a better way of making decisions up here, if we're going to be funding other police officers. Currently we're missing a sergeant and possibly a police officer. And if there's issues that are causing us not to fill those positions we need to address those positions."
The borough completed an internal review of scheduling and salaries in the department this winter. Borough manager Steve Giesbrecht told the assembly he did not think an external review is needed and did not think the $25,000would be enough. Assembly member Jeigh Stanton Gregor said he wouldn't support it.
"It strikes me as a solution looking for a problem," Stanton Gregor said.
The vote was 5-2 against the money for an audit with only Meucci and Dave Kensinger voting for it.
The assembly did agreed to add money to the budget for local non-profit Humanity In Progress. That request was $40,000 to help keep members of the community in housing and getting others into permanent homes. The money would also help pay for groceries for those in need and hire a part time staffer for the organization.
Assembly member Chelsea Tremblay explained.
"I can't think of anything that's more important than providing bags of food, 400 bags, let's see I don't want to get that wrong, 400 bags a month, plus the meals, plus helping people stay in their homes or move into homes that are a healthier answer for where people are currently finding shelter," Tremblay said.
She agreed to reduce that to $17,500 to win over some of her colleagues on the assembly. With that change it passed on a 6-1 vote with only mayor Mark Jensen voting no.
Tremblay called it a trial year for the payment using some of the borough's federal funding from the American Rescue Plan Act. That's a one-time payment and would not be a source for that grant in future years. Humanity In Progress said it intended to apply for funding annually.
The borough also makes annual payments to the school district, city of Kupreanof, KFSK, Mountain View Manor food service and Clausen Museum in that part of the budget.
The assembly also agreed to earmark some $40,000 of the borough's federal money for a grant writer to seek infrastructure funding.
They passed it in second reading on a 5-2 vote with Meucci and Tom Fine-Walsh voting no. Fine-Walsh said his opposition was over spending in the police department.
"My concern is primarily with the relationship between how much we're spending on police and how much we're spending for our schools," Fine-Walsh said. I see an increase in the police budget year after year and we made a small increase for the schools here recently but we haven't for the last decade."
The proposed budget for the police force would be $2,063,012 while the schools would see two million dollars. Both are an increase. It's important to note the police department with unfilled positions has been coming in well under budget for regular pay and benefits, but spending more than expected as other officers work overtime.
The assembly has one more chance at making changes to the spending plan at their first meeting next month.