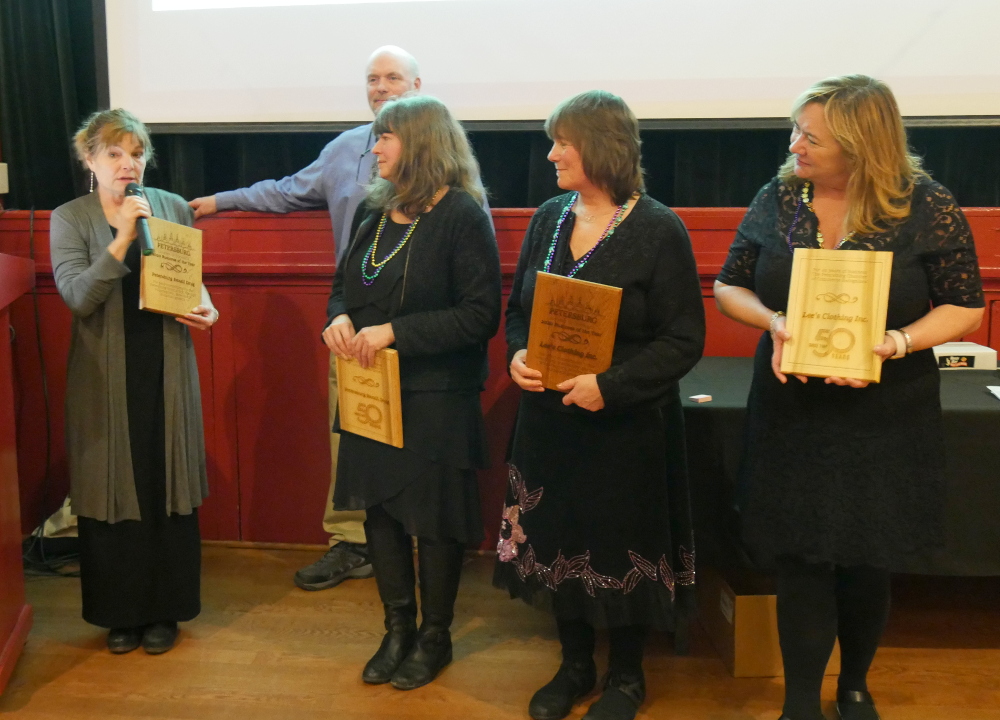 The Petersburg Chamber of Commerce Saturday honored two main street businesses that both celebrated their 50th year last year.
Petersburg Rexall Drug Store and Lee's Clothing were named businesses of the year at the chamber's annual banquet at the Sons of Norway Hall.
"This year we will be honoring two long-standing anchors of the downtown community," said chamber director Mara Lutomski as she presented plaques to the business owners. "The summer and fall of 1969 were big ones for these businesses of the year. You cannot think of downtown Petersburg without thinking of either of these two icons. Both businesses are family owned and are now run by strong women."
The two businesses are just across from each other on main street in downtown Petersburg. Both also give back to the community, supporting fund raisers, promoting events and selling tickets.
Max Worhatch III purchased the pharmacy in the summer of 1969. His daughters Cate and Erica now run the business. Pharmacist and owner Cate Kowalski called the award humbling and recognized her late father.
"To my family, my sister, we're just the flame carriers, my dad was the fire, the torch, the spark, whatever you want to call it," she said, adding, "I wish he were here today. I know he thanks you from above. Thank you chamber, thank you Petersburg. This is truly a humbling opportunity for us all."
Roxy Lee started Lees Clothing in September of the same year. Her daughters Cynthia and Heidi run the business now. Cynthia Mathisen also recognized the founder of the store.
Thank you everyone for supporting us all these years but mostly to Roxy Lee for having the vision to break through a lot of the molds that were existing at the time and get a clothing store going," Mathisen said. "She was the first and she is not with us here today but she is in Palm Springs enjoying herself like she should be."
The stores received plaques created by the Petersburg High School shop class.
Both Lees Clothing and Rexall Drug are longtime underwriting supporters of KFSK public radio where this story was produced.