The Alaska Department of Transportation is scaling back a proposed road and ferry connection linking Kake and Petersburg in central Southeast. The DOT has notified municipal leaders that the cost of building and operating that connection was too much given the state's fiscal situation. DOT officials say they still plan to investigate a way to improve access to Kake, using a 40 million dollar state grant.


A February 18 letter from DOT commissioner Marc Luiken to Kake mayor Christine Bitterman says the department is closing out the Kake Access project to investigate a more cost effective project. The Department, along with the Federal Highway Administration have been investigating ways to improve road or ferry access to the village of over 600 people on Kupreanof Island.



DOT spokesman Jeremy Woodrow said the project is not done. "The department through the work done up to date on the environmental impact statement has determined that that direction is not the best direction at this time for the Department of Transportation and that we're going to close the project, not spend any more money on proceeding on that avenue and look into different options for improving access to the community of Kake," he said.
Since 2013, planners have been studying options for improved ground and water transportation into Kake. The project looked at 21 alternatives for new roads or increased ferry service to Kake, at one point even looking into construction of a road through the Petersburg Creek Duncan Salt Chuck Wilderness. A draft Environmental Impact Statement was expected out sometime later this year.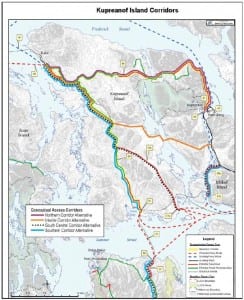 Luiken's letter noted the federal project is not fully funded and it would add significantly to DOT's annual maintenance and operation expense. The DOT's 2004 estimate of the price tag to build a shuttle ferry, new shuttle ferry terminals on either side of the Wrangell narrows and new road miles was over 143 million dollars. According to the state agency, the cost of operating that ferry and keeping a new gravel road open year round could be upwards of half a million dollars a year.
Woodrow said the DOT will look at other less costly ways to improve access to Kake. "The operation and maintenance cost for the Wrangell ferry crossing as well as the roadway would be very expensive and in a time when the Department of Transportation's maintenance costs are going down we need to really scrutinize any additional cost that would come to the department," Woodrow said. "And so at this time it would be more prudent for the department to scale back the project, look at other options and use the money that was set aside for Kake Access more wisely."
A road and ferry connection between Petersburg and Kake was a recommendation of the state's 2004 transportation plan for the region and the project already has a 2012 state appropriation of 40 million dollars. That money was included in the state's capital budget for just one option, new and upgraded roads on northern Kupreanof, following a specified transportation easement and existing logging roads across national forest land. The island already has miles of forest road constructed throughout. It's estimated that about 22 miles of new road are needed to create a driving link across the island.
Petersburg mayor Mark Jensen supports construction of a road and thinks the change of direction by the DOT could get the project back towards its original intent. "The people that got the funding for this project, Senator (Bert) Stedman, that was kind of what his vision was all along, was a 18-foot wide gravel road and not gonna have snow removal in the wintertime and never did think there was gonna be a ferry across the Wrangell Narrows but I think all that got expanded into that plan by DOT."
Jensen thinks a road connection across the island could be a benefit to Petersburg and Kake, even if it just ended at a boat ramp not far from Petersburg.
The small city of Kupreanof has opposed construction of a new road or ferry terminal near that community. Mayor Tom Reinarts was happy with the latest announcement. "From Kupreanof's standpoint I think that it's great because it eliminates the potential of a ferry landing and a parking lot and a road through our city which is obviously a roadless community," Reinarts said. "But also with the challenges financially that we're all encountering in the state of Alaska I'm just pleased that our state officials recognize that it was a project that just wasn't economically feasible and it would not accomplish the goal."
KFSK left messages for Kake mayor Christine Bitterman but did not hear back. Sentiment on the project in Kake has been mixed. Leaders there have supported a road as a way to bring about a powerline connection to cheaper hydro-electricity in Petersburg. However, there's also been opposition voiced that a road would give Petersburg hunters better access to deer and moose near Kake.
The DOT plans to go back to square one for analysis of how to improve transportation access to Kake. The DOT's Woodrow says most of the money spent on the analysis so far has been federal funding. He didn't have an exact dollar amount but estimated it to be around two million dollars, with about $200,000-300,000 of that state money.
(Editor's note: During numerous meetings in Petersburg public comment has been overwhelmingly opposed to building a road and ferry connection.)
Here are some links to past stories on the project:
DOT gives update on Petersburg-Kake road, 2012
Kupreanof mayor discusses Kake road, 2012
Senator discusses Kake road, 2012
Planners gather comments on Kake road, 2013
Feds begin study of Kake road, ferry options, 2013
Officials field questions on Kake road link, 2013
Road between Kake, Petersburg raises more concern, 2015
Public opinion sought on Kake road project, 2015
DOT calls for 37 million for Kake-Petersburg road project, 2015
Petersburg assembly discusses other uses for Kake road money, 2016